| | | | |
| --- | --- | --- | --- |
| | | | |
はなたーかだか!?
© Taito Corporation 1991
Release : 1991-08-09 (¥7200)
HuCard (4 Mbits) TP03018
Shooter / Horizontal

Hana Taaka Daka!? (aka Long Nose Goblin) is a cute horizontal shoot'm up developed and published by Taito. Konta the little fox is in trouble - while on a walk with his girlfriend Inari, he "accidentally" broke the magical seal that held the evil tanuki raccoon Jikanda and his minions prisoner. They have abducted Inari and Konta is in great despair. He decides to seek assistance from the gods and ask them for help. A flying Tengu, a sort of red goblin with a long pointy noise, answers to his desperate plea. The player takes control of the legendary creature and flies on a mission to save the damsel in distress, defeat Jikanda and also retrieve the pieces of the sacred seal. The Tengu comes with an rather unusual ability - he can grow in size throughout the game by collecting special scrolls. But this unique power also comes with a price, and the larger he gets, the harder it is to avoid enemy fire. Beside, if he gets hit, he will shrink back down and will eventually lose a life! The Tengu can also use a secondary weapon (such as large bouncing balls or giant spikes) or charge-up his magic fan (his main weapon) to release all kind of special attacks, from a Dragon Attack to lethal giant spinning tops. Additionally, items can of course be collected along the way, such as tiny speed-up wings, shields or small goblin options that will follow him anywhere ever he goes. Hana Taaka Daka!? consists of seven stages and each level also features one of Jikanda's raccoon henchman who will unlock a secret area - there, the Tengu will find a piece of the missing seal and collecting them all will lead to the full ending. The game is single-player only and a simple password system allows the player to save his progress at the end of each stage.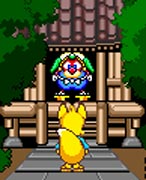 Tengus are strange and mysterious creatures found in Japanese folklore and they are commonly represented as human-shaped flying goblins with wings. In ancient Japan, they were described as vicious creatures with the ability to spirit away children or take possession of people. The most popular features of a Yamabushi Tengu are certainly his long and straight nose and the magic fan he carries. Other kind of Tengu exist, with different shapes and abilities. Tengu characters are very popular in Japan and appeared in many TV shows and video games, often as protective creatures.
Game Staff (Copied from the end credits) :



STAFF

Planner
Kato
Togakushi

Programmer
Iwasa
Yamada

Designer
Kato
Togakushi

Sound
Yamashita

Special Thanks
Hatano
Kikuchi
Nakamura
Kitagawa

Presented by
Taito



O
M
A
K
E



Click on picture to enlarge
S
E
C
R
E
T
S

The pieces of the seal:
Although not necessary to complete the game, collecting all the twelve pieces of the sacred seal will lead to the full ending of the game. Each level features two pieces of the seal - one kept by the stage's boss, the other one hidden in a secret area. Each secret area can be unlocked by finding the Tanuki (raccoon) hidden within each level - these secret areas however loop and the player must find the Tanuki again to collect the piece of the seal!
Level Passwords:



Level 1
Level 2
Level 3
Level 4
Level 5
Level 6


Easy
611434
292155
382027
372578
521223
362267


Normal
612489
292494
381724
371844
521746
361533


Hard
611966
292568
381742
371761
522177
362074

LK



Add your Pov here !



P
O
V
s


Hana Taaka Daka!? is an awesome game! And finding all the pieces of the missing seal is a huge and incredibly fun endeavor! The controls and the gameplay are just fantastic - the Tengu, despite is large size (as long as you can power him up) is surprisingly easy to control and can achieve crazy maneuvers. The game's overall design is really unique and steeped in Japanese folklore and culture - it is packed with wacky characters and levels (enemies turn into cute little raccoons when defeated and their boss Jikanda will laugh at you when you lose) and the game is packed with humor throughout (although some jokes won't make sense to non-Japanese players). I still wonder to this day how Taito managed to fit such amount of in-game content on a tiny HuCard, including bonus levels, non-linear stages and a wicked weapon system. What? You're still reading this review and not playing Hana Taaka Daka!?? Go on! Get this game now!