| | | | |
| --- | --- | --- | --- |
| | | | |
(c)SEGA 1987
(c)ASMIK 1989
Release : 1989-12-8 (¥6800)
HuCard (3 Mbits) AS01001
Action game


Sega's Shinobi is probably the most popular ninja game even created. The original arcade game came out in 1987 and this PC Engine version followed two years later. A syndicate of evil ninjas has kidnapped the children of the Iga clan. Without hesitation, a martial art expert named Joe Musashi decides to fight on their ground and rescue the kids from the hands of those who enslaved them. Our hero ninja primary weapons are shurikens and things get quickly tricky. Most of the enemies are actually better than the usual mindless baddies of the time. Some of them hide behind shields or crates and teach the player to use strategy rather than mash attack. Also, our hero, despite his powerful skills, will die in one hit. This certainly forces the player to learn enemies attack patterns and weaknesses. Finally, our Ninja can also use magic powers in the form of twisters of energy. They can only be triggered once in every stage but will inflict significant damage to his enemies. This conversion sadly misses all the bonus stages and the second level from the original arcade game.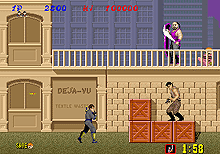 Shinobi was originally released in the arcades by Sega in 1987 (picture on the left) and certainly became one of the most popular Ninja game among gamers at the time. It was ported for many home systems : Sega Master System (1988), Nintendo Famicom (1989), C64 (1989), Atari ST, Dos PC, Amiga (1989), Amstrad CPC, ZX Spectrum (1989), PC Engine (1989), Sega Game Gear (1991). A sequel, called Shadow Dancer, came out in the arcades in 1989. The game featured Joe's son and his four-legged dog companion. Once again, many home versions followed : Sega Master System (1991), Zx Spectrum (1991), Amiga (1991), C64 (1991), Atari ST, Sega Megadrive (1990) etc... As a side note, The Super Shinobi came out the same year on Sega's Megadrive and was a direct sequel to the original Shinobi and featured Joe Musashi instead of his son. Anyway, Shadow Dancer was probably the last Shinobi to be released in the arcades. All the following sequels only came out for home systems: Cyber Shinobi (Sega Master System, 1990), GG Shinobi (Sega Game Gear, 1991) GG Shinobi 2 (Sega Game Gear, 1992) Super Shinobi III (Sega Megadrive, 1993), Shun Shinobi Den (Sega Saturn, 1995), Shinobi (Sony Playstation 2, 2002), Revenge Of Shinobi (Nintendo Game Boy Advance, 2002), Shinobi Nightshade (Sony Playstation 2, 2003). Sega didn't stop there and other games also featured the world of Shinobi, like for instance Alex Kid in Shinobi World for the Master System and released in 1990.

O
M
A
K
E



Click on picture to enlarge
LK



Add your Pov here !



P
O
V
s


Unforgiving. This is perhaps the best word yet to describe Shinobi. Unforgiving. The game will litteraly crush you flat in no time. Players will have to spend an infinite amount of time, and patience, to master every single enemy and boss attack patterns. All in all the game is correct, and this conversion is surprisingly close to the original. Visually at least. Some important features like the 'close combat' (which dramatically impact the game's gameplay) and the bonus stages are gone. Saddens me to say the game has aged a lot to my taste, and the game is badly let down by its insane difficulty level (which surprisingly disappear with experience and time). Only recommended for serious fans of the genre who are ready to give Shinobi the time and play necessary to see it for all its worth.