PC GENJIN 3 ~ PITHECANTHROPUS COMPUTERURUS
( Bonk's Big Adventure )
| | | | |
| --- | --- | --- | --- |
| | | | |
PC原人3
©1993 Hudson Soft (vol.58)
©1989,1993 Red
Release : 1993-03-02 (¥7200)
HuCard (8 Mbits) HC93063
Action / Platform game




Released in America as
BONK'S BIG ADVENTURE
( TGX080097 )


Released in America as
BONK'S BIG ADVENTURE CD
( HC93063 )
PC Genjin 3 is a side scrolling platform game developed by Red Company and published by Hudson Soft. The crazy PC Engine's mascot is back in service in this last episode of the PC Genjin series for the system. Players will find here all of the core gameplay elements which made the PC Genjin series so popular - same wacky character designs and (somehow) familiar landscapes. Our caveman's main attack, the head-kick, still remains a major part of the gameplay, but our hero has a plethora of new tricks in his "bald head" bag. As always, juicy meat turns him into a crazy form and powers him up - however, he can also turn cute and cuddly, and blow kiss-attacks at his enemies (this form was removed from the American release, see the info section). Special candies directly borrowed from Alice in Wonderland have been added to the arsenal of tricks the caveman can use in battle - blue ones make him grow to a huge size whereas red ones cause him to shrink into a tiny head-butting fellow no larger than a mouse. This last power can be especially handy to get through small holes and other secret passageways. The game has a lot more in reserve and our hero can even turn into a red crab at times, get swallowed by weird looking swimming fish and fight them from the inside, or squeeze through pipes at breakneck speed. The game consists of seven levels, and a multi-player option is available where two players can simultaneously enjoy intense head-butting action.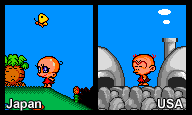 There is a difference between the Japanese PC Genjin 3 and the American release Bonk's Big Adventure. As with PC Genjin 2, the cute first form was changed into a meaner and angered form (picture on the right), and he doesn't shoot hearts anymore, but yellow flashing stars. As a side not this was also the case with PC Genjin 2 were the cute PC Bijin form was completely removed from the American release, and replaced by an angered form.
PC Genjin 3 was released twice in North America. Bonk's Big Adventure was first released on a traditional turbochip card, but an American exclusive Super CD version followed in 1994. This CD version comes with two enhancements - the music was remixed and is CD quality, and the game includes extra two-player bonus games. Finally, both American versions are extremely hard to find today and can fetch hundreds of dollars a piece...

A rare PC Genjin 3 'Not for Sale' HuCard exists (picture on the left) and was probably made available for some sort of promotional campaign by Hudson Soft.
Teaser text from the American version:
OH NO!! NOT AGAIN?!!
Aaaagh!! What's that Evil King Droll doing back in the Dinosaur Kingdom?! Didn't we get rid of him last time? Guess not, huh? Now it's up to out skull-splitting, head-butting, rock-smashing, monster-bashing prehistoric hero Bonk to put an end to Drool's dastardly deeds once and for all. Watch Bonk grow into huge fire-breathing Bonk of shrink in the the Mini-size Bonk and take on tons of cool new enemies like RocketMan, Robo Turtle and Crazy Lady. Or how about smashing up a few Booga Boogas or Snippies along the way? Waw!! Bonk 3 is so jam-packed with nonstop action and super cool power ups that it's sure to please hardcore Bonkeys and first time players everywhere. So go ahead and Bonk your way through the ultimate bash-o-rama .....Bonk 3 !
Game Staff (Copied from the American version's end credits) :



STAFF

Planning
Shoichi Yoshikawa
Hitoshi Akabane

Character Design
Kobuta Aoki

Animation
Nao Kuramoto
Hironobu Hatta
Jin Gotanda

Background
Yuji Umoto
Noriyoshi Innai
Tetsuya Moriai
Cherry Grace

Chief Programmer
Hiroyuki Arai

Programmers
Toyoshige Ishigami
Junko Aihara

Music
Taro Hara
Kunio Komatsu

Special Thanks
Keisuke Abe
Kappa Yuzawa
Mitsuhiro Kadowaki
Eiji Aoyama
Tomonori Matsunaga
Norihito Miyamoto
Eddy Chiu
Yuka Yamagishi
Shinji Yoshikawa
People of Hudson & Red

Director
Angela


O
M
A
K
E






Click on picture to enlarge
S
E
C
R
E
T
S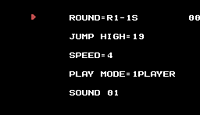 Level select, debug mode and invincibility:
At the option screen, highlight the quit option (last one in the list), hold left, down, I and II, and press Run (the best way is to hold left and down and press them twice to highlight the quit option. Hold them, and press I, II and Run simultaneously to start). This should activate a menu from which you can select levels, sounds and various effects from the game (picture on the right). Then, once you are in the debug menu, press Run to start a level, or press Select to start with invincibility.
LK



Add your Pov here !



P
O
V
s


PC Genjin 3 is, I think, the second best PC Genjin game available for the PC Engine system. It is just fantastic - graphics are great, the game is really long and challenging with a very creative level design. Levels are non-linear and packed with all sort of hidden bonuses to reward exploration. It feels however shorter than PC Genjin 2, and I do agree with gamers who argue that the second episode is overall better... They are both great, and this last episode has a lot more crazy power-ups and wacky enemies on display, but it feels a bit off, and the world it depicts doesn't really fit (to my taste) the one set up in the first two episodes. The giant house from the second area, and its army of odd enemies, is the worst offender in my book. Nonetheless, PC Genjin 3 is a must have, a technical 'tour de force' and a very enjoyable game.