OVERRIDE
Mission Code -Override-
(c)1990 STING
(c)1990 DATA EAST CORPORATION
Release: 1991-1-8 (¥6500)
HuCard (2 Mbits) DE90006
Shooter / Vertical

Override is an intense vertical shooter by Data East. Aliens are about to invade, once again, and the only hope to humanity are powerfully armed forces called Override. The player takes control of a squary spaceship and fly his way through six long stages. Litterally tons of power-ups fill up the screen at any time in this game. They usually add secondary weapons to the ship, such as Homing Lasers (Red), Straight lasers (Blue), Rotating Wave Lasers (Green), Side Lasers (Purple) and Directional Lasers (Orange), and each secondary weapon can be upgraded up to three times. Two other pods exist and either upgrade the main vulcan-gun (P) or give the ship one precious shield cell (E). Finally, a powerful wave of fire can be automatically charged up when the ship doesn't shoot. The second action button just ajusts the speed.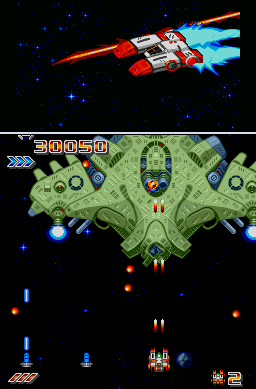 Override for the PC Engine really sounds and looks similar to Psycho Chaser, released a year earlier by Naxat Soft. A closer look at the game's credit makes everything clear, virtually the same staff worked on both games :Yasue Santoh, Toyofumi Kunihiro, Shinichi Abe and Tsutomu Takase.
Finally a game called Last Battalion Mission Code -override- was released by Sting for the japanese computer X68000 in 1991. It features the same space ship and the screen title is really similar to override. I have never played this version so it is hard to say if they are the same, looking at some screen shots, they are really similar and the X68000 version has nicer and sharper graphics.
Game Staff (Copied from the end credits) :



Programmer
S. Abe
T. Kunihiro

Graphic Designer
H. Sueyoshi
T. Takase

Sound Composer
Y. Santoh

Sound Effect
Y. Santoh

Game Designer
H. Sueyoshi
Arabu

Special Thanks
H. Yoshida

©1990 STING
©1990 DATA EAST

MISSION COMPLETED

LK



Add your Pov here !



P
O
V
s


Override is a fun little game. It is far from being the best shooter for the PC Engine and graphics can be a bit average (up to ugly) in places. But it has a nice rhythm, nice power ups and a fast and strong gameplay. Some of you will find it a bit too easy except for the last couples of levels which are virtually impossible to beat. Sorry to spoil the end for you, but I hate games which throw all the bosses again at you at the end, and Override gets every single one of them back to life. All if all, Override is a fun and yet average game, shame that the graphics do not really follow up on the rest.