アウトラン
©Sega 1987
Reprogrammed Game
©NEC Avenue Ltd. 1990
Release : 1990-12-21 (¥7200)
HuCard (4 Mbits) NAPH-1016
Racing game

Out Run is the conversion of Sega's classic arcade game of the same name originally released in 1986. The player takes control of a blazing fast red Ferrari Testarossa and must race against time through various stages. The car comes with a two-speed gear box that need to be shifted to reach maximum speed. Each level ends with a checkpoint which adds time to the timer - if the player runs out of time, then it is game over. The game features a non-linear progression and the road splits in two at the end of each race, giving the player the choice of which direction to take. Levels are extremely varied and range from seafront beach, deserts to canyons and small towns. Out Run consists of fifteen stages although only five can be played at once.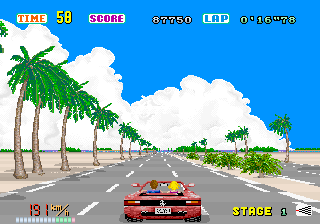 The arcade game Out Run was originally released by Sega in 1986 (picture on the right). The game, designed by legendary designer Yū Suzuki (Space Harrier, After Burner, Virtua Fighter, Shenmue) was a major hit and was converted to countless home systems - Sega Master System (1987), Sega Mega Drive (1991), Sega Game Gear (1991), C64 (1987), Amstrad CPC (1987), Sinclair Spectrum (1988), MSX (1988), Amiga (1988), Atari ST (1989). Out Run was also included in game packs such as Sega Ages vol.1 (Sega Saturn , 1996), Sega Arcade Gallery (Game Boy Advance, 2003) or Yū Suzuki Game Works Vol. 1 (Sega Dreamcast, 2001). Other versions of the game exist but they can't realistically all be listed here. The ones worth mentioning are the interesting Out Run 3D (MasterSystem, 1989), the futuristic Out Run 2019 (Sega Megadrive, 1993) or the rather unique LCD game. Another port is the horrible version released as part of the 3D Ages Collection for the Playstation 2 - although it features 3D polygonal graphics the game is not worth anyone's time. Semi-sequels to the original arcade game followed such as Turbo Outrun (1989) and Out Runners (1992), but the real sequel was the excellent and stunning arcade game Out Run 2 released in Japan at the end of 2003.

O
M
A
K
E



Click on picture to enlarge
LK



Add your Pov here !



P
O
V
s


I have always been a fan of the classic Out Run - it is one of those rare games that are as much fun to play today as they were back in 1986. Racing at full speed through beautiful sceneries with your girlfriend in the passenger sit certainly gave the game its unique flair. This PC Engine port is simply stunning and impressive. The controls are really precise and the feeling of speed is incredible. The game does slightly flicker in some places, especially when the road splits up at the end of each stage which must have been a technological nightmare to achieve with the PC Engine hardware. But, all in all, this conversion is really solid and surprisingly good, NEC Avenue ported the game and they did an outstanding job!