(c)SEGA 1987
REPROGRAMMED GAME
(c) NEC Avenue Ltd. 1990
Release : 1990-12-21 (¥7200)
HuCard (4 Mbits) NAPH1016
Racing game

Out Run is the Adaptation of the famous Sega arcade game. You drive a fantastic red Ferrari with a lovely blonde girl beside you. After selecting your favourite tune, press RUN and jump into the race. You will go through a lot of sceneries, from beach to rocky mountains or desert. At the end of each `level`, the road splits and you can select where to go for the next stage.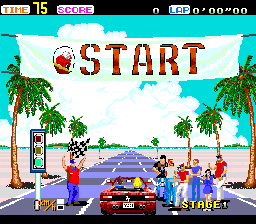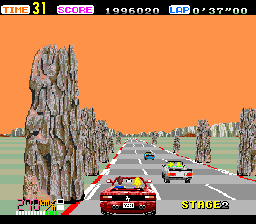 The original arcade game was released by Sega in 1986. The game was converted for numerous systems: Sega Master System (1987), Sega Mega Drive (1991), Sega Game Gear (1991),C64 (1987), Amstrad CPC (1987), Sinclair Spectrum (1988), MSX (1988), Amiga (1988), Atari ST(1989) then also included in game packs like Sega Ages vol.1 (Sega Saturn , 1996), Sega Arcade Gallery (GameBoyAdvance,2003) or Yu Suzuki Game Works Vol. 1 for Sega Dreamcast (2001), Yu Suzuki was the producer behind many sega games like Space Harrier, OutRun, PowerDrift, Afterburner2, Hang On, G-Loc, F355 Challenge or more recently Shenmue (By the way, outrun was available as a playable arcade in Shenmue 2). Sequels followed in the arcades like Turbo Outrun (1989) and Out Runners (1992), but the real announcement was Out Run 2 released in japanese arcades at the end of 2003. Finally, numerous versions flooded the home market and can not all be mentionned here. Let's just mention the interesting Out Run 3D (MasterSystem, 1989), or the futuristic Out Run 2019 (Sega Megadrive, 1993) and finally the LCD OutRun game.
LK



Add your Pov here !



P
O
V
s


OutRun is a good conversion. But the car steering can be a bit difficult. The feeling of speed is, I think, excellent. Even compaired to nowadays standard. And, finally, the way how the road splits at the end of each stage is really bad and flickery (but I guess that, technically, it couldn't have been otherwise...).