| | | | |
| --- | --- | --- | --- |
| | | | |
おぼっちゃまくん
©Pack-In-Video
Release : 1991-03-15 (¥6800)
HuCard (4 Mbits) NC91001
Action / Platform game


Obocchama Kun is a wacky side scrolling platform game by Pack in Video based on Yoshinori Kobayashi's popular Japanese manga series. The player takes control of Chama Obō, a weird looking kid with incredible and equally weird powers. His greatest ability is to transform into all sort of things, from a slow elderly man walking with a stick to a four legged dog or a large pink plum. Special items can also be collected and release even more weird transformations, but they also help the player by upgrading the small projectiles he uses to defend himself. Additionally, Secondary characters can be called during the game. Weird looking turtle shells can be found in each area and be used to call them (stand on them and sing by pushing up, the nearest item should turn into a special item). They come be in a shape of a beefy dude who will protect our hero, a bearded helicopter shooting down every enemies on the screen or a crying kid throwing hammers in the air. Obocchama Kun consists of four large areas (each made up of several sub-stages) and is single player only.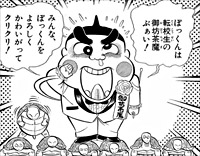 Obocchama Kun was a popular Japanese "baka" (meaning stupid/wacky) manga created by Yoshinori Kobayashi, The comic originally ran from 1986 to 1994 in Coro Coro Comic children magazine published by Shogakukan (picture on the right). Obocchama Kun is little known in the west although it was released in Japan around the same time as Ranma ½ - this was probably because by its theme which was deeply embedded with Japanese culture. The manga was very popular in Japan and was even turned into an animated series that aired from 1989 to 1992 on TV Asahi.

O
M
A
K
E



Click on picture to enlarge
LK



Add your Pov here !



P
O
V
s


What a weird game that is... developed by the infamous Pack in Video and licensed by Namcot. Despite the extremely unusual and wacky Japanese design (which I'm usually a fan of), Obocchama Kun sadly falls shot from delivering a fun and exciting experience. The difficulty level is really unbalanced (it features the 'one hit' cursed death penalty) and the controls are a bit awkward. For instance, I feel that you often turn into the wrong character by mistake which definitively makes the whole game more frustrating than it should. Then levels just recycle the same themes ad nauseaum.... All in all, Obocchama Kun is another missed opportunity to create a fun and wacky platform game, and just fails at delivering the goods. However, it can be now purchased for a ridiculously small price, so why not give it a try?