| | | | |
| --- | --- | --- | --- |
| | | | |
ネクロスの要塞
©Ask Kodansha 1990
©Lad-R
Release : 1990-04-20 (¥6300)
HuCard (4 Mbits) AK90001
Role Playing game


Necros no Yōsai (also known as the Fortress of Necros) is an early action Role Playing game by Ask Kodansha and Lad-R. The monarch of black magic has revived eight heroes and they have been selected to fulfil various missions. The game is divided into seven quests, each featuring groups of up to three characters. Although the game starts with an almighty elf, other characters are available throughout the game such as the Mage, the Amazon, the Dwarf, the strong Berserker and the Samurai. At the start of each mission, the player can walk around towns, talk to villagers, purchase new equipment and items or talk to the local bard to save his journey (using complex passwords based on Hiragana characters or the build-in backup unit). Unlike other Role Playing games at the time, the view doesn't really zoom-out when the player leaves a town, instead a map shows the various locations that can be reached at a given time. Battles are round based and feature unique fully animated and flashy graphics and animations. Necros no Yōsai is a fairly vast role playing game and is single player only.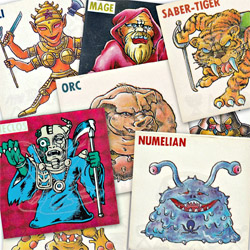 Necros no Yōsai is actually based on a series of cards (picture on the right) and mini figurines popular in Japan in the 1980s. They were sold by Lotte confectionery company and were available in small boxes (no less than 320 cards and small figurines are supposed to exist!). These cards are not unlike the equally popular Bikkuriman World franchise release in Japan by the same company (see Bikkuriman World for more information). However, the japan exclusive Necros no Yōsai franchise was a little different and featured extensive role-playing elements - each character and monster had a class, a set of skills, weaknesses and abilities. Some items were even included such as the almighty gems!

G
O
O
D
I
E
S



Japanese Guidebook

O
M
A
K
E






Click on picture to enlarge
LK



Add your Pov here !



P
O
V
s


I must warn you, do not play Necros no Yōsai if you are diagnosed with Epilepsy - some of the magic attacks will literally blow your head off. I do not think I have ever played a game with lightning flashes that intense. I'm also not a big fan of the character design, some of the hero characters are way too wacky and goofy - but this is what the game is about and you soon realize that Necros no Yōsai doesn't really take itself too seriously. However, This simple RPG is actually not that bad and the battle scenes are fairly flashy and rather unique and fun! But, although the game only uses Hiragana and Katakana characters, you will have a really hard time if you can't read Japanese. The game heavily relies on item fetching and events are only triggered if you talk to the right person at the right time, or if you carry the right item. So non Japanese speakers will have to arm themselves with a lot of patience to figure out what they may have missed. All in all, Necros no Yōsai is a fairly simple RPG and is fun overall, as long as you can read Japanese.