NECTARIS
( Military Madness )
| | | | |
| --- | --- | --- | --- |
| | | | |
ネクタリス
©1989 Hudson Soft / vol.16
Release : 1989-02-09 (¥5800)
Hucard (3 Mbits) HC63016
Strategy/War game




Released in America as
MILITARY MADNESS
( TGX030015 )
Nectaris is a futuristic turn-based strategy game by Hudson Soft. In the 21st century, the moon has been colonized and supports mining stations on its surface. But the Earth nations have been fighting over these resources and the evil Gaichi (aka Axis) Empire, in 2089, decides to launch an all out attack and captures most of the moon. Soon, they occupy most of the weapon factories there and plot to launch a large-scale attack codenamed MOA (aka SAM) against Earth. But a handful of prisoners manage to escape and decide to reach and destroy the Nectaris Base, launch site of the MOA project. Nectaris uses turn-based gameplay mechanics at its core - the player moves units around the battle field and attack enemy troops if within range. When the turn is over, the CPU takes control of the enemy units and decides on the counter offensive. The goal of each mission is to either destroy all the enemy units on the map, or to capture the enemy's base with an infantry unit. Nectaris features a vast array of units from Infantry (from simple troops to motorcycle troops), Tanks, Long-Range Artillery (mobile or fixed), Air Crafts, Anti-Aircrafts, Buggies, Land Mines or Transport Vehicles (which can carry and protect infantry units). The type of landscape also largely affects units in battle so it is important to pay attention to the terrain (rough areas for instance increase defence). Units also gain experience as they participate in battle and become more effective as they level up (from 1 to 8 stars). Nectaris consists of thirty two missions and is single player only.
Nectaris is actually a long series on strategy games developed by Hudson Soft. The first episode was released in 1989 for the PC Engine system (version tested here). The game was ported to the NEC PC-98 and Sharp X68000 in 1992 (exclusively in Japan) - both versions were published by System Soft and look fairly identical to the original PC Engine game. A sequel called Neo Nectaris was then released for the PC Engine Super CDRom system in 1994 - this version featured a red book soundtrack and 48 new exclusive levels. Much later, in 1998, Nectaris GB was released for the Game Boy system - although the game was a simplistic port of the original game, it included a level editor and the option to share these custom levels with other players using the GB Kiss Link. Each Nectaris GB cartridge is supposed to have a built-in sensor that allowed players to exchange data (and therefore their custom levels) and, most interestingly,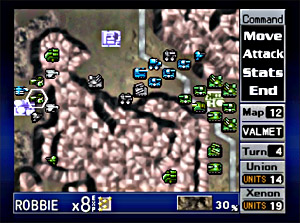 Hudson Soft also published the GB Kiss Link Modem peripheral that allowed players to load such levels onto their PCs and even send them to Hudson Soft's website! This device and the GB Kiss were ahead of their time - only the Game Boy Color included an infra-red link option and was actually released eight months after Hudson Soft's GB Kiss! Another version was released the same year for the Sony Playstation (picture on the right) and also included a level editor (it was released as Nectaris Military Madness in the United States). As a side note, Hudson Soft apparently organized a contest where players could submit their custom levels and the winning maps were included in the Playstation and Game Boy versions of the game.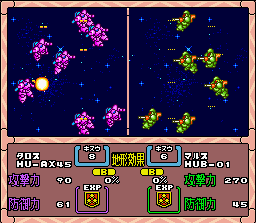 Another series worth mentioning and somehow related to Nectaris is Earth Light for the Super Famicom system (picture on the left). Earth Light, released in 1992 by Hudson Soft shares a lot in common with Nectaris and features a similar gameplay. However, the game has a different theme and the graphics are a lot more cartoony overall. A sequel called Earth Light Luna Strike followed in 1996 but it suffers from some questionable gameplay decisions and lacks Nectaris's original brilliance.
Teaser text from the American version:
You're on the moon. Just beyond the next crater are the Axis forces. You're outgunned and outmanned - but maybe not outsmarted. Show us why you've got those stripes commander! Nothings but strategic brillance will win this race to finish the enemy before they launch their S.A.M. missile at earth. Deploy men and machines, then watch the battle take place before your very eyes. High stakes, heavy action, all-out madness. MILITARY MADNESS!

O
M
A
K
E



Click on picture to enlarge
S
E
C
R
E
T
S

Level Passwords (Japanese Version)
01 REVOLT
02 ICARUS
03 CYRANO
04 RAMSEY
05 NEWTON
06 SENECA
07 SABINE
08 ARATUS

09 GALOIS
10 DARWIN
11 PASCAL
12 HALLEY
13 BORMAN
14 APPOLO
15 KAISER
16 NECTOR

17 TLOVER
18 SURACI
19 ONARYC
20 YESMAR
21 NOTWEN
22 ACENES
23 ENIBAS
24 SUTARA

25 SIOLAG
26 NIWRAD
27 LACSAP
28 YELLAH
29 NAMROB
30 OLOPPA
31 RESIAK
32 ROTCEN

Level Passwords (TurboGrafx-16 Version)
01 REVOLT
02 ICARUS
03 CYRANO
04 RAMSEY
05 NEWTON
06 SENECA
07 SABINE
08 ARATUS

09 GALIOS
10 DARWIN
11 PASCAL
12 HALLEY
13 BORMAN
14 APOLLO
15 KAISER
16 NECTOR

17 MILTON
18 IRAGAN
19 LIPTUS
20 INAKKA
21 TETROS
22 ARBINE
23 RECTOS
24 YEANTA

25 MONOGA
26 ATTAYA
27 DESHTA
28 NEKOSE
29 ERATIN
30 SOLCIS
31 SAGINE
32 WINNER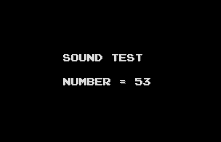 Play as the Gaichi instead of the Union:
At the title screen, press and hold Select. Then highlight 1P Continue and press I (make sure you still press and hold Select). Then you can now enter a map password and play as the Gaishi!

Sound Test Screen:
At the password select screen, enter ONGAKU as a password. You can now listen to all the music tracks and sound effects from the game (picture on the right).



LK



Add your Pov here !



P
O
V
s


Nectaris is a surprisingly good strategy game! I have to say, I wasn't expecting much at first - the levels all look alike and you are just stuck on the moon with the same environments ad nauseum. But the more I played the game, the more I realized how much Nectaris truly shines and how deep the gameplay really is. Each level brings new elements to the mix in a way that makes the experience really addictive and fun. I feel that Nectaris doesn't always play fair and often puts you in desperate situations, but this is what makes it so exciting and challenging! Hudson Soft managed to hit the balance just right and Nectaris is a delight to play! The ground breaking Famicom Wars was released in 1988 and I believe Nectaris is on par with Nintendo's classic. An amazingly crafted game with incredibly addictive gameplay and meticulous attention to detail!