| | | | |
| --- | --- | --- | --- |
| | | | |
ミズバク大冒険
©Taito Corporation 1992
Release : 1992-01-17 (¥7200)
Hucard (4 Mbits) TP03020
Action / Platform game

Mizubaku Daibōken is a colorful platform game by Taito, conversion of their own arcade game originally release in 1990. The protagonist of the game is a cute platypus named Hipopo on a mission to rescue his beloved girl friend and the rest of the platypus village from the claws of an evil fire demon. To help him in his task, our friend is given the power to throw water-bubbles to stun his enemies - once immobilized, Hipopo can kick them to oblivion for good. The power is however limited and our friend is condemned to wait to charge-up large bubbles. The player must guide our hero towards the Demon's hideout in order to free his friends - each zone is made out of several stages. Successfully completing a zone gets Hipopo to affront a boss but also allows him to choose his next route - later stages have several exists and secret warp doors which lead to different parts of the game's world. Finally, Hipopo can collect various special items such as speed-up, rapid-fire, large-bubbles, shield and so forth. Special food items can also be released by killing several enemies at once and blasting multiple combo-chains !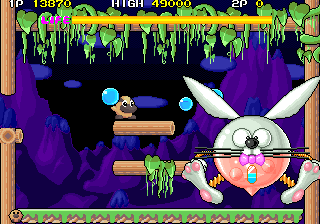 The original arcade game, also known as Liquid Kids and Mizubaku Adventure, was released by Taito in 1990 (picture on the right) and is considered as the spiritual sequel of New Zealand Story. The game was ported, as far as I know, for only one home system of the time - the PC Engine (1992). An Amiga version was supposed to be released in 1990 but was cancelled. The game was however later converted in 1998 for the Sega Saturn and was only published in Japan by Ving.
Some features are missing from this PC Engine port - the parallax scrolling was, obviously, omitted and the boss sprites are indeed smaller. However, new warp-doors were added.

Here is are some of the hidden doors scattered around the game. I leave you to find their exact locations and how to find the others. Notice on the last image the Kiwi from New Zealand Story hidden inside one of the secret rooms. Good warping !
Game Staff (Copied from the end credits) :



STAFF

Producer
Shotaro

Game Design
Y. Arata

Programmer
K
Kazu

Character
M.Y.K
R.O.K

Sound
Karu
ZTT

Special Thanks
N. Hiramatu
H. Suzuki
Talk. U

Soft Check
Suit.S

THANKS YOU
FOR YOUR
PLAYING.

( some japanese text )

THIS PEACE IS FOREVER...
PRESENTED BY
TAITO


O
M
A
K
E



Click on picture to enlarge
LK



cosmos99



P
O
V
s


If I had to pick the best platform game for the PC Engine system, I would probably pick Mizubaku Daibōken. Taito did here a fantastic job - graphics are as cute and nearly as colorful as the original arcade game and the soundtrack is gorgeous. The gameplay is also addictive and flawless. I was worried about the game being too easy at first - early stages are dead easy and relatively quick to complete but things get tricky and more difficult half way through the game. There is no need to love cute little characters to enjoy this game throughout, really, but if you enjoyed games such as New Zealand Story then you shouldn't think twice about this one! Just find a copy and play it! It is a masterpiece!


Marvellous game, really colorful, a little gem in the vein of Parasol Stars, not really hard to play and I've kept a very good souvenir from it. A smash hit !