GUNHED
( Blazing Lazers )
| | | | |
| --- | --- | --- | --- |
| | | | |
ガンヘッド
©1989 Hudson Soft
1989 ©Toho/Sunrise
Vol.19
Release : 1989-07-07 (¥6200)
HuCard (3 Mbits) HC89019
Shooter / Vertical




Released in America as
BLAZING LASERS
( TGX030010 )
Gunhed (aka Blazing Lasers) is a vertical shooter co-developed by Compile and Hudson Soft. It is loosely based on a Japanese feature film of the same name originally released in 1989 (they however share little in common). The Dark Squadron forces are poised to take over the galaxy, and eight of their deadliest weapons must be destroyed in order to thwart the interplanetary invasion plot. The player pilots the Gunhed, a powerful space-fighter, and flies his way through nine massive areas, from a huge space station to organic tunnels and other odd alien worlds. Gunhed offers vast levels, most of them featuring middle-bosses as well as bosses. To succeed in his mission, the player has access to a vast array of weapons. A lot of weapons. Four main weapons are available throughout the game - Photon Blasters (I), Disrupt Wave (II), Field Thunder (III), and Ring Blaster (IV). Each weapon (I to IV) also comes with several levels of power upgrades, which can be powered-up by collecting the same weapon-icon several times, or by collecting purple floating orbs left behind by defeated enemies and power pods. Then secondary weapons or special abilities can also be equipped along the way - floating F icons (Full Fire) increase the power of the active weapon, Multi-bodies serve as support options/satellites and fly alongside the ship, Homing missiles spread out and attack nearby enemies, and Shields protect the player against enemy attacks. Finally, in case of extreme emergency, the ship has a stock of powerful bombs than can clean up most of the enemies on screen.

Gunhed was licensed from the science fiction/action film of the same name released in 1989 and directed by Masato Harada (Picture on the left). The movie was produced by Toho/Sunrise, and the same copyright information can be found on the game's title screen. In the movie, a super computer called Kyron 5 takes control of the world, and a group of survivors decides to reactivate a giant robot, the GUNHED 507, to fight the threat. Interestingly, the Gunhed 507 is a large and futuristic robot-tank, and not a space-fighter - but the tank mode does somehow resembles the ship featured in the video game.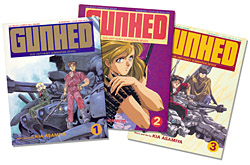 A series of comic books was also published in Japan and in the United States (picture on the right) - the story and art were done by Kia Asamiya, also known for his major works Silent Moebius and Dark Angel.

Another game also based on the Gunhed movie was released for the Famicom in 1990 - Gunhed Aratanaru Tatakai was developed by Varie and is not a shooter but a strategy/war game. Finally, the Gunhed 507 does also a cameo appearance in Runabout 2 developed by Climax Entertainment for the Playstation in 1999, where the "Kyron 5" is an unlockable tank very similar to the original Gunhed 507.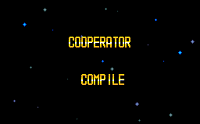 The PC Engine game was co-developed by the legendary Japanese company Compile. Their names can be seem in the game's end credits where they are mentioned as 'cooperators'. Gunhed is filled with ideas and gameplay concepts only found in other Compile games such as Zanac (Famicom), Gun Nac (Famicom) or Super Aleste (Super Famicom) - similar weapon system and same hectic and intense gameplay. Interestingly, some of the music tracks sound really familiar too, and they do resemble the ones found in other Compile games such as Alien Crush.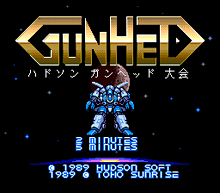 Gunhed was part of the fifth Caravan Festival organized by Hudson Soft in 1989. A non-commercial and very limited edition of Gunhed exists - Gunhed Special Version comes as a single HuCard, and offers a 2 and 5 minutes Time Attack modes (picture on the left, see also the Omake section). Interestingly, many video game magazine in the 1990s (especially in France), listed Gunhed as part of the Star Soldier series - we are left to wonder if the Caravan Competition didn't actually lead to that mistake. See Star Soldier for more information about the Caravan Festival.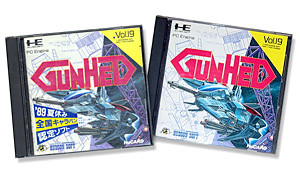 Interestingly, Gunhed was released with two different label variations in Japan. Well, not exactly - one edition has a large blue sticker applied to the game's cover. The sticker seems to mention that Gunhed was featured at the fifth Caravan Festival in 1989 (see above for more information about the event). There is uncertainty as to which variation came first, but the "sticker edition" is apparently more common than the other one.
Teaser text from the American version :
Stay alert! Don't blink! You're in the fight of your life. The defense of Planet Earth against the Dark Squadron hangs on your hair-trigger shooting and superior strategy. Bun win or lose, you and your 80-ton lazer gunship are going to make things HOT. Increase destructive capabilities by powering up, and battle your way to the Supreme Alien Leader. What you do to him if you catch him won't be pretty!
Game story from the American version :
Get to your battles station, space jockey! You're in for the fight of your life in this, the ultimate outre-space shoot'em up - Blazing Lazers! Seated at the helm of 80 tons of awesome firepower - a Gunhed Star Fighter - you've just run into the ruthless Dark Squadron. Dangerously close to the Earth, they threaten to destroy the world with 8 Super Weapons. Only you and your Star Fighter's blazing lazers and bombs stand between them and certain destruction. Plan your strategy and power up with the 8 different enhancements that appear - you'll need more than straight shooting to fight your way out of this one!
Game Staff (Copied from the end credits) :



Programmer
Jemini Hirono
Pochi Nakamori

Designer
Janus Taramoto
Zash.Pri.Pri
Nakashima Puppy

Composer
Miyamo
J.T.S
Mats
Sydon
Ozono
Takeuchi

Director
Mikio Ueyama
Tadayuki Kawada
Moo Niitani

Producer
Hidethoshi Endo
Eiji Aoyama

Special Thanks
Best Friends in Sapporo
John A. Greiner
Rice Grounds
Mizutan
Healthy Toyama
And You !

Cooperator
Compile

© 1989 HUDSON SOFT
1989 © TOHO SUNRISE

THE END


G
O
O
D
I
E
S



Japanese Guidebook

O
M
A
K
E



Click on picture to enlarge
LK



rag-time4



P
O
V
s


Gunhed is definitively one of the most amazing and overwhelming vertical shooter available on HuCard for the PC Engine system. The graphics and the soundtrack are outstanding and the gameplay is utterly brilliant - the game is fast, furious and will get your adrenaline pumping for sure! It always ensures that there is a steady flow of enemies heading your way, as well as power-ups, which gives it an unique and intense gameplay. Everything is not perfect though, and the game has a couple of tiny flaws - the difficulty curve is a bit off - although it is somehow gradual, the last couple of levels are insanely difficult compared to the rest of the game. Then enemy bullets don't actually move sideways when the screen does - this effect is hard to describe, but I sometimes find it hard to evaluate their trajectories, especially in the fire of action. All in all, Gunhed is amazing, spectacular and a shooter that shouldn't be missed.


Every review I've ever read for Gunhed has been exceedingly positive, so naturally I figured it had to be overrated. However, as I got further and further into it, I consistently found more to enjoy. Yes, Gunhed / Blazing Lazers is a straight-ahead shooter with simplistic gameplay, but it is also a shooter with a musical soundtrack that not only complements the gameplay but is something to enjoy all on its own. Gunhed is a true classic and a definite must-play!