| | | | |
| --- | --- | --- | --- |
| | | | |
源平討魔伝
©1986 1990 Namco Ltd
Release : 1990-03-10 (¥6800)
HuCard (4 Mbits) NC90001
Action / Platform game

Genpei Tōma Den is a side scrolling action game by Namco and conversion of the arcade game of the same name originally released in 1986. The game tells the story of the legendary samurai warrior Taira no Kagekiyo who has been resurrected to complete his greatest mission - ascend to the mystical underworld, defeat his deadliest enemies and retrieve three sacred treasures. All of this in order to defeat his arch-enemy Minamoto no Yoritomo. Unlike other action games of its time, Genpei Tōmaden combines three different gameplay mechanics - the Yoko mode (side-scrolling 'mini' stages), the Big mode (side-scrolling 'large' stages) and the Heimen mode (top-down 'plane' stages). In a nutshell, the Yoko stages feature really small sprites and fast paced action with multiple enemies on screen, platforms, traps and pitfalls (which lead to special penalty levels), whereas the Big stages mainly feature bosses and large enemy battles. Finally, the plane stages are similar to the Yoko mode, but utilize a top-down view and feature chests as maze-like stages. Additionally, each level includes at least one red Torii gate (traditional Japanese shrine gates) that leads to the end of the stage (or in some occasions to a completely different location). Finally, the player comes equipped with a lethal sword that can be upgraded by collecting purple orbs left behind by defeated enemies - however, the sword can also lose power if Kagekiyo happens to hit indestructible objects (such as large floating stones). Other orbs are also available in the game, such as green orbs (they act as money), blue orbs (health) as well as special items such as the magic scrolls (temporary special attack) or the sword (increases power in exchange of money). Genpei Tōma Den is a vast game and features a non-linear progression, and many levels contain alternate hidden paths.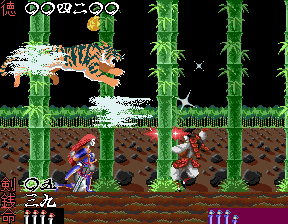 Genpei Tōma Den was an arcade game originally released by Namco in 1986 (picture on the right). The game was later converted for the Sharp X68000 (1988), the PC Engine (1988) and was later included in the Namco Museum Vol.4 (Playstation, 1996) where it was renamed 'The Genji and the Heike Clans' for the western releases. Interestingly, a completely different game was released for the Famicom console in 1988 - it was a round based boardgame/RPG based on the first Genpei Tōma Den (it also included a real boardgame with metal figurines that could be used in association with the game). A sequel to the original arcade game was exclusively released in 1992 for the PC Engine - this second episode, called Genpei Tōma Den Kan no Ni (aka Samurai Ghost in the United States), only featured the Big mode but with new platform and trap elements.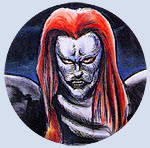 Genpei Tōma Den stars Taira no Kagekiyo, a real samurai who actually lived in Japan in the 12th Century. He was once renowned for his unique bravery and was part of the Taita Clan (the Heike). He later fought during the last battle of the Genpei War, which led to the victory of the Minamoto Clan (the Genji) and its leader, Minamoto no Yoriyomo. Taira no Kagekiyo (picture on the left) did many cameo appearances in several Namco games, such as Tales of Eternia (2000) and Namco × Capcom (Playstation 2, 2005), and he was a playable character in the crossover game Namco Super Wars (WonderSawn, 2002). Finally, Genpei Tōma Den has a strong resemblance with Getsu Fūma Den released by Konami for the Famicom in 1987 (see Getsu Fūma Den for more information).
Game Staff (Copied from the end credits) :



Supervision
Jiēi Jiēi (JJ)
Takkii


Production
Yappi Asakichi
Shirukii (Silky)

Art
Haro 7000
Tākī Oharu (Turkey Oharu)


Sound
Achibin
Kagekiyoshi

Omake/Bonus Anabō
Umi Tai-chan


G
O
O
D
I
E
S



Japanese Guidebook


Japanese Guidebook


Japanese Guidebook

O
M
A
K
E






Click on picture to enlarge
LK



Add your Pov here !



P
O
V
s


Genpei Tōma Den is such an oddball. While the game does show its age, it still boasts a really unusual (and strange) character and level design that won't leave anyone indifferent (the arcade game apparently has a sort of cult following in Japan). The three different play modes also add some nice variation to the game, and sprites can be fairly large on screen as well. But after the initial premise is established, the game pretty much falls flat on its face - the controls are clumsy and imprecise, the hit detection is shockingly poor and the difficulty is unbalanced and unfair (you can't backtrack and continues are useless!). All in all, despite all the good ideas that went into Genpei Tōma Den, the game is just way too tedious to recommend.