GENPEI TŌMA DEN : KAN NO NI
( Samurai Ghost )
| | | | |
| --- | --- | --- | --- |
| | | | |
源平討魔伝 巻ノ弐
©1986 1992 Namco Ltd.
Release : 1992-04-07 (¥6800)
HuCard (4 Mbits) NC92002
Action / Platform game




Released in America as
SAMURAI GHOST
( TGX040085 )
Genpei Tōma Den Kan no Ni is the PC Engine exclusive sequel to Genpei Tōma Den, an arcade game originally released by Namco in 1986. The evil Minamoto no Yoritomo and his ruthless henchmen were defeated once before by Taira no Kagekiyo, the undead samurai warrior. But his victory was to be short lived and they are now hiding in a different realm in the underworld called the 'Dark Side', waiting for the day of their resurrection. Kagekiyo is ready to fight them again and he is determined to put down his arch-enemy once and for all. Unlike its predecessor, Genpei Tōma Den Kan no Ni only features the 'big' mode of play (side scrolling action with large sprites on screen) and the 'small' and 'top-down' phases have been completely omitted from this episode. Kagekiyo's primary weapon is his trusty sword but in addition to the default attacks, he can use special moves to deal extra damage or defend himself against enemy attacks. Enemies and various characters encountered throughout the game drop magical orbs when defeated, which range from yellow (life), purple (weapon upgrades, they come in four flavors such as projectiles or longer range but their effect only last a short amount of time) or green (collect 100 for extra life). Other items such as candles (increase life meter) or large candles (worth four candles) are also available for the taking, as well as 'bad' items (such as poisonous mushrooms) that will inflict damage to the player. Genpei Tōma Den Kan no Ni consists of seven levels and is single player only.
See Genpei Tōma Den for more information about Namco's Genpei Tōma Den series.
Teaser text from the American version:
Yorimoto and his men were vanquished once before by Kagekiyo. Now they have secretly withdrawn to the realm called the Dark Side to await the moment of their resurrection. To prevent this dire eventuality, Kagekiyo descends to the Dark Side.
Game Staff (Copied from the end credits) :



Director
Jiēi Jiēi (JJ)
Paya Paya

Story
Chappy Oharu


Producer
16I
Shiruneta

Art
Mōrī Rairu
Yosshī Ichi


Music
Gāppī
Okkun
Hiroyon

Special Thanks
Mākutsū
Bombātake

Game Staff (Copied from the American version's end credits) :



Producer
JJ
Paya Paya

Game Design
Chappy Hal


Program
16I
Siruneta

Character Design
Rairu

Graphics
Daiya


Sound
Honchin
Okuyaba
Hiroyon

Special Thanks
MK3
Take


O
M
A
K
E



Click on picture to enlarge
S
E
C
R
E
T
S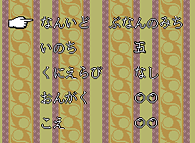 Debug Screen:
At the title screen, press Up, Left, Down, Right, II and I. A debug screen should appear (picture on the right). There, you can change the game difficulty, the player's health, start from any level or play sound effects and musics from the game.
LK



Add your Pov here !



P
O
V
s


Genpei Tōmaden Kan no Ni is slightly better than the ill-fated Genpei Tōma Den... Namco had a really good thing going with the 'big mode' (large sprites on screen and impressive bosses), so we can only welcome their decision to focus on this aspect of the game for this sequel. However, this new episode suffers from exactly the same problems that plagued its predecessor - stiff and slow controls, and extremely bad hit detection... let's see, how can I best describe the controls? Kagekiyo looks and controls like a puppet with disjointed limbs and his torso doesn't feel connected to his arms and legs. I mean, the game had a clever premise and a 'procedural' character (understand here that Kagekiyo is made out of moving parts rather than one single sprite) was a novelty, but in practice it is pretty broken. All in all, Genpei Tōmaden Kan no Ni is not as bad as its predecessor, but it doesn't hit the mark nearly as well as it should have with substantial issues at the core of the gameplay. The concept behind it seemed interesting but the game just fails in execution.