DAIMAKAIMURA
( Ghouls 'n Ghosts )
| | | | |
| --- | --- | --- | --- |
| | | | |
大魔界村
©1990 Nec Avenue
Licensed By Capcom
Release : 1990-07-27 (¥10800)
HuCard (8 Mbits) NAPH-1008
Action game


Daimakaimura is a platform game by Capcom and is the SuperGrafx port of the classic arcade game known outside of Japan as Ghouls 'n Ghosts. The brave Arthur, infamous for wearing red hearted boxers under his piece of armor, is back. His beloved princess Prin-Prin has been captured by the great demon king Loki and he has now, once again, the daunting task of rescuing her. His journey gets him through six long stages from a creepy cemetery infested with Grim Reapers and Vultures, to a abandoned windmills full of deadly stone turtles. Arthur starts the game equipped with a short joust spear that he can throw at his enemies. Treasure chests appear from time to time (usually triggered by jumping over specific spots of the scenery) and Arthur can crack them open to reveal new weapons, brand new pieces of armors or, if already equipped with one, the almighty Golden Armor. But treasure chests can also reveal mean sorcerers who won't hesitate to turn our hero into an elderly man with a walking stick or a cute but particularly vulnerable duck. Finally, the Golden Armor can be charged up and unleash powerful attacks from the equipped weapon. For instance, the spear can trigger a lighting spell and daggers a mirror-image of Arthur. The game is vast and mean guardians keep the gates leading to Loki's lair.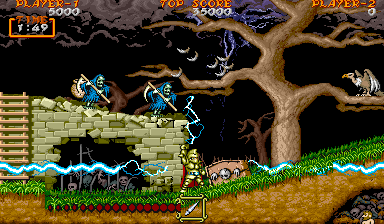 Dai Makaimura (aka Ghouls 'n Ghosts ) was released in the arcades by Capcom in 1988 (picture on the right), and it was the sequel to the widely popular Makaimura (aka Ghosts 'n Goblins) released in 1985. Dai Makaimura was ported to countless home systems at the time: Commodore 64 (1989), ZX Spectrum (1989), Amstrad CPC (1989). Atari ST (1989), Amiga (1990), Megadrive (1989), Master System (1990), Sharp X68000 (1994). Dai Makaimura was also included in Capcom Generations 2 (Playstation, Saturn, 1998), Capcom Classics Collection (Playstation 2, Xbox, 2005) and in Classics Collection Reloaded (Playstation Portable, 2006).

O
M
A
K
E






Click on picture to enlarge
LK



Add your Pov here !



P
O
V
s


Daimakaimura is Capcom and Nec Avenue at their finest. Capcom created one of the most original (a arguably toughest) platform arcade game even made, with a distinct visual style and an astonishing gameplay. Nec Avenue, on another hand, made an outstanding job and brought an incredible title to the Supergrafx's (sadly short) library. Daimakaimura is certainly one of the best home conversion available. Graphics are incredibly close to the arcade and most of the animations and original features are there, even the animated introduction sequence. However, the game is notorious for being frustratingly hard and it certainly oozes classic arcade design, where players had to learn enemy patterns and each level's intricate layout in order to progress (although I personally find Daimakaimura to be somehow easier than its prequel). And don't forget, the game has to be completed twice to unlock the final ending! But for those willing to persevere, and with some practice, Daimakaimura definitively delivers the goods and this port is a majestic conversion of an already outstanding game.