| | | | |
| --- | --- | --- | --- |
| | | | |
武装刑事サイバークロス
©Face 1989
Release : 1989-06-23 (¥6300)
HuCard (4 Mbits) FA01-002
Action / Platform game

Cyber Cross is a side-scrolling action game by Face. Mysterious armies of insectoid monsters from outer space have taken over the world. Led by the ruthless Dr Nozumī, they are wreaking havoc all over the globe. The player takes control of the Cyber Cross, a member of a special anti-crime unit who sets out to teach the invaders a lesson. In the Japanese Super Sentai tradition, the Cyber Cross starts his mission in a weak human form, only able to kick and punch his opponents. But he has the ability to quickly transform into a more powerful combat-mode! Colored orbs left behind by flying power units allow him to turn into three different super heroes - Red (Sun Shield equipped with a plasma sword), Green (Moon Shield equipped with laser boomerangs) and blue (Star Shield equipped with a blaster cannon). And the more orbs the Cyber Cross collects, the more powerful each combat form becomes! Additionally, each weapon can be charged up to release even more powerful attacks. But the player must always keep an eye on the Cyber Cross health indicator - if he loses too much energy, he will inevitably turn back into his more vulnerable human form! Cyber Cross consists of five areas and is single-player only.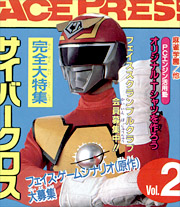 Cyber Cross is very inspired by the popular Japanese Super Sentai series (itself sub-genre of the Tokusatsu series) where the main characters could transform into powerful heroes wearing colored uniforms. The Super Sentai series were immensely popular in Japan and some even aired in Europe (such as Chōdenshi Bioman or Chōjū Sentai Liveman), and some went through heavy localization and served as a basis for the successful Mighty Morphin Power Rangers (the original American show is entirely adapted from Kyōryū Sentai Zyuranger). A sequel to Cyber Cross was released for the PC Engine in 1990 - Cross Wiber Cyber Combat Police is however based on the Metal Heroes series rather than the Super Sentai.
Cyber Cross features a fun introduction sequence in the Super Sentai tradition. This introduction even has lyrics which indicates that it was most probably supposed to be a 'sing-along' song (which was, if you think about it, pretty characteristic of Super Sentai series at the time).
Here are the Japanese lyrics with an approximate English translation:



ぎんがのむこうから
ぼくらのこのほしの
へいわをまもろために
せまりくるノズミー
やみのぐんだん
やつらのやぼうを
うちくだくために
いくぞサイバークロス
うなれ
ひっさつスピンキック
サイバークロス
きめろ
せいぎのパワーパンチ

From the other side of the Galaxy
From this distant star
We protect the peace
Nozumī is looming
Army of darkness
They are tenacious
They must be crushed
Let's go Cyber Cross!
Yeah!
Deadly Spin Kick
Cyber Cross
Decides!
Power Punch of Justice!


G
O
O
D
I
E
S



Japanese Soundtrack

O
M
A
K
E



Click on picture to enlarge
LK



Add your Pov here !



P
O
V
s


I believe Cyber Cross was the second game Face released for the PC engine, and I have to say, it does show its age. The action is fairly slow and the controls are incredibly stiff. The graphics are correct and the main character's animation is surprisingly smooth. But the stages are unnecessary long and painfully bland, with waves or generic enemies before equally uninspired boss battles (bosses use simple attack patterns but have too much health, making these encounters more frustrating than they should be) - and all the levels feature the same background music! Then the power-up system, although original, doesn't really work in my opinion, and you spend most of the game with the feeling of being underpowered. Oh, and you have only one life to complete the whole game. All in all Cyber Cross is really average, but it usually goes for cheap, so why not give it a shot? But beware, there's nothing great nor outstanding here.