| | | | |
| --- | --- | --- | --- |
| | | | |
コリューン
©1991 Naxat Soft
Release : 1991-11-29 (¥6800)
HuCard (4 Mbits) NX91004
Shooter / Horizontal

Coryoon is a cute side-scrolling shooter by Naxat Soft. The player takes control of a small flying dragon whose best friend, a beautiful young princess, has been transformed into a little girl and captured by an evil demon named A-Dāru. But the mysterious and demonic villain has also doomed the world and left behind his legions of terrible monsters. Coryoon, our pet dragon, has only one thing left to do; he must face a near impossible quest, defeat the advancing foes and eventually overpower their master. Coryoon has an arsenal of three fire-blowing techniques to help him in his fight. These power orbs are carried around by pink storks and range from red flames (powerful but with a limited range), blue waves (fast, wide and long range) and yellow lightnings (small but can be fired in many directions at once). Each weapon can be powered up a maximum of three times and the player can release the fire button for a short amount of time to charge up more powerful fireballs. Although most of the enemies drop fruits when defeated, some drop special items in the shape of playing card suits (such as small dragon (diamond), protective fairies (heart) and smart bomb (spade)) and rare giant chickens even drop dragon-options!

Game Staff (Copied from the end credits) :



Coryoon Staff

System Programmer
Yoshiharu Takaoka

main Programmer
Yoshiharu Takaoka

Other Programmers
Yuichi Ochiai
Naomi Nakamura
Advisers
Kouji Miyoshi
Kou Matsuda
Hideaki Miyakushi

Graphic Designer
Kenji Mori

Graphic Assistant
Yoshiharu Takaoka

Sound Composer
Hishashi Matsushita
Daisuke Morishima

Planner
Kenji Mori
Kazuhiko Inoue

Game Designer
Yashiharu Takaoka

Test Players
Manabu Sakai
Nazuhiko Imoue
Takayuki Yajima
Kenichi Kimura

Voice
Hideko Oguro

Special Thanks
Kazuo Yamana
Hiroshi Shimoji
Masato Toyoshima
Kazuo Takahashi
Masayuki Fukada
Erika Kanou

Hiromi Iwata
Toshiharu Tagami
Fumihiko Hamaguchi
Masandri Kitsuta
Kenji Nakamura
Ryouichirou Hirano
Kiyotake Matsuno
Takahiro Shimizu
Junichi Ueda
Makoto Aoyama
Takechira Musha
Hiroaki Sakai
Hirotake Numasaki

"Coryoon"
©1991 NAXAT SOFT


O
M
A
K
E



Click on picture to enlarge
S
E
C
R
E
T
S

A set of cheat-codes can be entered in the sound menu. To activate them, press Select (or up and down) on the title screen to enter the sound menu. There, just highlight the listed tracks, one at the time, and press II between each entry. A chime (Coryoon's voice) will play indicating that the code was successfully entered.

No fruits mode - 00 03 05 10 00 03 05 10

Select level - 08 08 01 01 08 02 04 07

20 lives - 03 07 03 05 01 08 08 01 01 04

Weapon max power - 08 04 01 03 07 05 06 04

4 screens mode - 06 04 08 06 04 08 06 04 08

Black & White 4 screens mode - 01 04 05 06 05 06 05 06 05 06 05 06

Ending - 02 04 05 02 09 04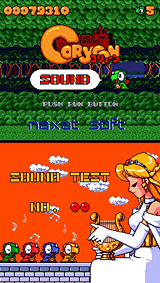 LK



Add your Pov here !



P
O
V
s


Coryoon is a fantastic and joyful shooter. Graphics are ludicrously creative and give the game its own unique and distinctive personality.. Although Coryoon is undoubtedly cute and aimed primarily at kids, it displays some incredible technical qualities - smooth and fast parallax scrolling, stunning backgrounds, large sprites and tons of them on screen without any slowdown. This comes at a price though and the only down point for me is the on screen confusion - it often leaves you looking for your character behind a wall of fruits and enemy sprites. Believe me, this is the first time I complain about a game for displaying too many sprites on screen! The soundtrack also features catchy and energetic tunes by Daisuke Morishima; he also composed the soundtrack for PC Denjin and, as a side note, both games share a lot in common and a quick look at the staff rolls certainly gives some answers. All in all, Coryoon is a delightful shooter despite a fluctuating difficulty level (often on the easy side) and the occasional sprite overflow (which can actually be turned off, see the 'no fruits mode' from the secret section).