CROSS WIBER - CYBER COMBAT POLICE
| | | | |
| --- | --- | --- | --- |
| | | | |
クロスワイバー
©1990 Face
Release : 1990-12-21 (¥6700)
HuCard (4 Mbits) FA02-008
Action / Beat'em up


Cross Wiber is a side scrolling action/beat'm up game by Face and sequel of Cyber Cross originally released in 1989. The world has been at peace after the great battle against Dr Nozumī, but a new enemy is rising in his stead. An alien force from outer-space called Dōma is on a crusade to conquer the world and anything on its way. The Galaxy Police Force has uncovered the aliens' evil plan of conquest and has decided to send Cross Wiber to destroy their hideout and to put an end to the invasion. Cyber Combat Police is a classic side-scrolling action game where the player takes control of a human fighter wearing civilian clothing. In this form, the Cross Wiber is only equipped with very basic punch and kick attacks (as well as a spinning kick triggered by pressing both action buttons simultaneously in exchange of some life). However, flying pods scattered throughout the game release power units allowing the player to eventually transform into a more powerful super hero with a metal armor (by pressing select). In this mode, the player can equip three different weapons - Red Wiber (sword), Blue Wiber (blaster gun with limited ammo) and Green Wiber (boomerang). As a side note, collecting the same power-up again upgrades the active weapon to a maximum of six times. Cross Wiber consists of thirteen levels and is single-player only.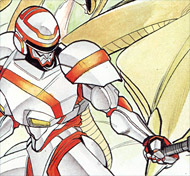 This game is very inspired by the popular Japanese Tokusatsu series, and especially the Metal Heroes where the main character (or main characters) could transform into super heroes wearing metallic armors. Cross Wiber definitively borrows a lot from great series such as Space Sheriff Gavan (Uchū Keiji Gavan), Chōjinki Metalder or Tokkyū Shirei Solbrain to only name a few. As a side note, Cross wiber is a sequel to Cyber Cross released for the PC Engine in 1989... however, this first episode borrowed elements from the Super Sentai series rather than the Metal Heroes.
Introduction Story from the game's introduction sequence:
There had been several years of peace since diabolical Dr. Nozumi tried to conquer the Earth. Now, Earth was being attacked from outer space by the new, powerful, well organized, well armed Doma who planed to take control of the Earth. The Galaxy Poline Force uncovered Doma's plans and assigned top special inspecter, Cross Wiber to destroy their attempt. Doma, however, had already deproyed his beast troops to stamp out the Earth's defences. Meanwhile, Cross Wiver has uncovered Doma's main Earth attack base and launched a swift counterattack.
"Charge, destroy the Doma !!" Cross Wiber commanded.
Game Staff (Copied from the end credits) :



STAFF

Planner
K.S. First

Programmer
Nak


Graphic Designer
Torba Special
Kusakabe
Sony
Sting


Music Programmer
Kawasaki

Music Composer
Dandy Hiroto

Translation
Kazuro


Assistant
Tamaki

Support
Darkun Katori

Presented by
Sankindo, Face


O
M
A
K
E



Click on picture to enlarge
S
E
C
R
E
T
S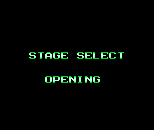 Level Select:
At the title screen, press Down, Up, Up, Down, I, II, I, II, Right, Left, Down, Right, Up and Run to activate the Stage Select screen (picture on the right).

Invincibility:
At the title screen, press Left, I, Up, Up, II, Select, I, II, Down, Up, Right, II, Up, II, II, II, I, Select, I and Run to start the game in invincibility mode (this is technically an infinite energy mode, and you will still die if you fall into a pit).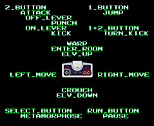 Controls Screen:
This is an odd one - at the title screen, press Select four times and then Run to see the game's controls... (picture on the right)
LK



Add your Pov here !



P
O
V
s


Cyber Cross is not a bad game and it does feature a few surprises hidden here and there (such as the stage where most of the action happens on the roof of a fast moving train, or the side-scrolling shooting levels). But the game is plagued with serious gameplay flaws - the controls are really frustrating and extremely clumsy to use. Enemies keep respawning and they just all gang up on you. They are very hard to avoid (especially at the beginning of the game) and you always have this feeling of being underpowered - most of the weapons are useless (except for the blaster, but it is the only weapon in the game that runs out of ammo!) and they are impossibly hard to upgrade! You will struggle to see the end of this one, even if you use the infinite energy cheat! Some stages have a non-linear progression with warps and doors that will irritate you beyond words (level 9 is atrocious!). All in all, Cyber Cross is a really average and frustrating game - it is a shame really, because it is fairly long with thirteen stages and there's a lot to see there.