| | | | |
| --- | --- | --- | --- |
| | | | |
1941カウンターアタック
©1991 Hudson Soft
©Capcom 1990
Release : 1991-08-23 (¥9800)
HuCard (8 Mbits) HC91048
Shooter / Vertical

1941 Counter Attack is a vertical shooter by Capcom and conversion of the arcade game of the same name originally released in 1990. The action takes place during World War II and depicts Capcom's own fantastic vision of the historic battle between the American and Japanese air forces in the Pacific. The player's mission is rather straightforward - on board a Lockheed P-38 airplane, he must fight his way through six varied stages, take down enemy installations, battleships and other huge rockets on their narrow launching pads. Unlike its predecessors in the series, 1941 Counter Attack traded the trademark and arguably monotonous level design for a more structured and diverse formula. Stages vary from an enemy infested canyon to city landscapes and fortified strongholds. Several powerups can be collected along the way, such as tiny wingmen widening the plane's fire power, or destructive special weapons such as laser beams and side rockets. The main weapon can also be charged up by holding the fire button to discharge a powerful attack. Finally, the plane comes with a small life bar and can be hit three time before being blasted into oblivion - this bar however increases as the game progresses, and is used to release devastating special attacks as well. 1941 Counter Attack also features a two simultaneous player mode.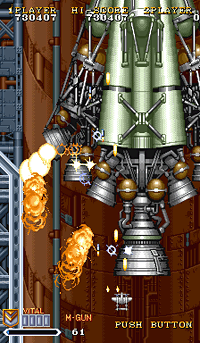 1941 Counter Attack was originally released in the arcades in 1990 (picture on the left).

The SuperGrafx conversion tested here was the first and only port available for a long while. 1941 Counter Attack was much later included in Capcom Classics Collection Remixed (Playstation Portable, 2006) and in Capcom Classics Collection Vol. 2 (XBox/Playstation 2, 2006). The Supergrafx port if fairly close to the original arcade game. The first obvious difference is the screen aspect ratio. The width of the playfield is close (although shorter) to the arcade, but the vertical display is much shorter. The rest of the game is incredibly faithful to the original game and only suffers from minor (and extremely rare) graphical alterations.

See 1942 (Fc) for more information about Capcom's 194X series.
Game Staff (Copied from the end credits) :



CAPCOM STAFF

Planner
Poo
Rekite

Character Designer Object
S. Thing
Yokota Yokozo
Terukun
Kuribow

Character Designer Scroll
Sadakichi
Marilyn
Yuki
Kintarou
Harusan

Character Support
Akiman

Character Coordinator
Rekite

Character Effect
Yokota Yokozo

Sound Composer
Hifuni

Programmer
Makkow
Babel-2
Dome

Game Analyser
Nin
Doda Nda Uda

Director
Kihaji Okamoto


HUDSON SOFT STAFF

Project Leader
Shi

Programmer
Shi
Papu Koba

Chief Designer
Nonyu

Designe Support
Jsr.Yaman

Designer
Momochin
Nishirin
Tamtam
Yamaguchi
Sato
Shibuya

Sound Director
Happy

Sound Programmer
Funny Narinari

Effect Programmer
Wink Satochan

Special Thanks
Gum
Ryutaro

©HUDSON SOFT
©CAPCOM

LK



Add your Pov here !



P
O
V
s


1941 Counter Attack is an awesome game, and I personally think it is the best title available in the SuperGrafx (short) library. I must admit that I have always found 1942 and 1943 a bit bland and repetitive, and this third episode in the series definitively addresses the issue and features six different and unique levels. The graphics are sharp and detailed, the amount of sprites on screen is impressive, and I particularly appreciate the level design, which features huge bosses and excellent sceneries. This conversion is very faithful to the original arcade game and only the soundtrack and sound effects are of lower quality and took a hit. All in all, 1941 Counter Attack is incredible. However, be ready to crack open your piggy bank to add this game to your collection...