| | | | |
| --- | --- | --- | --- |
| | | | |
ブロディア
Original Program:
©1983 Manuel Constantinidis
PC Engine Version:
©1989 Hudson Soft / vol.25
(Licensed by Brøderbund Japan Corporation)
Release : 1990-02-23 (¥4500)
HuCard (1 Mbit) HC90027
RAM Backup
Puzzle game




Released in America as
TIMEBALL
( TGX020034 )
Blodia is a puzzle game by Hudson Soft and based on an original idea by Brøderbund. The game features a tiny crystal marble that slowly rolls through a maze of pipes. The goal of the game is to slide these tiles around so that the ball keeps rolling and doesn't run out of track. Once the marble rolls passed a pipe, such tile disappears and leaves space to more pipes to clear up. Later in the game, the playfield becomes surrounded by exit pipes that connect the sides of the screen allowing the ball, for instance, to exit at the bottom of the screen and to reappear at the top of the playfield. Additionally, the game comes with a level editor allowing players to create their own mind-bending stages. Blodia consists of one hundred stages (fifteen are available from the start of the game) and is single player only.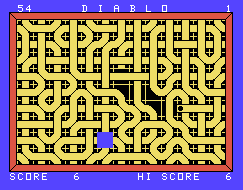 Blodia is actually based on a game called Diablo originally released by Brøderbund in 1983 and designed by Manual Constandinidis (picture on the right). Notice that the name "Blodia" is actually an anagram of "Diablo" and this name was apparently only exclusively used in Japan. Diablo was first released in the west for countless home systems such as the Texas Instrument TI-99 (1983), Coleco Adam (1984), Atari ST (1985), Amiga (1987), Commodore 64 (1987) and MSX (1989). Blodia was also released in Japan for the PC-88 (1988), PC-98 (1988), Sharp X1 (1988) and Sharp X68000 (1990). As a side note, a sequel to Blodia called Blodia Land Puzzle Quest was released for the Nintendo Famicom in 1990 by Tonkin House. The game was exclusively released in Japan and featured updated and much cuter graphics - the ball was substituted to a cute dragon-like creature with an unicorn horn and the levels used all kind of themes (from castles, gardens, Egypt and so forth) as well as a world-progress map, power-ups and tons of other features.

O
M
A
K
E






Click on picture to enlarge
LK



Add your Pov here !



P
O
V
s


I gave Blodia all the time and chances it deserved but I had to give up. Let's be honest - Blodia is bad, unbelievably bad, hernially bad! Ok, let's be more constructive and more objective here. Puzzle games are supposed to bring new concepts and ideas that make your brain starving for more, right? In an ideal world and ideal puzzle game, you start with basic gameplay mechanics and the game builds upon them, so players slowly get addicted to the mechanics and learn what they are supposed to do. Blodia is nothing of the sort. Even the first level has you screaming in despair - what am I supposed to do? Then, even when you finally get a grasp of the game's core mechanics, it just becomes a painful and boring experience. Blodia also looks bland and uninspired; no cute graphics, no cute music... nothing. Just countless and boring monochrome puzzles that slowly, but surely, will drive you towards a nervous breakdown. Avoid this frustrating and uninspired game!