| | | | |
| --- | --- | --- | --- |
| | | | |
ビーボール
©1990 Hudson Soft / vol.28
Release : 1990-03-30 (¥5200)
Hucard (2 Mbits) HC90028
Puzzle / Action game




Released in America as
CHEW-MAN-FU
( TGX020035 )
Beball is a single-screen action puzzle by Hudson Soft. In ancient China, the evil sorcerer Chūmanfū (aka Chew-man-fu) has selfishly taken over the holy tower. An ermite monk sends two of his disciples, the young Rin Rin and Ran Ran, to enter the large tower made out of countless mazes, all filled with monsters and deadly hazards created by the sorcerer's magic powers. The goal of the game is to move four large and colored marbles (red, blue, black and green) onto their respective color pads within a time limit. However, nasty creatures (hedgehogs, tortoises, giant apes and so forth) try to stop our heroines and prevent them to perform their sworn duty. And this is where the ability to kick comes handy - the young monks can strike the colored orbs, sending them flying across the screen and damaging enemies along the way. The same technique can be used to crack and destroy walls from the playfield. From time to time, special icons appear and give the little girls special powers, such as red circles (kill all creatures), clocks (freeze time), bowls of soup (attract creatures), skulls (reduce the girl's life) and so forth. Diamonds can also be collected along the way to unlock bonus stages rewarding the player with extra lives. Be Ball includes a two-player mini-game called KickBall and a level editor where custom stages can be created and stored on any backup Ram units. Be Ball consists of five areas made out of ten stages each and features a password system. Finally, a two simultaneous players mode is also available.

Teaser text from the American version:
Chew-Man-Fu has gone too far! His evil curse deprives you, (and everyone else), of your beloved egg rolls and fried rice. To break his spell, roll 4 magic balls through a maze to matching colored squares. Sound easy? Hah! Chew's whole zoo is out to stop you. Prickly porcupines, wily penguins, rowdy apes and more! Use thos balls to clobber'em and smash through the walls. With 5 worlds and 550 wild rounds, the fun never stops.
Game Staff (Copied from the American version's end credits) :



STAFF

Design
Yumi
Bimbo
Simo Tuma

Sound
N. IDE

Program
Wacky

Thanks to
MR. URA

Hudson Soft

Thank You !
More to come !


O
M
A
K
E



Click on picture to enlarge
S
E
C
R
E
T
S

Level Select: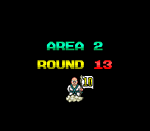 Enter 677261 as a password. Then start the game and press up and down to select a level (picture on the right).

LK



Add your Pov here !



P
O
V
s


Beball is a cute little game in the pure old-school action puzzle tradition. Graphics ooze charm - they are sharp, bright, very colorful and immediately engaging. The gameplay is extremely simple and works amazingly well. However, the game becomes increasingly repetitive and after a while, stages tend to look alike and rolling the orbs to their respective color pads becomes more of a cumbersome sisyphean task than a fun challenge. The level editor is a neat feature though, and it certainly adds a lot to the game's replay value. All in all, Be Ball is a fun little game with interesting gameplay mechanics, but without anything terribly amazing nor terribly bad about it.