| | | | |
| --- | --- | --- | --- |
| | | | |
ゲンジ通信 あげだま
©NEC Home Electronics, Ltd. 1991
Release : 1991-12-13 (¥5800)
HuCard (4 Mbits) HE91001
Shooter / Platform / Horizontal

Genji Tsūshin Agedama is a side scrolling action game by NEC Home Electronics based on a Japanese animation series originally aired in 1991. The game stars a young boy called Genji and his rabbit-like flying robot Wapuro. The boy has the power to transform into Agedaman, a super hero in training, whose mission is to fight an evil organization that can turn humans into hideous monsters. Genji Tsūshin Agedama's gameplay features an unique mix of shooting and platforming - Agedama can run and jump onto platforms but the screen constantly auto-scrolls to the right, forcing the player to rush though the levels. The boy comes with an arsenal of fighting techniques, such as a handy high-jump or an acrobatic somersault, but his true power comes from the ability to use powerful magic attacks. They come in five main types (for a total of fifteen attacks) that range from Fire, Wind, Beam, Genie and Lightning. But in order to use them, Agedama must first collect them throughout the game. Once available, the player can hold the attack button to charge up Agedama's magic powers (symbolized by a power-bar at the top of the screen) and release all kind of devastative attacks, from fire balls, tornadoes, to lightning bolts and massive explosions. Various other items are available in the game, such as temporary invincibility (Yellow) or flying goblin-options (Blue). Finally, Waparu the rabbit-robot can help our hero in his perilous journey and he appears in most levels, replenishing Agedaman's health on a regular basis. Genji Tsūshin Agedama consist of six levels and is single-player only.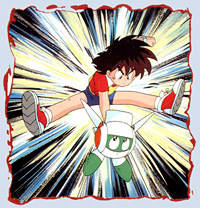 Genji Tsūshin Agedama was a 51 episodes Japanese animation series originally aired from 1991 to 1992. The series stars a young boy called Genji who, one day, learns that he has been specially chosen to become Agedama, a super hero in training. In secret, and with the help of his floating robot companion Wapuro, he fights a group of criminals who has the power to turn humans into frightening monsters.

G
O
O
D
I
E
S



Japanese Phonecard


Japanese Phonecard

O
M
A
K
E



Click on picture to enlarge
S
E
C
R
E
T
S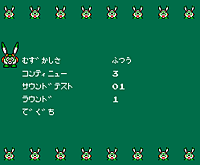 Debug Screen:
At the title screen, press and hold I and II, then press Select (technically, you just need to press and hold Select, I and II at the same time, in any order). The debug screen should appear (picture on the right). There you can increase Agedama's life, the amount of continues, play a sound-test or change the level.
LK



Add your Pov here !



P
O
V
s


Genji Tsūshin Agedama is a fun side-scrolling action game that certainly reminds me of the likes of Takahashi Meijin no Bōken Jima (aka New Adventure Island). A way to simply describe the game would be a shooter with a pinch of gravity (although later levels drop that feature and rely or more classic platforming action). The hero's controls are really better than one could expect and are surprisingly easy to master. The game comes with a few surprises and is overall fun to play. Stages are really varied and the difficulty level is progressive and very well balanced. However, Genji Tsūshin Agedama becomes way too easy when all the main weapons and special attacks are at their peak - you can just keep firing them and easily progress through the game... well, some bosses will still give you a run for your money... All in all, Genji Tsūshin Agedama is a fun and solid game, and a good combo of shooting and platforming action that deserves all your attention.