| | | | |
| --- | --- | --- | --- |
| | | | |
とびだせ大作戦
©1987 Square
Release: 1987-03-12 (¥3400)
DiskCard SQF-TDS
Shooter / 3D




Released in America (Cartridge) as
3D WORLDRUNNER
( NES-WO-USA )
Todibase Daisakusen is a 3D shooter by Square. The whole game concept is really close to Sega's Space Harrier released in the arcades in 1985. Yet, the developers at Square managed to bring their own original ideas. The player takes control of a running character and his speed can be changed by pressing up or down on the game controller. One of the action button activate jumps, and the longer the player presses and holds it, the farther the character will jump. This feature is especially important in the first stage where our hero has to quickly jump over long and deep gaps and cleverly time his next move. Stages offer various challenges - most of the time it is just about avoiding bouncing or flying enemies. But special features are scattered around every area - such as the bonus stars to collect or the standing hands trying to slow the player down, or the trampolines in the third stage. Special items can also warp the player to special bonus areas. All in all, each stage is a crazy and intense timed race towards the boss - usually traditional flying dragons and other gigantic segmented worms. Boss encounters are the only time where the character can actually fly and use his laser gun. The other originality of the game is its 3D option (activated by pressing select). Unlike other titles, Square didn't use here the official Famicom 3D glasses but standard red/blue glasses.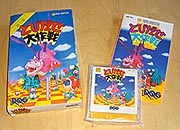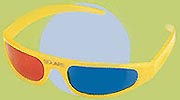 Like most, if not all, of DOG's titles for the Famicom disk system, Todibase Daisakusen comes in a large box with a colorful documentation (pictured on the left). I am not sure if the 3D glasses were originally included with the game though (after reading the back of the box, it looks like they were available for 980 yen). However, it is interesting to notice that the game doesn't use the official Famicom 3D glasses. Instead, players could use the official red-blue Square 3D glasses (pictured on the left). Obviously, unlike the official Famicom glasses, any red-blue glasses will perfectly do the job too. Finally, Square released a sequel to this game in 1987 for the Famicom system, but on cartridge this time and called JJ Todibase Daisakusen Part 2 with similar graphics but with more 'realistic' character and enemy designs.

G
O
O
D
I
E
S



Japanese GuideBook

O
M
A
K
E



Click on picture to enlarge
LK



Add your Pov here !



P
O
V
s


Todibase Daisakusen was an excellent surprise. I didn't really know what to expect at first and was initially, I must confess, only attracted by the cute illustration from the game cover. Todibase Daisakusen is a really smooth and colorful shooter and the 3D option works surprisingly well. Stages are a bit linear and repetitive but they are usually short. I was also surprised by the technical achievement of this title and the animation is surprisingly fast and smooth. I really recommend this game.