SUISHŌ NO RYU
( Crystal Dragon )
| | | | |
| --- | --- | --- | --- |
| | | | |
水晶の龍
©1986 Square
Character Design Nippon Sunrise
Release: 1986-12-15 (¥3400)
DiskCard SQF-SSD
Adventure/Digital Comic


Suichō no Ryu is a futuristic graphic adventure game by DOG (Disk Original Group) and published by Square. The game tells the story of a young boy in a futuristic and imaginary world and most of the action takes place on a distant planet and its two moons. His friends and the space shuttle they were traveling on have mysteriously disappeared. Our hero's journey starts in a small spacecraft with a enigmatic girl on his side. He doesn't clearly remember what just happened and he can only recall this much - he was flying to his friends' rescue on a small craft and the terrific noise and flashes of light that followed when an enormous blue dragon appeared from nowhere and crushed the ship. Soon, they both reach the local space station and the girl disappears as quickly as she appeared. Who is she ? What happened to the boy's friends ? where is this Crystal Dragon coming from ? These are some of the questions our hero will try to answer. The game offers simple controls providing the player with several actions (all symbolized with simple icons displayed on top of the screen) such as Move, Look, Take, Speak... a cursor can also be moved around the screen and points where the desired action is happening. Collected items are also symbolized with small icons, making them easier to identify. However, the rest of the game is all in Japanese (no Kanjis though) and will certainly be a challenge for non-Japanese speaking players.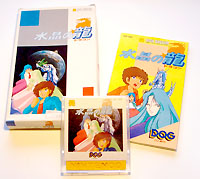 Like most of DOG (Disk Original Group) games, Suichō no Ryu comes in a large box. The game's documentation also includes a short 24 pages Manga Comic and tells the story of all the game protagonists, up to the point where the game starts. A version of the game was translated by Mute in 2003 and is available as an downloadable patch.

G
O
O
D
I
E
S



Japanese Guide Book

O
M
A
K
E



Click on picture to enlarge
LK



Add your Pov here !



P
O
V
s


Suichō no Ryu is an interesting graphic adventure game. I only wished more games like this one had been translated in English back in the 80s/90s. In the United States (and in Europe), this genre was common for home computers but sadly not for home consoles. Publishers may have simply assumed that kids wouldn't be interested - which was maybe true... I remember playing games such as Rainbird's The Pawn for days and weeks, even if they weren't in my native tongue! Interactive Fictions, as they were sometimes called, are no more and this is a real shame. Anyway, back to Suichi No Ryu. It is a simple (if you can read Japanese) and yet fun game to play. I wished the game had a proper soundtrack and more sound effects though... A fan translated version is available allowing those who can't read Japanese to enjoy the game - you may have to dig a little to find for though.