OMOKKIRI TANTEIDAN HADOGUMI
MATENDŌ NO CHŌSENJŌ
| | | | |
| --- | --- | --- | --- |
| | | | |
おもいっきり探偵団 覇悪怒組
魔天郎の挑戦状
©Ishimori Pro Fuji TV Toei
©Bandai 1988
Release: 1988-03-25 (¥3300)
DiskCard BAN-HRD
Action game


Omoikkiri Tanteidan Hadogumi is an action/adventure game by Bandai and based on a Japanese television series aired in 1987. It features a group of five detective kids on a mission to retrieve various objects stolen by a mysterious thief with a golden mask. But before anything, the player must pass the organization's test. After entering personal information such as name, birth-date and blood type, the player must go through two challenges. The first one is a memory test. Eight character faces (from a list of four) appear at random on the screen and the player needs to remember the order in which they came in. The second test is action based and the player must catch roses thrown by the thief, himself hanging from an air-balloon. Passed this, the real game starts. Our hero can move around town and visit buildings to gather information. He can also use various items such as a slingshot, a metal detector, a radio, binoculars etc... baddies also wander around the city and must be avoided. They can also be knocked down using any weapon our hero may carry (like the slingshot) or by punching them on the chin.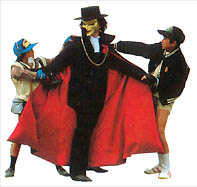 Omoikkiri Tanteidan Hadogumi is based on a Japanese TV series aired in Japan in 1987, broadcasted by Fuji Telecasting Co and Toei Co. Ltd. The series featured five elementary school kids and a mysterious thief with a golden mask. The group counts the leader Hiroshi, the cute and Aikido expert Yasuko who also happen to be the only girl of the group, Susumu, Satoru and Takeo. The mysterious thief uses many ingenious tricks to escape his pursuers, such as a huge and colorful air-balloon.
LK



Add your Pov here !



P
O
V
s


Purchasing Omoikkiri Tanteidan Haado Gumi felt pretty much like a gamble. I mean, I had never heard of it, the game's cover looks ace (I love goofy Japanese series from the 80s/90s) and it's a Bandai game (not usually a great sign though). The game was aimed at a young audience, so do not expect anything ground breaking here. Once passed the (boring and tough) enrolment test, the real game starts and any non-speaking Japanese players will have a hard time figuring out what to do. Some items need to be used in particular locations and it is very tricky to figure out where and when. And even if you know some Japanese, the game is still hard and unclear. Loading times are also terribly annoying. For instance, the disk needs to be flipped over every time you enter a building. All in all, I wouldn't recommend this game unless you gave yourself the mission in life to own every single Famicom Disk game ever created.