GREEN BERET
( Rush'n Attack )
| | | | |
| --- | --- | --- | --- |
| | | | |
グリーンベレー
©Konami 1987
Release: 1987-04-10 (¥2980)
DiskCard KDS-GRN
Action game




Released in America as
RUSH'N ATTACK
( NES-RA-USA )


Released in Europe as
RUSH'N ATTACK
( NES-RA-XXX )
Green Beret (aka Rush'n Attack in the west) is a side scrolling action game by Konami and conversion of their own arcade game originally released in 1985. American prisoners of war are being held captive deep inside a heavily armed enemy base. The player is given the role of an American soldier and his objective is to infiltrate six deadly areas and bring back the poor hostages. At the beginning of his journey, our hero's only means of defense is a short range knife but more side weapons become available later in the game. Power-ups temporary upgrade the current weapon to a Bazooka, Hand Grenades or a Hand Pistol. A Shield is also available and can protect the player from deadly enemy fires for a short period of time. Each weapon only comes with one 'bullet' (three in the American and European versions of the game) and collecting a new one increases this amount. Our hero can run, jump or duck and can also climb ladder but that leaves him completely vulnerable to enemy attacks when he does.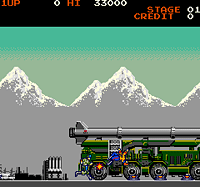 Green Beret was originally released in the arcades by Konami in 1985 (picture on the left). The game was then ported for Nintendo's Famicom (1987), Commodore 64 (1986), MSX (1986), ZX Spectrum (1986), Atari 8bit (1986), Amstrad CPC (1987) and PC MsDos (1989). More recently, Green Beret came out for the Game Boy Advance (2002) and included in the Konami Collectors Series - Arcade Advanced. An enhanced version was also made available for the Xbox 360 Live Arcade in 2007. Finally, Green Beret was part of Konami Classics Series: Arcade Hits released for the Nintendo DS in 2007. As a side note, Green Beret was also part of Konami Collector's Series TV Arcade Advanced 6 in 1, a TV arcade plug-in joystick released in 2004 by Majesco. Konami released an arcade only sequel in 1989 called M.I.A. - Missing in Action.
The Famicom Disk version tested here was given various features not available in the original arcade game - two extra levels, a two simultaneous player mode, three lives, a different weapon system and a rearranged soundtrack. Surprisingly, and unlike all the other NES versions of the game, the Japanese Famicom Disk features an extra hidden level and a different weapon system (each weapon can fire three times instead of one).
Teaser text from the European version:
Up for a little guerilla warfare ?
You asked for it. You're behind enemy lines, armed with only a knife and a mission: to free dozens of POWs hidden in an isolated, well-armored camp. If you're good, you'll pick off the heavily armed enemy guerillas, one by one, and grab their bazookas and flamethrowers. If you're great, you'll turn their weapons against them, to blow away a pack of attack dogs, a fleet of choppers, and a whole battalion of guards. But make one mistake, and it's all over. For you, our POWs... the future of the Free World!

O
M
A
K
E



Click on picture to enlarge
LK



Add your Pov here !



P
O
V
s


I've always found the American (and consequently European) title of the game really goofy. Let's face it, they obviously wanted to make it sounds like "Russian Attack". Smart isn't it ? Anyway, let's talk about the game itself. Green Beret doesn't get more old school that this - a classic and intense game with unforgiving gameplay. You may think at first that your default weapon is weedy to the point of worthlessness - what can a single knife do against an army of fearless soldiers ? Actually, rules of logic don't really apply to video games and this knife is the meat of the game, you'll be amazed at how much damage it can inflict. Green Beret also ends up being a game of memory, each enemy soldier always use the same attack pattern (they are color coded) and triggering the same counter-attack will often kill them. Green Beret also suffers from intense repetitiveness and the lack of variety will soon exhaust your capacity to play any further. Nostalgia alone can get you to play through this one but I must warn you - you're dealing here with an intense and unforgiving game that'll test you thoroughly.