GALL FORCE : ETERNAL STORY

| | | | |
| --- | --- | --- | --- |
| | | | |
ガルフォース
©1986 Sony/Hal Lab.
©SVI/Movic/Artmic
Release: 1986-12-10 (¥2980)
DiskCard HAL-GAL
Shooter / Vertical


Gall Force is a vertical shooter based on a classic Japanese science fiction anime aired in the 80s. Gall Force Eternal Story tells the story of a crew of seven female space-warriors. In the future, the galaxy is at war and two races, the bug-mechanical-looking Paranoids and all women Solenoids, have been fighting each other for hundreds of years. The player first takes the role of Rabby, the central protagonist of the series, and pilots the Star Leaf, a fast and powerful spaceship. Her mission is to find her six other colleagues, each one of them kept against their will in a different part of the galaxy. The game offers an interesting structure where Rabby always starts from the same stage and from the same planet. There, she has to quickly maneuver her ship and damage enemy facilities and ships. She soon reaches the end of the area and flies by five different launching pads. Each one of these leads to a particular space level where one of her friend is kept prisoner. Once the guardian is encountered and destroyed, her friend joins the team and upgrades this way the Star Leaf. Each new colleague adds a fighting-mode (such as Side guns or laser beams) to the ship which can be activated at any time during the game.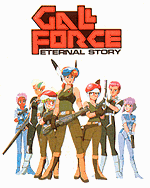 Gall Force is a series of Japanese science fiction video anime (known as OAVs, Original Video Animations). The first movie, called Eternal Story came out in 1986 and told the story of a crew of seven female soldiers fighting a war against insectoid aliens. The anime was popular in Japan and at least two video games (both shooters) came out - Gall Force : Eternal Story (Famicom Disk, 1986) and Gall Force Defense Of Chaos (Msx, 1986). Several other movies later followed such as Destruction in 1987, Stardust War in 1988, Earth Chapter in 1989 and New Era 1991.

O
M
A
K
E



Click on picture to enlarge
LK



Add your Pov here !



P
O
V
s


Gall Force was a really nice surprise. I wasn't expecting much at first, games with a license attached to them do not always shine, far from it. But how wrong I was, Gall Force is, I think, an excellent shooter. The game can be a bit repetitive at times, but hey ! not much data can be stored on these floppies and they did here an excellent job recycling graphics throughout the game. The gameplay is also well balanced and Gall Force has a nice difficulty curve. While not the most amazing shooter for the system, it is nevertheless rather addictive and fun to play. I recommend it.