DRACULA II - NOROI NO FUIN
( Castlevania II - Simon's Quest )
| | | | |
| --- | --- | --- | --- |
| | | | |
ドラキュラII 呪いの封印
©Konami 1987
Release: 1987-08-28 (¥2980)
DiskCard KDS-DRK
Action/Adventure game




Released in America as
CASTLEVANIA II SIMON'S QUEST
( NES-QU-USA )


Released in Europe as
CASTLEVANIA II SIMON'S QUEST
( NES-QU-XXX )
Dracula II: Noroi no Fuin is a platform/adventure game by Konami and is the second Akumajō Dracula released for the Famicom system. After vanquishing Dracula in the first game, the vampire slayer Simon Belmont is hoping to take a well-deserved break from his obligations. But things don't always turn out the way they should. Before dying, Dracula placed a curse upon the young man and, seven years later, Simon must retrieve and destroy the remains of the evil vampire to break it. Dracula's five body parts must be brought back the his castle and sealed away forever. This episode is a big departure from the series and unlike other installments, Dracula II includes major RPG elements such as experience points, shops and conversations with villagers and other townspeople. Time and especially day and night cycles are at the dynamic core of the gameplay and greatly affect the various enemies Simon encounters throughout his journey (each second equals four minutes in the game). Simon still uses his vampire killer whip as his primary weapon but he also has a choice of several sub-weapons such as the knives and the Holy Water. However, they are not scattered around each stage anymore and have become unique quest items. Hearts are the game's currency and can be used to purchase new items or to enhance the almighty whip. Finally the game features infinite continues and the only price the player has to pay for consuming all his lives is to lose his accumulated experience points.

There are slight differences between the original Famicom Disk and American NES versions of the game. The obvious difference is the quality of the soundtrack which fully uses the advantages of the Famicom Disk sound chip. Then the Famicom version allows the player to same his progress onto the disk itself whereas the NES uses passwords. On another hand, the Famicom Disk version has loading times which sometimes affect the gameplay.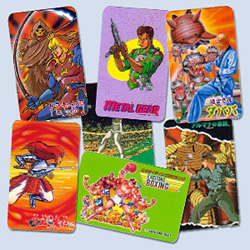 Like several other early Konami games released in the 1980s/1990s, Dracula II included a numbered collector card also known in Japan as コナミ キャラカード (aka 'Konami Chara Cards' or 'Konami Character Cards'). Each card featured an illustration or a snapshot from the game (picture on the right), and the back of each card showed a serial number as well as the game's title. They were randomly included with the games and Konami produced several variations of each card. That's it, each game included a card from a series related to the game, it is however not known how many different card variations were made for each game. Apparently six cards (on average) were produced for each game, except for Doremikko (1 card), Exciting Boxing (1 card) and Meikyujin Dababa (which, curiously, only seem to feature five cards). The list of Konami games to include such cards are believed to be : Ai Senshi Nicol (FDS), Dracula II Noroi no Fuin (FDS), Arumana no Kiseki (FDS), Contra (FC), Doremikko (FDS), Dragon Scroll (FC), Exciting Baseball (FDS), Exciting Basketball (FDS), Exciting Billard (FDS), Exciting Boxing (FDS), Exciting Soccer (FDS), Falsion (FDS), Getsu Fūma Den (FC), Majō Densetsu II Daimashikyō Galious (FC), Meikyū Jiin Dababa (FDS), Metal Gear (FC), Salamander (FC), Tetsuwan Atom (FC), Top Gun (FC) and Wai Wai World (FC).
Teaser text from the American version:
Castlevania was a cake walk compared to this bloody curse.
You thought you had the Prince of Darkness defanged- eh, Simon Belmont? Well think again, cause according yo a damsel in distress, evil Count Dracula has left a horrifying curse in his wake. And the only hope you have of ending the terror is to destroy his missing body parts! Talk about your frightening quest, searching a maze of mansions, graveyards and dark, eerie forests - each guarded by man-eating were- wolves, fire-throwing zombies and other devilish demons. Your grim chances are kept alive in Transylvania, where cowarfly villagers offer clues to the whereabouts of Draculs's remains. And where you'll purchase magic weapons, including silver knives and flame whips. But beware the night. For when the sun disappears, Dracula's curse grows deadlier. And your chances grow dimmer and dimmer.
Game Staff (Copied from the game's end credits) :



Programmed With
The Following Characteristics

Invincibility
Akamatsu

Permanence
Iwasa

Philosophy
Togakushi

Masterpiece
Kawanishi

Sensibility
Hatano

Excellence
Terashima

Ambivalence
Kuwahara

Flourish
Higasa

Admiration
Ohyama

Warm-Heart
Matsuoka

Superiority
Murata

Sunchronism
Matsubara

Circumstance
Konami


G
O
O
D
I
E
S



Japanese guidebook


Japanese soundtrack


American guidebook


American novel book

O
M
A
K
E



Click on picture to enlarge
S
E
C
R
E
T
S

Different Endings:
The game features three different endings which are all based on how long the player takes to clear the game. The first ending requires the player to complete the game in 8 days or less, the second one in 8 to 15 days and the third one in 16 days or more.




LK



Add your Pov here !



P
O
V
s


The mix of action and adventure is an interesting blend but I'm sorry to admit that Dracula II: Noroi no Fuin just doesn't offer what it promises. It is interesting to notice that other games at the time, such as Zelda II, went down the same route and tried to follow the action/adventure path - but I feel they were more successful at it. The game lacks consistency and suffers from too much tedium to be thoroughly enjoyable. The day/night cycle is annoyingly erratic and painfully tedious. The Famicom Disk game is actually less annoying than the NES version which displays an incredibly long text on screen every time the night falls - the Japanese original text is three lines shorter. I also feel that the game is asking too much of its player and some of the puzzles are just impossible to figure out and are fairly random... The Famicom Disk version has a terrible flaw though - loading sometimes occurs between screens which gets really annoying, especially when you get hit and keep being thrown off over the edge of the screen! It is impossible to overstate what a change this is for the series, but I wish Dracula II: Noroi no Fuin had stayed closer to its platform/action roots... it is a shame as the game is overall really decent with neat graphics, responsive controls and features a catchy and alluring soundtrack.