WAI WAI WORLD 2 SOS!! PARSLEY JŌ
| | | | |
| --- | --- | --- | --- |
| | | | |
ワイワイワールド2 SOS!! パセリ城
©Konami 1991
Release: 1991-01-05 (¥6500)
Cartridge RC850
Actrion/Platform game


Wai Wai World 2 SOS!! Paseri Jō (which translates as SOS Parsley Castle) is a side scrolling action game by Konami, and sequel of Wai Wai World originally released in 1988. After the events recounted in the first episode, the land of Wai Wai was finally at peace once again. But one fateful day, the evil sorcerer Warūmon appears from the shadows, steals the Parsley castle and plunges the kingdom into chaos. He kidnaps princess Hābu (aka princess Herbs) and no one stands up to stop him. No one but one person - the genius Dr Cinnamon escaped and decides to secretly build a humanoid robot boy to save the day. The Super Robot Rikkuru, as he named it, has the incredible ability to transform into several popular Konami characters, namely Goemon (Ganbare Goemon), Upa (Bio Miracle Bokutte Upa) Simon Belmont (Akumajō Dracula), Fūma (Getsu Fūma Den) and Bill Rizer (Contra). But there is a bit of a catch. Firstly, Rikkuru must collect special items with the letter C stamped on them in order to successfully transform intro a secondary character (by jumping and pressing up at the same time). Secondly, he can only transform into three different characters that the player chooses at the start of the game (out of four teams), and he can only change into them for a mere sixty-second period. Additionally, although the Konami characters are invincible, the time limit goes down each time they receive a hit (health kits scattered around each stage allow the player to gain it all back though). Rikkuru comes equipped with a small laser blaster and the uncanny ability to double jump (thanks to his ingenious rocket boots). As expected, each character features its own weapon and characteristics, from Bill and his multi-directional machine gun to Simon and his long range whip or Upa and his magic rattle that turns enemies into floating cloud-platforms. Interestingly, all of them have the remarkable ability to charge a powerful glowing attack and kill all enemies on the screen. Wai Wai World 2 consists of nine Konami-themed levels (some of them with alternate routes) as well as various bonus stages and mini-games that switch the gameplay around, from shooting action to puzzle solving or racing. A two-simultaneous player mode is also avaible and allows a second player to take control of Blue Rikkuru and a password system is used to allow the player to return to the game at a later time.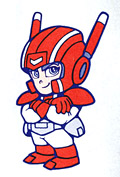 Like its prequel, Wai Wai World 2 SOS Parsley Jō stars a motley crowd of Konami characters and Konami-themed environments. The robot Rikkuru (picture on the left) replaces here Konami Man and Konami Lady, the protagonists from the first game (but they still make a cameo appearance in the game and guide the players through their journey). This time around, five Konami heroes are at the center of the game - Goemon from Ganbare Goemon! Karakuri Dōchū (Famicom, Arcade, 1986), Simon is Simon Belmont from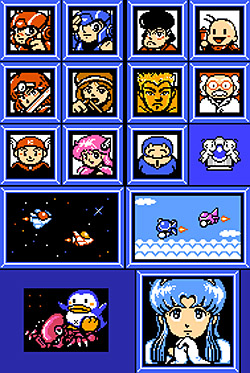 Akumajō Dracula (Famicom, 1986), Fūma is Getsu Fūma from Getsu Fūma Den (Famicom, 1987), Bill Rizer is one of the commando fighters from Contra (Famicom, 1988) and Upa is the cute baby from Bio Miracle Bokutte Upa (Famicom, 1988). A plethora of other Konami characters appear in the game such as Ebisumaru (Goemon's best friend), Dr Cinnamon (scientist from Twin Bee), the ship from Quarth, Penta the penguin (from Kekkyoku Nankyoku Daibōken (aka Antarctic Adventure originally released in 1983), Konami Man and Konami Lady. Even the villainous Warūmon will later appear in the Twin Bee series as Dr Cinnamon's arch enemy and creator of the Evil Bee clones. Finally, several sections in the game pay homage to various forgotten or iconic Konami games, such as the arcade game Road Fighter, Gradius (horizontal shooting sections star the Vic Viper and Metalion ships), Twin Bee (vertical shooting sections feature the Twin Bee and Win bee ships) and the oddest of all, the section that plays like Konami's classic arcade game Frogger! See Konami Wai Wai World for more information about the series.
Wai Wai World 2 SOS Parsley Jō was fan translated in English in 2003 by Vice Translations.
Game Staff (Copied from the end credits) :



STAFF

Program
Boyoyon Shinamon Aoyama
Grasshopper Ogawa
Wan Chin Tokoma
Chacha Yoshida

Graphic Design
Pemopemo Sandā Kawaminami
Ishihara Kamenosuke Aratame Pensuke
Fukada Ranmaru Pāsuke

Sound Design
Sakagon Mirukushoppu Yūichi
Jientoruman Matsubara Kenchan
Manami Muchimuchipurin Satoko


G
O
O
D
I
E
S



Japanese Soundtrack
(along with Boku Dracula-kun
and Ai Senshi Nicol)

O
M
A
K
E



Click on picture to enlarge
LK



Add your Pov here !



P
O
V
s


I must confess, I am a big fan of the first Wai Wai World, and it took me quite some time to obtain a copy of the sequel. So how does the game compare to its bigger brother ? Well, the gameplay mechanics are drastically different here - Konami removed the element of exploration (which was a drawback, really) and the game is a lot more action oriented. You don't have to rescue any Konami characters anymore and they are now available in packs of three from the start. Additionally, and unlike the first episode, the graphic design relies on a Super Deformed (Chibi) theme where characters have large heads and small bodies, which fits the game but with a distinctly different feel. Although I wasn't really impressed by the first couple of levels (and their rather slow auto-scrolling feature), the game quickly kicks in and becomes hugely satisfying and fun. Wai Wai World 2 is full of 'wow' moments, and just when you think you've seen it all, it overwhelms you with awesome new content - from shooting stages (featuring Twin Bee and the Vic Viper), puzzle mini-games, 3D Space Harrier-like bonus levels, car racing and so forth. My nostalgia glands literally exploded the first time I battled that gigantic Big Core ship found later in the game, I just couldn't stop shedding tears of joy. Finally the game is a lot more linear than the first episode (despite a couple of alternate routes) and the difficulty is much easier (which is surprising for Konami standards). All in all, Wai Wai World 2 is a gorgeous action game and although the platform levels (which are at the core of the game) are arguably fairly generic, the rest of the game just constantly keeps surprising you until the finish line. It is a shame that this sequel was the last episode of this little known crossover series by Konami...