| | | | |
| --- | --- | --- | --- |
| | | | |
ツインビー
©1986 Konami
Release: 1986-01-04 (¥4900)
Cartridge RC807
Shooter/vertical




Released in Japan (Disk Writer) as
TWINBEE
( KDS-TWN )
Twinbee is a vertical shooter released by Konami and conversion of the arcade game of the same name originally released in 1985. In the year 2801, the evil Lord Spice has decided to take over the peaceful Donburi island! The five gems that kept the island's wisdom were robbed away and Dr Cinnamon, with the help of his two secretly developed fighters, Twinbee and Winbee, has decided to restore peace to the kingdom and to retrieve the stolen jewels! The cute fighters now embark on a long journey to defeat the invading army of Lord Spice! Each one of them can shoot forward or drop bombs onto ground enemies with the help of their little hands. But players have to be very careful! Enemy bullets can take down their precious limbs and they won't be able to use bombs until the almighty ambulance shows up! Thankfully, the game is littered with power-ups. They all come in the shape of bells hidden inside floating clouds. If players shoot at them, they cycle through different colors and upgrades, such as Blue (Speed Up), White (Double Shot), Red (shield) or Flashing Red (powerful "mirror" option). But if players shoot at the bells too many times, they eventually turn into deadly bees! Ground enemies also award players with various special items, such as extra points, smart bombs, extra lives or three-way shots. Twinbee consists of five levels (that just loop infinitely) and features a two-simultaneous player mode.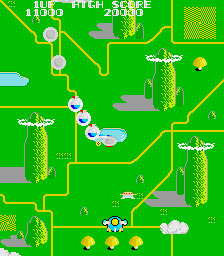 Twinbee was first released by Konami in the arcades in 1985 (picture on the left). Interestingly, Twinbee was definitively inspired by Namco's immensely popular game Xevious released in 1984, which became a massive success in Japan. Twinbee was Konami's best and most popular (at least in Japan) take on this style of game. However, Twinbee went for a more original and cuter route than Xevious which still appeals to players even to this day! The Twinbee series has sadly flown under the radar in the west and it sadly never really put up "hall of fame" numbers there. Twinbee was also ported to the MSX (1986), Sharp 68000 (1991) and was included in several compilations such as Konami Game Collection 3 (MSX, 1989) and Twinbee : Portable (Playstation Portable, 2007). Additionally, the Famicom port was also re-released in 2004 in Japan for the Game Boy Advance as part of the Mini-Famicom series. The game was also included in several compilations and was renamed Rainbow Bell in the western release of Konami Classic Series : Arcade Hits (Nintendo DS, 2007). Finally, the Famicom version of Twinbee was also surprisingly re-released in 3D for the Nintendo 3DS in 2011 under the 3D Classics line! Please see Detana!! TwinBee (PCE-HU) for more information about the expansive Twinbee game series.
Many players consider this Famicom port of Twinbee as a limited and downgraded conversion. Well... I do somehow agree... the graphics are not as accurate and have lost a lot of details (especially with the backgrounds which often end up using single and bland colors). But I've personally never really liked the black surrounding lines from the arcade game and these are completely gone in this Famicom port. Twin Bee most certainly defined what players call the Cute'em up genre - it is a shoot'em genre that features odd and cute enemies and protagonists, and Twin Bee is the epitome of that genre for sure! That being said, I think that this Famicom port is one of the best conversion available - the MSX port features an incredibly choppy scrolling and, well, the X68000 is the best (as expected) and is arcade perfect. Interestingly, I've always wondered if the arcade ROM that is widely available is actually corrupted - the ocean background tiles look wrong and even the X68000 version displays them correctly. I've never been able to play the original arcade game, so I can't really really tell.

G
O
O
D
I
E
S



Japanese Guidebook


Japanese Guidebook


Japanese Guidebook


Japanese Guidebook


Japanese Guidebook

O
M
A
K
E






Click on picture to enlarge
S
E
C
R
E
T
S

Start with 10 lives:
On the title screen, press and hold Up and Right. Then press and hold A and Start. Although the game says "Rest 3" you can now play with 10 lives!




LK






P
O
V
s


This Famicom port of Twinbee is more than correct. It was released fairly early in the system's lifespan and it obviously doesn't look technically as impressive and remarkable as later games released for Nintendo's classic console. But it is a fairly accurate port and it delivers everything the original arcade game had on offer. Well, I feel that Twinbee has always been a "love/hate" affair since it fist came out. I must say, I love the TwinBee series but I'm not a huge fan of the earlier titles. I personally think that the bell-system feels unbalanced and unfair here... in TwinBee, you always end up juggling the bells while killing flying and ground enemies, and ultimately missing out on elusive life-saving powerups. Konami gloriously addressed that issue in later Twinbee games such as the excellent Detana!! Twinbee, Pop'n Twinbee or the incredible Twinbee Yahho!. That being said, I love Twinbee for its amazingly unconditional cute graphics and theme! I feel that the series needed to grow up (and it definitely did later on). But what about this port? Well, I feel that it delivers the goods, but don't expect anything amazing nor incredible. Twinbee delivers what it is supposed to, nothing more, nothing less. Bosses are also uninspired and consist of fairly bland spaceships... which was also the case for the original arcade game. This port is fairly decent but the original arcade game was, to be honest, really average.