| | | | |
| --- | --- | --- | --- |
| | | | |
テラクレスタ
©1986 Nihon Bussan Co., Ltd.
Release: 1986-09-27 (¥4900)
Cartridge NBF-TC
Shooter/vertical




Released in America as
TERRA CRESTA
( NES-TQ-USA )
Terra Cresta is a vertical shooter by Nihon Bussan and conversion of the arcade game of the same name originally released in 1985. The game is set centuries in the future, when Earth is engaged in a fierce war and controlled by the evil Mandorā military dictatorship. Every piece of land on the planet has been colonized by the violent invader and humanity is now forced to move into the oceans in order to survive. But members of a rebel action group called 'Terra Cresta' think otherwise and decide to confront Mandorā's army in a desperate attempt to recapture the Earth. The player controls a lone spaceship armed with a basic (yet effective) twin laser. However, special modules can be collected throughout the game to add tremendous power to the ship. Each part increases the ship's combat abilities, from quad lasers (2), tail guns (3) to energy blasts (4) and a defensive tail force field (5). There is a total of five different modules (including the initial ship), and although they can all be attached to the ship at once and dramatically increase its firepower, they also give it a larger surface area and make it more vulnerable to enemy fire. However, modules do absorb enemy shots, but this comes at a price and they are themselves destroyed in the process. Additionally, if the player manages to collect all five modules, then the ship turns into a devastating and blazing Phoenix for a short amount of time, melting through anything on its path. Finally, collected modules can be broken out into special attack formations for a short amount of time. These attacks come in limited quantities though, and are symbolized by a series of F icons located at the bottom of the screen. Beside, the formation attacks can be edited in the option menu, and a special 'design' section enables the player to edit the formation's layout. The game is single-player only and consists of four looping areas.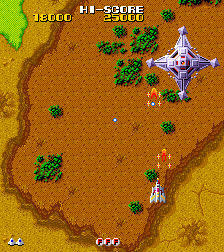 The arcade game Terra Cresta was originally released in 1985 (picture on the right), and it was most obviously inspired by other vertical shooters at the time, such as Namco's all time classic Xevious (arcade, 1982). The game was converted for several home systems at the time, such as the Famicom (1986), Commodore 64 (1986) and ZX Spectrum (1986). It was also included in the Video Game Anthology Vol.1 compilation released for the Sharp X68000 in 1992 (which also included Moon Cresta), and in Oretachi Game Center Zoku Terra Cresta released for the Playstation 2 in 2005. However, in reality, Terra Cresta is the second episode of a series of shooters developed by Nichibutsu, which started with the arcade game Moon Cresta in 1980. The game was a fixed screen shooter that borrowed gameplay elements from the likes of Space Invaders, Ozma Wars, Galaxian and other top-down firing alien invasion games. Moon Cresta was ported to countless home systems at the time, such as the Sinclair ZX Spectrum (1985), Commodore 64 (1985), Amstrad CPC (1986), Acorn BBC Micro (1986), Dragon 32-64 (1986), Sony Playstation (2002) and Sony Playstation 2 (2005). Additionally, the game was also fan-ported to the Atari 7800 in 2011. As a side note, a few other games followed after Terra Cresta, such as Terra Force (arcade, 1987) which cleverly alternated vertical and horizontal stages, but lost the modular weapons/ships, or Terra Cresta II (PC Engine, 1992) and Terra Cresta 3D (Sega Saturn, 1997). Interestingly, Nichibutsu was incredibly prolific in the 1980s and released several other games that borrowed the modular weapon/ship system introduced by Moon Cresta, such as Mag Max (1985) or UFO Robo Dangar (Arcade, 1986).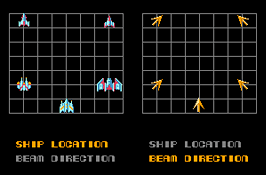 This conversion of Terra Cresta is fairly close to the original arcade game. Some visual effects (such as the way how power-up containers "zoom" into existence) have obviously been omitted and all the boss battles are set against a plain black background. The original arcade game also featured digitized/sampled sound effects which were, unsurprisingly, removed from the 8-bit conversion. Finally, the Famicom port features an exclusive formation editor (picture on the left) that allows each player to edit their special formation attack's layout, such as module positions ('Ship Location') and the direction in which they fire ('Beam Direction'). Interestingly, four different formation attacks are available, namely Moon Formation (shoots large moon shaped beams), Cyclone formation (high-speed curved beam shooting), Extended formation (outside-diffused beam shooting) and Cross formation (inside-diffused beam shooting).
Teaser text from the American version:
The spaceship dogfight of the century. And you're at the controls!
Your fighter has been captured by the wicked Mandora, the Supreme Commander of the Forces of Darkness. Now, against overwhelming odds, you're hurling through space toward Black Giant Devil Land, and a life-and-death struggle with some of the most treacherous foes in the galaxy. Break through the enemy's defense with diffusion beam guns and 2- to 5-fighter formation attack patterns. Then, to defeat Mandora, you become the Mighty Firebird for the final, all-out battle.

G
O
O
D
I
E
S



Japanese Guidebook


Japanese book

O
M
A
K
E



Click on picture to enlarge
LK



Add your Pov here !



P
O
V
s


As a conversion, Terra Cresta is reasonably well-executed, with really responsive controls (the ship is on the slow side though) and decent graphics. The unique weapon system was also left intact, and the various parts that attach to your ship are what really makes Terra Cresta so endearing. Additionally, the ability to edit the formation attack gives the player the incredible opportunity to customize his weapon configuration, feature fairly unique for a game originally released in 1986 (and exclusive to this port). But after the praise comes the backlash, and the game does have a (arguable) critical flaw. Terra Cresta is grindingly repetitive. Although it features four looping areas, they all look alike and even the bosses are recycled ad nauseum (only one mini boss and two large bosses in total). So, like most arcade games of the 1980s, you soon realize that you are purely playing Terra Cresta for high score's sake. This is not really a problem, per se, but Terra Cresta is certainly not for everyone because of it. However, I personally like it, and this Famicom port was easily the best 8-bit conversion around in the mid-1980s.