| | | | |
| --- | --- | --- | --- |
| | | | |
スターラスター
©1985 Namco Ltd.
Release: 1985-12-06 (¥4900)
Cartdridge NSL-4900
Shooter/3D


Star Luster is a strategy/first-person space shooter by Namco. In the year AG 307, the Bosconian empire waged a war against humanity, and left the survivors to scatter all across the universe. Peace has now returned but a new enemy is lurking on the horizon. Battsūra, a mysterious entity from a different dimension, plots to obliterate human civilization. All but one pilot have perished, and Dan Heinick, on board the 'Gaia' star fighter, is humanity's last hope. The player pilots the ship and travels through a large area of space occupied by enemy formations (E), bases (B), planets (*) and asteroid fields (::). Dan can warp from one location of the galactic map to another at will (as long as his fuel supply allows it) in an attempt to destroy all the enemies he can find. However, enemy ships do also move and the player's secondary goal is to also defend Earth's bases and planets from relentless attacks. The Gaia comes equipped with a standard laser gun and a shield. However, the space fighter also features four critical components that can be damaged during combat - the Radar (RAD) allows the player to see enemy ships on a long range scanner and on the galactic map, the Aiming Computer (COM) displays a reticle at the center of the screen and offers an enemy targeting system, and the Engine (ENG) drives the shields and the ship's thrusters. Any action performed by the player (accelerating, warping or firing) consumes energy which must be periodically refilled by visiting one of the various bases scattered around the map. But Gaia has another weapon up in her sleeves - Dan can also fire a limited amount of long range photon missiles at any enemy on the galactic map without engaging them in combat. Star Luster features three play-modes - Training (simple first mission with only bases and enemies), Command (medium difficulty with planets and asteroid fields) and Adventure (the true mission of the game, each planet reveals a key in order to find and destroy Battsūra).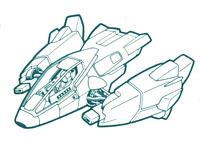 Star Luster is somewhat connected to the arcade game Bosconian, a shooter originally released by Namco in 1981. Although both games have a very different gameplay, some elements are common between the two, such as the bases made out of connected spheres. The Famicom version of Star Luster was also available on the Nintendo Vs. arcade series. Then, an enhanced version of the game was released for the Sharp X68000 in 1994. It was developed by Dempa/Micomsoft and featured in-game music and enhanced graphics, animations and sound effects. The next conversion was included in Namco Anthology 1 for the Playstation (1988), along with Babel no Tō, Powerball and San Goku Shi II. Interestingly, this compilation features the original Famicom game tested here, as well as an enhanced 3D version. Finally, an obscure sequel called Star Ixiom was released in 1999 for the Playstation.

G
O
O
D
I
E
S



Japanese Guidebook


Japanese Guidebook


Japanese Guidebook


Japanese Gashapon
(Shooting Game Historica 2)

O
M
A
K
E



Click on picture to enlarge
S
E
C
R
E
T
S

Upgrades:
In Command mode, bases can power-up your weapons, engine and shields.

Asteroid fields:
In Adventure mode, asteroid fields can give you the Item Barrier. This special item restores damaged planets once they turn black on the galactic map. To collect the item, destroy 32 asteroids without missing a single hit.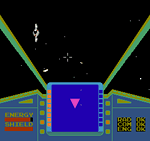 Cockpit color:
An option is available to change the Gaia's color. At the title screen, when the logo flashes, press Select, B, A, Right, Left, Up, Select, B, Down and Right as quickly as possible. This should activate the cockpit selection screen. There, press right and left to pick a different part of the cockpit, and up and down to change its color.

LK



Add your Pov here !



P
O
V
s


It is fairly easy to compare Star Luster to Atari's excellent Star Raiders - well, I personally think Star Luster surpasses its predecessors in many ways. The game is obviously a lot faster and technically better (it was released six years later after all), and the gameplay has a nice balance of strategy and shooting action. Although Star Luster may not look like much today, it still has a fast and frantic gameplay that will have you hooked to your TV set for hours. The galaxy map also gives the game the feeling of being part of a large world always in motion, and definitively increases the sense of immersion. Star Luster also has this incredible learning curve that enables you to appreciate the depth and complexity of the gameplay despite a relatively simple interface and straight forward controls (keep in mind that the Famicom only has two action buttons). All in all, Star Luster is a surprisingly fun and intense 3D shooter.