| | | | |
| --- | --- | --- | --- |
| | | | |
スターウォーズ
©1987 Namco Ltd.
TM & ©Lucasfilm Ltd. (LFL)
Release: 1987-12-04 (¥4900)
Cartdridge (n/a)
Platform/Action


Star Wars is a Famicom exclusive side scrolling platform game by Namco. Although the game is loosely based on the epic feature film of the same name, the story is definitely not the same and Namco decided to tell it their own way. As expected, Luke Skywalker is the main protagonist of the game - after listening to the holographic message recorded into R2-D2 by princess Leia, Luke embarks on a journey to find his companions held prisoners across the galaxy. On board the Millenium Falcon, he goes from planet to planet and rescues R2-D2, Obi-Wan Kenobi, C-3PO, Princess Leia, Chewbacca and Han Solo. He also fights countless incarnations of his arch-nemesis Darth Vader who unexpectedly turns into terrifying monsters throughout the game. Luke's main weapon is his trademark light-saber and a blaster can later be picked up. But most importantly, the young Jedi can control The Force and use it to attack his enemies or to reach inaccessible areas. Blue Force crystals are left behind by defeated foes or hidden inside blocks - the more Luke collects, the more Jedi powers he gains and the more powerful he becomes. He can fly in the air, freeze enemies, run faster or become invincible for a short amount of time. The characters that Luke rescues also play important roles in the game and they must be called in specific situations to assist the young Jedi.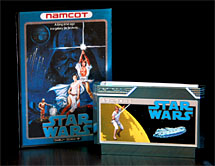 Like many games released by Namco for the Famicom System, Star Wars comes in a hard and more durable plastic case (picture on the left). But unlike other games made by the company, Star Wars was released in a shiny silver cartridge. Finally, the game doesn't seem to have any serial number...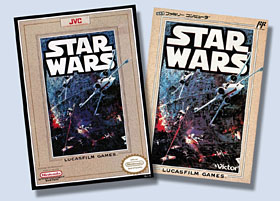 This version of Star Wars by Namco was never released outside of Japan. However, another Star Wars game exists and was developed by Lucasfilm Games in 1991. The game was released in the United States, Europe and... Japan (American and Japanese versions pictured on the right). As master Yoda would say - "confusing this is". The Lucasfilm Games version, unsurprisingly, is a lot more faithful to the movie and was followed by Star Wars: The Empire Strikes Back in 1992 (aka Star Wars: Teikoku no Gyakushū in Japan).
Game Staff (Copied from the end credits) :



Production

Game Designed by
Wan Wan

Game Programed by
Kissie

Game Designed by
Shimada

Assistant
Pochi

Sound Composed by
Kawada
and
Many Many More

Starring
Luke Hansolo Leia
Darth Vader
R2D2 Chewie C3PO
and
Obi Wan

Produced by
Masaya Nakamura

Production Manager
Kazunori Sawano

©MCMLXXXYII Namco Ltd.
TM & ©Lucasfilm Ltd.(LFL)
1987 All Rights Reserved
Trademarks Owned by
Lucasfilm Ltd. (LFL)
And Used by Namco Limited,
Under Authorization.


O
M
A
K
E



Click on picture to enlarge
LK



Add your Pov here !



P
O
V
s


This version of Star Wars starts out as a harmless franchise - you meet R2-D2 on Tatooine, fight Jawas, enter their rusty Sandcrawler and bump into Darth Vader who magically (or, should I say, "Forcefully") turns into a giant sand-spider. What the... ? At that very moment you realize that something is dramatically different about this game. Namco took some "poetic" liberties with the original storyline and it is when you reach the Egyptian ruins (level 2) that you finally realize why the game was never released outside of Japan... Interestingly, this version mixes events from the first two movies (such as Hoth or the way how Luke uses the Force) - which somehow explains why Darth Vader turns into a scorpion (as Yoda explains, Luke sees his greatest fear, not the scorpion). Anyway maybe I'm going too far with this, it still doesn't explain why Luke has black hair in the game though... So, what about the gameplay ? Star Wars is a great side-scrolling platformer and the space fights between each planet are beautifully crafted. However, the game is brutally difficult - Luke has no life gauge and dies on contact and some later stages (such as the Death Star maze) are just plain frustrating. So here you have it, fans of the movies will be smiling with glee (and confusion) every step of the way, the others will swear at Luke's too many frustrating and unfair deaths.