SENJŌ NO ŌKAMI
( Commando )
| | | | |
| --- | --- | --- | --- |
| | | | |
戦場の狼
©Capcom 1986
Release: 1986-09-27 (¥5500)
Cartridge CAP-SJ
Vertical/Action




Released in America as
COMMANDO
( NES-CO-USA )
Senjō no Ōkami (aka Commando) is a vertical scrolling run-n-gun by Capcom and conversion of the arcade game of the same name originally released in 1985. The premise of the game is profoundly simple - the player takes control of a lone commando soldier (called Super Joe) who is out to rescue hostages kept captive by a small army (although the game takes place in 19XX, outfits worn by the enemy and the comic book instruction manual both allude to Nazi Germany during World War II). Joe's mission starts off behind enemy lines, after a chopper drops him off in the middle of an hostile jungle. Armed with only a standard sub-machine gun and a very limited supply of grenades, he has to take on legions of hostile soldiers while avoiding enemy fire, occasionally using parts of the scenery (such as trees, bushes or small buildings) to take cover. His weaponry sounds relatively helpless considering the vast army of enemy soldiers standing between him and his goal, and although he can fire his machine gun in eight directions, he can only throw hand grenades in an arc towards the top of the screen. But Joe has plenty of special items on hand to help him - some are free for the taking and simply lay on the ground whereas others are earned by rescuing prisoners. The special items range from extra grenades (symbolized by flashing boxes), super grenades (kill all enemies on the screen when used), medals (extra life), remote radio (kills all enemies), bullet proof vests and so forth. Additionally, more than just being the most powerful weapon in the game, hand grenades can also be used to reveal secret items or hidden ladders leading to secret underground shelters. Most of them contain additional hostages to rescue, bonus items or enemies, but some are rigged with vicious and deadly traps (such as the lethal gas chambers). Each level ends with a fight against a commanding officer and his team of highly trained soldiers. Senjō no Ōkami consists of four stages which loop four times (it basically spans across sixteen levels with increased difficulty) and features a two-player alternating mode.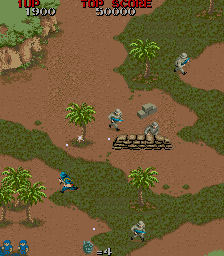 Senjō no Ōkami (aka Commando in the west) was originally released in the arcades in 1985 (picture on the left). Although Senjō no Ōkami (which translates as "The wolf of the battlefield") was not the first run'n gun ever released (Taito's Front Line (1982) is credited to have pioneered the genre), it definitively defined and standardized a genre, and clearly influenced the many popular classics that followed, such as Ikari Warriors (1986) or Jackal (1986). The game became immensely popular and was ported to virtually every single home systems at the time - BBC Micro (1985), Commodore 46 (1985), ZX Spectrum (1985), Amstrad CPC (1985), Commodore 16/+4 (1986), MSX (1986), Famicom (1986), Intellivision (1987), Apple II (1987), FM-7 (1987), PC-88 (1987), Atari 2600 (1988), Commodore Amiga (1989), Atari 7800 (1990) and Atari ST (1990). As an interesting side note, an obscure roulette redemption game called Double Fever Senjō no Ōkami was even available in Japan and manufactured by Capcom (the medal game, released in 1987, was part of a series that included 1942, Son Son and Makaimura). But despite Senjō no Ōkami's original success, Capcom will surprisingly wait until 1990 to release a sequel to their 1985 hit. Senjō no Ōkami II (aka MERCS in the west) took all the gameplay features that made the original game so great, and cranked them up. While this title didn't reach the same level of success as the original (it is anyone's guess as to why it wasn't called Commando II in the west...), it was nevertheless converted for many home systems at the time - Amiga (1991), Commodore 64 (1991), Atari ST (1991), Sega Master System (1991), Sega Megadrive (1991), ZX Spectrum (1991) and Amstrad CPC (1991). As a side note, both episodes were later included in several Capcom compilations, such as Capcom Generations 4 Dai 4 Shū Kokō no Eiyū (Sony Playstation and Sega Saturn, 1998), Capcom Classics Collection (Playstation 2 and Xbox, 2005) and Capcom Classics Collection (Playstation Portable, 2006). Finally, the questionalble Wolf of the Battlefield Commando 3 was released in 2008 for the Playstation 3 Network and XBox 360 Live Arcade (available only as a downloadable release, and exclusively in Europe, the United States and Australia). The game's edgy comic book-style character design desperately tried to modernize the franchise, but ultimately didn't seem to have a point.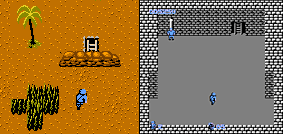 The Famicom/NES version of Senjō no Ōkami tested here shows various differences with the original arcade game. The two most significant are the stage arrangement and the underground shelters. As for the stage arrangement, the arcade game consists of eight levels made out of two sets of four stages, whereas the Famicom port features sixteen levels made out of four sets of four stages. Then ladders leading to small underground shelters are scattered throughout the game and are revealed by throwing grenades in specific location on the battlefield (picture on the left). These shelters are particularly well thought out though, and players looking for a gaming experience closer to the original game can simply ignore them and concentrate on the non-stop shooting action instead. Additionally, the game has a lot more items to collect (most of them appear inside the shelters), as well as machine gun and grenade upgrades ! Finally, any reference to Nazi Germany was removed from the American's manual/packaging and was replaced by an evil Empire Army.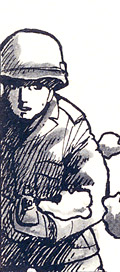 Super Joe has been a recurring character in the titles (and spin-off titles) of the Commando series, and like many early video game characters, his story is full with inconsistencies and obvious contradictions. First of all, it is interesting to notice that the name Super Joe was indeed introduced in Senjō no Ōkami, but it was only mentioned in the arcade's flyer and not in the game itself (even the Japanese flyer calls him スーパージョー, aka Sūpā Jyō). The same applied to the Famicom version tested here, he is mentioned in the instruction manual but not in the game itself. Furthermore, he reappeared in 1986 in Rush'N Crash (aka Speed Rumble), a racing/action game released by Capcom. Well, he doesn't technically appear in the game, but he is mentioned in the instruction manual, which says "Game begins with cartoon showing the terrorists [..] and taking `Super Joe's` family and townspeople as hostages". Then things started to go a little awry - Top Secret was an arcade game released by Capcom in 1987, but the game is more widely known as Bionic Commando. This region change was apparently a conscious marketing decision to connect Top Secret to Commando in the United States, and to sell it as a sequel. But it didn't stop there, and the main character in the game was also renamed Super Joe (although he was not named in the Japanese version). Then Joe received his first in-game profile in Senjō no Ōkami II (aka MERCS) where his real name is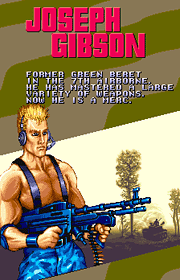 revealed - Joseph Gibson - and he is described as a "Former green beret in the 7th airborne" (picture on the left). He was then featured in Hitler no Fukkatsu Top Secret (aka Bionic Commando) for the Famicom released in 1988 - however, in this version, he is not the main protagonist but happens to be captured and must be rescued by Rad Spencer (controlled by the player). Joe was also mentioned in Bionic Commando for the Game Boy (1992) and in Bionic Commando Elite Forces released for the Game Boy Color in 2000 (US Only). Nearly ten years later, Bionic Commando Master-D Fukkatsu Keikaku (aka Bionic Commando Rearmed for Playstation 3, Xbox 360 and PC Computers), the download-only remake of the original 8-bit Famicom/NES game, provides some backstory for Joe (the protagonist of the game is still 'Rad' Spencer though), and ties Commando and Bionic Commando together even further. Finally, while I initially didn't want to mention it here, I'm still going to talk about Bionic Commando released for the Playstation 3 and Xbox 360 in 2009. Although the game is passably average, the story is a disgrace to the series, and (spoiler alert!) Super Joe is depicted as the ultimate villain who needs to be eliminated. So, if this game is supposed to be canon, then this is where Super Joe's story ultimately ends...
Teaser text copied from the American version:
Commando - "Super Joe" and your skill on a highly secret mission... challenging the Evil Empire Army in fierce guerrilla warfare. Super Joe and your skill - armed only with Super Joe's rifle and unlimited ammunition, plus a hand grenade that requires replenishing. Your assignment... find and destroy;... stopping attempts to dominate the world's population and resources. You must skillfully control Super Joe's venture into a deep, unexplored jungle region. Surprisingly, you and Super Joe find the enemy behind iron walls, on bridges to cross, in trucks and Jeeps that try to ram Super Joe. Can Super Joe and you carry out this reckless, almost impossible mission ?

G
O
O
D
I
E
S



Japanese Guidebook


Japanese Guidebook


Japanese Guidebook


Japanese Boardgame

O
M
A
K
E



Click on picture to enlarge
LK



Add your Pov here !



P
O
V
s


Nowadays, when people think of Capcom, they often think of Street Fighter, Rockman (aka Mega Man) or Resident Evil. But back in 1985, the company made the arcade classic Commando which defined an entire era of action gaming. So how does this conversion compare to the original game ? Of course this Famicom version doesn't look as nice as the legendary arcade classic, but Capcom nailed the gameplay to near perfection, and added enough secrets and exclusive content to justify its existence. It is also technically remarkable, I mean, the screen is always teeming with enemies (a dozen at once on average) and the action is intense and practically non-stop. Well, maybe the game is a bit too intense and challenging, essentially making it impossible to complete. But I always play Commando as a "quick-fix", like a morning cup of Joe (sorry for the pun) - I grab the controller, start the game and spray the machine gun wildly around until I die. But after the praise comes the criticism. The game is not perfect - sprites flicker quite badly (but it doesn't really affect the gameplay), the soundtrack is forgettable (the same music plays throughout the game), the graphics are average and the game is fairly short (you have to go through the game four times to beat it!). All in all, Commando is not the best looking game, but it is definitively one of the best run'n gun for the system and a faithful conversion - the action is clean, fast and beautifully staged.