| | | | |
| --- | --- | --- | --- |
| | | | |
スカイキッド
©1985 1986 Namco Ltd.
Release: 1986-08-22 (¥3900)
Cartdridge NSK-3900
Shooter/Action/Horizontal




Released in America as
SKY KID
( NES-SY-USA )
Sky Kid is a cartoony looking side scrolling shooter by Namco and conversion of the arcade game of the same name originally released in 1985. Players take control of the notorious "Red Baron" and "Blue Max" fighter biplane pilots. Thematically, the action takes place in a setting loosely based on World War I - but it also embraces many fantasy related elements and stars an extravaganza cast of anthropomorphic birds. In the midst of a war against an evil crow army, the two ace pilots are given their most perilous missions - onboard their fighter biplanes, then must fly deep into enemy territory and destroy various ground targets. In each level, players go up against enemy ace squadrons as well as tanks, artillery and other submarines and war aircrafts. However, and this is what makes Sky Kid unique, bombs appear in each level and must be picked up by the player, then carried safely without being hit, and dropped onto a specific location (enemy fortress or battleship) for points. Although the first action button fires the plane's machine gun, the second button performs evasive loop maneuvers, allowing the player to escape deadly situations or to take out enemies on its tail. The pilots also possess the ability to save their planes in case of a spinning nose dive - when hit, each plane will suddenly make an uncontrollable dive to the ground, and repeatedly tapping the loop button can prevent the fatal crash. Obviously, this advanced technique becomes harder to pull off as the game progresses. Sky Kid features twenty six levels and a simultaneous two-player mode.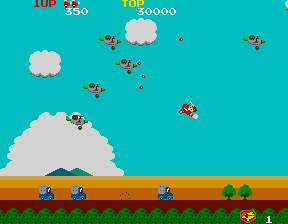 The original arcade game Sky Kid was released in 1985 (picture on the right). An enhanced version called Sky Kid Deluxe followed in 1986 and featured more colorfull graphics, weather elements, new levels and a better soundtrack. The original game was ported to the Famicom (1986) and to the Super Cassette Vision (1986), and was later included in various Namco collections such as Namco Gallery Vol. 3 (Gameboy, 1997), Namco Museum Encore (Playstation, 1997), Namco Museum Arcade Hits! (aka Namco Museum 50th Anniversary, Playstation 2, XBox, Gamecube, PC, 2005) and Namco Museum Virtual Arcade (Xbox 360, 2009).
Sky Kid for the Famicom system shows many differences with the original arcade game. Many of the elements found throughout the games are slightly different and some entirely new ones have been added, such as the cheering blue girls or the blue combat airship. Various elements are also directly borrowed from Sky Kid Deluxe, such as the blue penguins (who, in this version, turn into polar bears instead of pints of beer), the ice dome bases, the Raijin gods of lightning, the sun, the moon and so forth... Finally, the Famicom port features several exclusive elements not found in any of the original arcade games - it includes more levels (twenty six instead of twenty one), bonus stages (in the shape of floating bonus targets), new background elements (such as volcanoes) and enemies (such as hi-speed rockets).
Sky Kid was also released for Nintendo's Versus System in 1986 and renamed it "Vs. Super Sky Kid" for the occasion.
Teaser text copied from the American version:
The odds are definitively against them. The enemy's coming by land, by sea, and by air, with an arsenal of every deadly weapon known to man. Tanks, Machine guns, Battleships. And the most villainous army of soldiers this peaceful little land has ever seen. And the defense ? Just two lonely skykids in thinly armed, single engine prop bi-planes. They've got guts, but they'll need jelp from Above to win this battle - a steady hand, lightining reflexes, nerves of steel and a heart of gold. Do you have what it takes ? Then fasten your seat belt and take a deep breath. because you are their only hope.

G
O
O
D
I
E
S



Japanese Guidebook


Japanese Phonecard

O
M
A
K
E



Click on picture to enlarge
S
E
C
R
E
T
S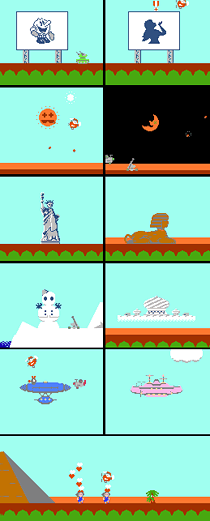 Sky Kid is packed with in-game secrets and bonus events hidden from the player's view (which was a popular theme for video games of the era, especially in Japan).

Many elements in the game reward the player bonuses or points when he loops near them. These include the Pac Man and Lady billboards (awards medals or penalty bombs), the blue girls (who throw kisses at the player), the Sun (who turns into a moon and the background into a night sky), the Statue of Liberty (it blows up her dress like Marilyn Monroe), the Giant Snowman (his head pops out like a jack in the box), the Sphinx (turns his head and faces the screen) and the Arabian palace (a blue genie pops out of the main tower).

Here is the list of all the special events, special enemies and bonus stages from Sky Kid:

Mission 1 - none
Mission 2 - Sun
Mission 3 - Blue girls
Mission 4 - Pac Man billboards
Mission 5 - Blue girls, Statue of Liberty
Mission 6 - Lady billboard, Sun
Mission 7 - Pac Man billboards, Penguins, Rajins
Mission 8 - Shooting training
Mission 9 - Blue girls
Mission 10 - Penguins, Snowman
Mission 11 - Pink airship, Lady billboards
Mission 12 - Blue girls
Mission 13 - Blue airships
Mission 14 - Sphinx
Mission 15 - Raijins, Blue girls
Mission 16 - Shooting training
Mission 17 - Moon, Arabian palace
Mission 18 - none
Mission 19 - Pac Man billboard
Mission 20 - Volcanoes, Pac Man billboards, Blue girls
Mission 21 - Volcanoes, Pac Man billboard
Mission 22 - none
Mission 23 - Blue airship, Snowman
Mission 24 - Shooting training
Mission 25 - Raijins, Volcanoes, Blue girls
Mission 26 - Statue of Liberty, Pink airship

LK



Add your Pov here !



P
O
V
s


Behind a cartoony and cheery facade hides a surprisingly challenging game. Anyone expecting a straigtforward shooter is going to be sorely disappointed. First of all, Sky Kid doesn't follow many of the ground rules laid out by the vintage shooter conventions - the scrolling goes from right to left, the plane shoots the direction it faces (and not always on a horizontal plane), you have the incredible ability to survive any crash by smashing the controller's button (as long as you're not too close to the ground) and can loop-de-loop at will (and are invincible when you do). And yet, the game is brutally hard and difficulty really cranks up after a few levels. Well, that's not entirely true - unlike other shooters, Sky Kid needs a lot of practice, and survival ultimately relies on the player's ability to juggle between flying the plane, looping around enemies and avoiding picking the bomb when necessary. The only catch with the game is that levels are extremely repetitive - although Namco peppered the game with unique special events (see the secret section from this review), the game doesn't bring anything new to the table after the tenth level or so... In conclusion, Sky Kid is a fun early shooter for the Famicom system with its share of surprises, but don't expect anything groundbreaking.