SHIN JINRUI - THE NEW TYPE
(Adventures of Dino Riki)
| | | | |
| --- | --- | --- | --- |
| | | | |
新人類 THE NEW TYPE
©1987 Rix Soft
©1987 Hudson Soft
Release: 1987-02-10 (¥4900)
Cartdridge RES-SG
Shooter/vertical




Released in America as
ADVENTURES OF DINO RIKI
( NES-SG-USA )
Shin Jinrui (aka Adventures of Dino Riki in the west) is a vertical/overhead shooter developed by Hudson Soft and published by Rix Soft. The game is set in prehistoric times and tells the adventures of a courageous young caveman, and his voyage through a dangerous world populated with dinosaurs and other apex predators. As he begins his adventure, the caveman relies on small rocks in order to defend himself against the various enemies coming his way. However, this default weapon is very limited and, thankfully, can be upgraded as the game progresses. Some elements of the scenery are destructible (such as flowers, pots or skulls) and reveal all kind of special icons. Most of them give the player various advantages in battle - Power icons, symbolized by a closed fist, progressively upgrade the main weapon into stone axes, boomerangs and finally flaming torches, boots speed-up the player, hearts increase the player's available life to a maximum of eight hearts, meat refills life, Stars destroy all enemies on screen in a flash, and Diamonds boost the player's score. Two secret icons are also available throughout the game, and can only be revealed by shooting at the same hidden and invisible locations multiple times - the bird gives the player little wings and the ability to temporary fly, and the Riki icon turns the player into a large wrestler with considerable powers. Shin Jinrui features four different levels (the last one being a combination of the first three level themes and bosses) and is single player only.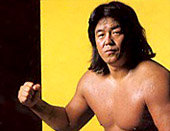 It is rather interesting to notice that Shin Jinrui actually features the popular Japanese wrestler Chōshū Riki (長州力, picture on the right, from his real name Mitsuo Yoshida). Back in 1987, when the game was released, Chōshū had just returned to the major professional New Japan Pro Wrestling promotion. It is anyone's guess as to why Chōshū Riki was selected to endorse the game - maybe in an attempt to launch a brand new character franchise, in a way similar to Takahashi Meijin (known as Master Higgins in the west and endorsed by Toshiyuki Takahashi).
Teaser text copied from the American version:
In prehistoric times, where ancient dinosaur creatures ruled, the adventures of Dino-Riki began. A courageous and intelligent young man, Dino-Riki, is determined to establish mankind's future in this violent age. Dino-Riki must explore and fight his way through deserts filled with quicksand, sinking lotus swamps, dark caverns and deep canyons.As Dino-Riki begins his adventure, he is armed with a shooting weapon that will change and progress from rocks to axes, from axes to boomerangs, from boomerangs to fiery torches, by collecting . There are many hidden items that will help Dino-Riki to increase his strength , life , fly like an eagle , one that will change Dino-Riki to "Macho-Riki" , the ancient warrior, and many more. Dino-Riki will need all the ancient knowledge and items he can find before facing the dinosaur bosses: Tyrannosaurus, Pteranodon, Monster Fly and Giant Cobra.

O
M
A
K
E



Click on picture to enlarge
LK



Add your Pov here !



P
O
V
s


Honestly, I have mixed feelings about Shin Jinrui. The overall execution is undeniably solid and the game is actually fairly unique. Shin Jinrui oozes charm throughout, features great colorful graphics and a very catchy soundtrack. The gameplay and controls are also a treat, and the caveman is very responsive... well, that's as long as you don't have to jump on a platform. Read on. The first thing that hits you is how unbalanced the difficulty level is - there is no learning curve, and the first stage (and its frustrating nenuphar/lily pad jumps) will crush you without any remorse. That's it, 'platform jumping' is the most frustrating move in the whole game, and is simply utterly broken. Moving platforms don't carry you with them, and you'll fall through them countless times. Then Shin Jinrui only features three level environments (swamp, desert and mountainous), and the massive forth stage simply recycles them to death (including bosses and enemies!). Shin Jinrui's insane and unfair difficulty really killed the experience for me. Here is another rather unique and refreshing game idea stuck inside an unbalanced and really unfair game...