| | | | |
| --- | --- | --- | --- |
| | | | |
マイティボンジャック
©Tecmo, Ltd. 1986
Release: 1986-04-24 (¥4980)
Cartdridge TCF-MB
Platform game




Released in America as
MIGHTY BOMB JACK
( NES-BJ-USA )


Released in Europe as
MIGHTY BOMB JACK
( NES-BJ-XXX )
Mighty Bomb Jack is a platform game by Tecmo and based on the arcade game Bomb Jack originally released in 1984. The kingdom was at peace until the day the evil king Belzebut kidnapped the good King Pamera, the queen and their daughter. The Mighty brothers rushed to the rescue, but they all failed except for Jack. The youngest of the brothers now goes on a journey to Belzebut's impenetrable pyramid in an attempt to save the kingdom and the royal family. The goal of the game is rather simple at first glance - Jack must explore the pyramid's many rooms, collect as many bombs and treasures as possible, unlock exit doors, and all of this within a strict time limit. However, some levels have multiple routes and exit doors, sending Jack to alternate areas forwards, or backwards. Things quickly become even more complicated and the game later features special exit doors (unlocked by collecting Sphinx statues), hidden passageways and secret rooms (some even give Jack a chance to rescue his kidnapped brothers), as well as level warps and shortcuts. Just like in the original arcade game, Jack has the ability to jump to dizzying heights, and to glide in the air and control his fall. His jumping ability also allows him to open the numerous red treasure chests scattered around each stage, which contain items such as treasure bags (score), gold coins, bombs, Mighty drink (extra time) or the powerful Mighty coins. The latter are at the core of the gameplay and allow Jack to increase his Mighty power. Pressing the B button during the game allows Jack to transform into three different super mighty forms (each consuming an increasing amount of Mighty coins) - Blue Jack can open orange treasure chests, Orange Jack can open any treasure chest by touching them and Green Jack changes all his enemies into gold coins. However, if Jack is too greedy and collect too many Mighty coins (or Mighty drinks), he will be sent to the dreaded torture room. The game also constantly evaluates Jack and awards him with the elusive Game Evaluation Value score, based on his level of skills and reflexes during gameplay. Mighty Bomb Jack consists of 16 large areas and a final round.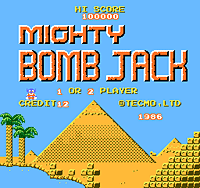 Mighty Bomb Jack is the sequel of Bomb Jack, an arcade game originally released in 1984. Although various places on the web suggest that Mighty Bomb Jack was originally an arcade game, it is absolutely not clear as to whether this was the case or not - and all the signs seem to indicate that the Famicom version tested here was an original game, and that all the conversions that followed used it as their basis. And it wouldn't be the first time Tecmo remixed one of their game for a Famicom release, and Argus no Senshi (aka Rygar) followed the same path (as well as the Famicom exclusive Super Star Force). It is interesting to notice that the game was also ported to the Nintendo VS. arcade system and featured a two-player alternating mode - this may explain the slight confusion (picture on the right). But something is sure - the game was later ported to other home systems such as the Commodore 64 (1990), Amiga (1990), Atari ST (1990) and PC Dos (1990).
Although the Japanese and American versions of the game look fairly identical, they show some important gameplay differences. Treasures are overall easier to find in the American version, and special tiles/blocks can be removed in one jump, whereas the unforgiving Japanese would ask the player to jump down numerous times. Some special items have also been shuffled around the pyramid, and tricky areas/puzzles are easier to figure out.
Teaser text copied from the American version:
You and Jack must challenge the King Demon Beelzebut to a final fight to the bitter end. Beelzebut has abducted the merciful King Pamera, his Queen and the fair Princess. He has imprisoned them in his cursed pyramid. The Mighty Brothers fought bravely against Beelzebut and failed. jack - the youngest of all the brothers - must restore peace and order in the world. He needs your help. You remember Jack, don't you? you helped him in the arcade version of Bomb Jack. Now you can take him home. Fight the good fight!

G
O
O
D
I
E
S



Japanese Guidebook


Japanese Guidebook


Japanese Guidebook


Japanese Guidebook


Japanese LP Soundtrack


Japanese Vinyl Toy


Japanese Vinyl Toy

O
M
A
K
E



Click on picture to enlarge
LK



Add your Pov here !



P
O
V
s


Mighty Bomb Jack follows a formula quite popular in Japan in the mid-80s and based on mysteries and other in-game secrets (which definitely helped the guidebook market). The game is packed with secret rooms and hidden items to uncover - it starts out with simple features such as hidden treasure chests that can be revealed by jumping down on them, but later on, things become fairly tricky (and random), and you will sometimes have to jump up and down on the same spot, and this several times, in order to reveal a secret item (this was simplified in the American version though). But is the game any good ? Well, it can be quite fun to control Jack and to master his unique jumping abilities, and the "secret" aspect of the game is quite innovative and adds a lot of replay value. However, this is where the wheels beging to come off, and Mighty Bomb Jack becomes quickly repetitive and monotonous, and most of the game's features and enemies are introduced in the first couple of levels. In truth, you just end up jumping around for hours (if you are patient enough), and because the rooms all look alike, it is fairly hard to orient yourself... all in all Mighty Bomb Jack is a decent (yet somehow furstrating) platform game which doesn't live up to its full potential.