MASUZOE YOUICHI ASA MADE FAMICOM
| | | | |
| --- | --- | --- | --- |
| | | | |
舛添要一 朝までファミコン
©1992 Coconuts/C-Dream
Release: 1992-04-17 (¥7980)
Cartdridge CDS-I4
Digital Comic/Simulation


Masuzoe Yōichi Asa Made Famicom is a digital comic by Coconut Japan and features the Japanese politician Yōchi Masuzoe. In this intra-office text adventure game, the player is put in the shoes of a businessman who has to instruct his secretary, give phone calls, act favoratory to his peers, gain the favor of his boss and finally find out about the company's factions. The game is divided into four different chapters. Once a chapter is completed, Yoichi Masuzoe asks the players a series of twenty questions. These quiz-questions, however, do not affect the gameplay and only seem to influence the ending of the game. The game's controls are fairly straightforward - an action menu lets the player look around, pick and use items or talk to people from the active view. The bottom of the screen displays text or available choices. A simple password system allows the player to save his game at will.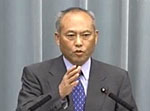 Yōichi Masuzoe is a Japanese politician and, back in the 1980s, he used to appear on numerous political TV shows such as the late night live show Asa Made Terebi Nama! (朝まで生テレビ! ). The name of the game obviously references this Japanese TV show. The picture on the left shows a more recent picture of Yōichi Masuzoe.

O
M
A
K
E



Click on picture to enlarge
LK



Add your Pov here !



P
O
V
s


Masuzoe Yōichi Asa Made Famicom is more of a curiosity than a title you'd want to play for long hours. First of all, Japanese language is an obvious barrier - the game uses pictorial icons that represent standard actions but the in-game text features many Kanjis and japanese Kanas. Then, given the subject matter of the game, you will also want to know about Japanese culture and especially about Japanese business code... All in all Masuzoe Yōichi Asa Made Famicom is an interesting piece of video game history but is a limited experience to a non-japanese audience.