MAKAIMURA
( Ghosts'n Goblins )
| | | | |
| --- | --- | --- | --- |
| | | | |
魔界村
©1986 Capcom
Release: 1986-06-13 (¥5500)
Cartdridge CAP-MK
Platform / Action




Released in America as
GHOSTS'N GOBLINS
( NES-GG-USA )


Released in Europe as
GHOSTS'N GOBLINS
( NES-GG-XXX )
Makaimura (aka Ghosts'n Goblins) is a side scrolling platform game by Capcom and conversion of their own arcade game originally released in 1985. It is the first episode of Capcom's popular franchise featuring King Arthur's eternal fight against Satan and his minions. His beloved girlfriend Prin-Prin has been kidnaped by the Lord of Hell and the brave knight must rescue her (as he will countless times) from his castle. Equipped with a suit of armor and joust-spears, Arthur sets out on an epic journey against a horde of approaching undead zombies and other winged demons. The game's start screen is home of a large map showing the unique route to Satan's castle through six desolated locations such as the trademark cemetery and other uninviting haunted towns and creepy caves. Each area ends on a gate guarded by dreadful demons - Arthur must defeat them to gain the key that will let him advance to the next stage. Fallen foes sometimes release bonuses as well as new weapons such as the flame-torches, the fast throwing knives, the Axe (shows up halfway through the game) and the cross (at the end of the game). Arthur's piece of armor offers a small protection and splits open when hit for the first time. When that happens, he is stripped of his armor (and dignity) and fights in boxer shorts - one more hit and he turns into a small pile of bones. Thankfully, Makaimura provides infinite continues and respawns the player at the last checkpoint (or halfway point).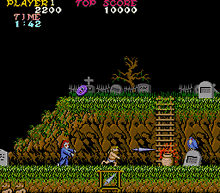 The original Makaimura arcade game was released by Capcom in 1985 (picture on the left). Countless ports followed, such as Famicom (1986), ZX Spectrum (1986), Commodore 64 (1986), CPC (1986), Amiga (1988) and Atari ST (1990). The Famicom port was also re-released for the Game Boy Advance in 2004 as part of the Famicom Mini series. As an interesting side note, an obscure roulette redemption game called Double Fever Makaimura was even available in Japan and manufactured by Capcom (the medal game, released in 1987, was part of a series that also included 1942, Senjō no Ōkami and Son Son). Finally, the arcade game was later included in Capcom Generation 2: Dai 2 Shuu Makai to Kishi for the Playstation (1998) and Saturn (1998), and in Capcom Classics Collection for the Xbox (2005) and Playstation 2 (2006).
Teaser text from the American version:
The beautiful princess is kidnapped. Her lover, the Knight in shining armor, armed with five different weapons to fight the enemy, sets out to rescue the beautiful princess. The Knight, aided by your skill, must pass thru seven different guarded gates, fighting and destroying demons, dragons, giants and zombies. There are hidden characters too! Some friends. Some foes. Ghosts'N Goblins is exciting... challenging you and the Knight to rescue the princess, amid great danger, escaping Hades, land of the enemies.
Game Staff :



Planning
Hasse and Fuji

Music
Hal and Wood

Design
Black and Hasse

Program
Kazzo

Presented by Capcom


G
O
O
D
I
E
S



Japanese guidebook


Japanese game book


Japanese mini-game/pencil-case


Japanese boardgame


Japanese model


Japanese notebook

O
M
A
K
E






Click on picture to enlarge
LK



Add your Pov here !



P
O
V
s


The insane difficulty and unforgiving nature of Makaimura doesn't need to be introduced anymore. The devilish game will consume many of your lives with little mercy and you'll see Arthur turn into a little bone pile so many times that you'll most certainly start feeling real, physical pain every time he does. To be honest, the original arcade game features the same hellish difficulty level and sparse checkpoints (and you have to complete the game twice!). On the conversion front, this Famicom port is (surprisingly) accurate and as close at it can possibly get to the arcade game - within the technical limitations, of course, of the hardware it's running on... I wish I could give Makaimura a better score (as it deserves it) but the incredibly difficulty level poises (I feel) this otherwise monumental and classic title.