| | | | |
| --- | --- | --- | --- |
| | | | |
ロードランナー
Hudson Soft ©1984
Under license from Brøderbund Soft.
Release: 1984-07-31 (¥4500)
Cartdridge HFC-LR
Platform/Puzzle game




Released in America as
LODE RUNNER
( NES-LO-USA )
Lode Runner is a platform game by Hudson Soft and port of Brøderbund's classic originally released in 1983. The goal of the game is to infiltrate fifty different treasure rooms and to recover all the gold along the way in order to activate escape ladders. The task would be easy if only robot guards and other obstacles wouldn't try to prevent the player to lay his hands on all this loot. Although our hero doesn't have the ability to jump, he comes equipped with a laser drill pistol and can dig holes in the ground to trap his enemies (one button digs to his right, the other to his left, regardless of which direction he faces). However, these holes fill in again after a short amount of time, instantly killing anything trapped inside at the time (including the player). But before they do, any enemy trapped inside a pit will get stuck and will act as a cap, allowing the player to safely run over him. Interestingly, in some cases, guards can also carry gold and must be trapped in a pit in order to recover their loot and activate the escape ladder. To add depth to the gameplay there are also solid walls that can't be drilled into, trap doors, ladders that lead to higher platforms and hand bars to cross over gaps. Lode Runner also features a level editor where the player can create his own stages, and a two (not simultaneous) player mode.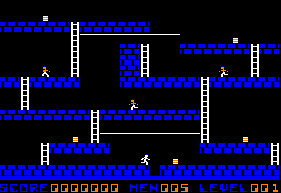 Lode Runner is considered a classic among gamers and was originally released in 1983 by Brøderbund Software for the Apple II and programmed by Douglas Smith (picture on the left). It is said that he initially wrote the code in Fortran at the University of Washington in Seattle, and the first Apple II early version of Lode Runner was called "Miner". As a side note, the game was first published by Brøderbund and there are some interesting story connection between Lode Runner and other titles from their library at the time, such as Raid on Bungeling Bay. Lode Runner was a success and was converted for most of the home systems of the time such as the Atari 8bit (1983), Commodore 64 (1943), MSX (1983), Famicom (1984) to only name a few. Interestingly, the Famicom port of Lode Runner was developed by Hudson Soft (version tested here), and this was probably the first time a third party developer was allowed to use the franchise. It became common practice later on, and Lode Runner was even released as an arcade game by Irem in 1984. Sequels and iterations are still being released today and it is probably one of the longest running and most popular video game franchise. The most noticeable are Lode Runner 2 (PC, 1999) which introduced detailed 3D-isometric graphics, or Lode Runner 3-D (Nintendo 64, 1999) the first polygonal 3D version of the game.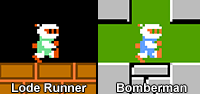 This version of Lode Runner shows several differences with the original Apple II game. First of all, it only features 50 levels (unlike the original which offers 150). Then Hudson Soft's version has larger sprites on screen, and this came at a price - levels are vertically shorter than their Apple II counterparts and the screens scrolls horizontally (Championship Lode Runner released for the Famicom in 1985 addressed this limitation and provided a vertical scrolling as well). This version also introduced the two-button digging gameplay, allowing the player to dig holes regardless of the direction he is facing. But the most remarkable aspect of this port are the robot guards - they exhibit a striking resemblance to another Hudson Soft's trademark franchise. Bomberman was released by Hudson Soft in 1985 and there is an undeniable connection between Bomberman and the robot guards from Lode Runner (picture on the right).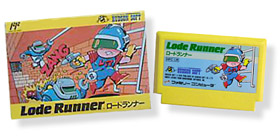 The Famicom port of Lode Runner was hugely successful and sold millions of copies worldwide. Unsurprisingly, a second print of the game seems to exist - it came with a slightly redesigned and larger box with a full-color cartridge label and a plastic tray (picture on the right).
Teaser text from the American version:
You're a highly trained Galactic Commando, deep in enemy territory. Your mission to recover a fortune in gold, stolen from the Bungeling people by their power-hungry leaders. You'll be running, jumping, and climbing heroically, solving perplexing puzzles. With your laser pistol, you'll drill passage-ways through stone floors and barriers. To get through this mission alive, you'll need more than fleet feet and good looks, you'll need your quick wits and brains.

G
O
O
D
I
E
S



Japanese Guidebook


Japanese Guidebook


Japanese Guidebook

O
M
A
K
E



Click on picture to enlarge
S
E
C
R
E
T
S

Stage select:
At any time during the game, press Select to access the stage select menu screen. Press A or B to pick a different level and press Start to play it.




LK



Add your Pov here !



P
O
V
s


The original Lode Runner is a classic among classics. It revolves around simple gameplay mechanics but with surprising depth. I've never been a big fan of the original graphics - the stick figures an crude sprites never had much appeal to me. This is why I especially like this Hudson Soft conversion - they brought their own ideas to the table and created a game with real personality, charm and style. This Famicom version is a quality title but, like so many other games at the time, it tends to drag on for too long. Then other Lode Runner titles are available which provide more variety and fun (such as Championship Lode Runner or the excellent Battle Lode Runner for the PC Engine system). There is nothing fundamentally and technically wrong with this version and it certainly brings its share of fun - but I would advice you to check on other Lode Runner titles before digging this one out.