| | | | |
| --- | --- | --- | --- |
| | | | |
ジュジュ伝説
©Disco/Taito Corp. 1991
Licensed from Tad Corp.
Release: 1991-07-19 (¥5800)
Cartdridge DTF-5J (38)
Shooter/vertical




Released in America as
TOKI
( NES-5J-USA )
Juju Densetsu is a multi-scrolling action game by Taito, and adaptation of the arcade game of the same name developed by TAD Corporation and originally released in 1989. The game takes place on a mysterious tropical island and follows the story of an handsome primitive man called Juju (known as Toki in the west). His beloved girlfriend Miho, the island's princess, has been kidnapped by the the evil priest Vookimedlo, and Juju now embarks on a long and perilous journey to save the poor damsel. But the evil enchanter placed our hero under a magic spell, and turned him into a grotesque ape-like creature. Juju now needs to travel through six uniquely themed, and multi directional scrolling stages (caves, underwater lake, volcano, icy mountain and thick jungle), and ultimately reach Vookimedlo's golden palace. JuJu can walk, jump and shoot all kind of fire-projectiles through his mouth, from simple fireballs to triple shots, twin-wave blasts and deadly flames. He can also collect special items along the way, such as the Football Helmet (temporary shield), white shoes (high jump), clocks (extra time), fruits (points), coins (for extra lives) and, later in the game, keys to unlock doors and obstacles. JuJu can repeatedly jump on certain enemies to defeat them, or to reach seemingly unattainable items or platforms. Juju Densetsu also features a alternating two-player mode.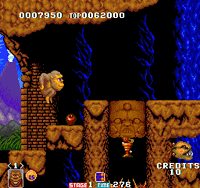 JuJu Densetsu (known as 'Toki' in the west) was an arcade game originally released in 1989 by TAD Corporation (picture on the right). The game was later ported to an array of home consoles and computers - Famicom (1991), Atari ST (1991), Amiga (1991), Commodore 64 (1991) and Atari Lynx (1992). A Sega Megadrive version was also released by Sega in 1991. However, the entire game was redesigned while keeping the core, structural concept. It features different stage layouts, various exclusive levels and enemies, but overall lacks the polish from the original game. Finally, a high definition remake of Toki is being developed by the French independent game company Golgoth Studio.
Teaser text copied from the American version:
Man, I'm telling you, it's a jungle out there. A warrior isn't safe in his own back yard. The other day Vookimedlo and Bashtar not only stole my girl, they turned me into a monkey! But I'm not called Toki the Warrior for nothing. I'm going to fight for what's mine, even though it means battling through enemy-infested jungle to the Golden Palace itself. And if things weren't tough enough with me being a monkey, I have to beat Vookimedlo and Bashtar in a Fair Fight. But I'll do it all. You see. I've got this neat little trick of shooting fireballs from my mouth. Say, if you'd like one heck of an adventure, come along! Let's rock the jungle!

O
M
A
K
E



Click on picture to enlarge
LK



Add your Pov here !



P
O
V
s


I have always been a big fan of the original Toki arcade game. Although really obscure, I think Toki features an incredibly unique and elaborate level design for a game of its genre, and era. Each stage comes with its own set of rules - some have middle-bosses, others get Toki to swim underwater, whereas others get him to ride a past-paced roller coaster. And, I must say, this Famicom conversion is incredibly faithful to the original arcade game. Obviously the graphics have taken a hit (sprites are smaller and fairly flat in general), but otherwise, the gameplay and controls are surprisingly perfect and accurate. Some game elements have been omitted here and there, but they remain extremely rare occurrences and most of the arcade game is there, including the catchy soundtrack. All in all, Juju Densetsu is a great and excellent adaptation, and I highly recommend it !