HECTOR'87
( Starship Hector )
| | | | |
| --- | --- | --- | --- |
| | | | |
ヘクター'87
©1987 Hudson Soft
Release: 1987-07-16 (¥5000)
Cartdridge HFC-HH
Shooter/vertical




Released in America as
STARSHIP HECTOR
( NES-HH-USA )
Hector '87 (aka Starship Hector in the west) is a shooter by Hudson Soft. In the year 4622, humanity creates time machines capable of travelling back to the Earth's enchant past. However, most of the research ships have been destroyed by an unkown bio-mechanical enemy. The players pilots the new Noah class time-fighter and must fight a wide range of odd ships in the most ominous environments. The game includes six time zones called Histories (ranging from Inca temples to Egyplians giant sarcophaguses) and alternates between vertical and horizontal stages. The Noah is equipped with two kinds of weapons - a main upgradable Vulcan gun and cluster ground bombs. The ship also comes with a shield meter and takes several hits before going down - however, the game doesn't reward the player with any powerups and enemies only drop life/shield pods when destroyed. Hence Hector '87 was part of Hudson Soft's Caravan tournment, the game also features a two and five minutes attack mode.

Hector '87 was the third game to be featured at Hudson Soft's Caravan Festival. See Star Soldier for more information about the festival.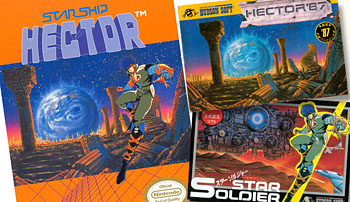 It is interesting to notice that the American covert art is a mix of the Japanese Famicom version of Hector '87 and Star Soldier (picture on the right).
Teaser text from the American version:
In the Star Year of 2038, the 4th World War on Earth destroyed all of mankind. The Starship Hector was thousands of light years away on an exploration mission. Upon their return to what is now ancient Earth, the Starship Hector found Earth to be desolate and inhabited by gruesome bio-mechanical creatures. Starship Hector must fight its way past many different empires of these bio-mechanical creatures to save Earth's future. This challenge will be the toughest battle the Starship Hector will ever face. You must skillfully change battle strategies constantly. This is the ultimate challenge to your battle skills. The objective is to help the Starship Hector to survive in Ancient Earth and to defeat the gruesome Bio-Mechanical Creatures. Earth's future is in your skillful hands!!
Game Staff (Copied from the end credits) :



Programmer
Hector Oyama
Sailor Fuku Nagata
Kinchan
Charley Nakata

Sound Designer
Toshiaki Takimoto

Music
Kinoko Kunimoto

Visual Designer
Kazuhiko Nonaka
Sugata Morimoto
Yasuaki Kuwahara
Tsukasa Kuwahara
Yamacham !

Title Designer
Tetsuya Akimoto

Planner
Megutor Okumura
Toshiyuki Takatsu

Game Adviser
Shimataro Ura
Mr. Kawada Mr. Shimada
Lu Iwabuchi
Tsukasa Shindo

Rom Programmer
Atsuo Nagata
Katsunoru Takahashi

Director
Hector Oyama

Special Thanks For
Mr. Tsuji

Produced By Hudson


G
O
O
D
I
E
S



Japanese Guidebook

O
M
A
K
E



Click on picture to enlarge
LK



Add your Pov here !



P
O
V
s


I have mixed feelings about Hector'87... I definitively like the fact that Hudson Soft tried something different - Hector'87 has some character and the Inca/Egyptian themes really gears the game towards new territories. However, it was featured at the Caravan Festival and I miss the fast and intense gameplay Star Force or Star Soldier had on offer. The lack of power-ups is a bit disappointing and I feel that the alternance of horizontal and vertical stages slows down the game's pace. Taken on its own, Hector'87 is a decent shooter but as part of the Caravan Festival, it doesn't really feel related to the score attack series.