GOARDIC GAIDEN
( The Guardian Legend )

| | | | |
| --- | --- | --- | --- |
| | | | |
ガーディック外伝
©1988 Irem Corp.
Licensed from Compile
Release: 1988-02-06 (¥5500)
Cartdridge IF-08
Shooter/Adventure




Released in America as
THE GUARDIAN LEGEND
( NES-GD-USA )


Released in Europe as
THE GUARDIAN LEGEND
( NES-GD-XXX )
Guardic Gaiden (aka The Guardian Legend in the west) is a shooter/action/adventure game by Compile. A large artificial planet called Naju is hurtling towards Earth and humanity is inclined to stop the upcoming destruction of their home world. Their only hope lies in a highly sophisticated aerobot guardian called Miria (codenamed System D.P), a female humanoid robot who can transform into a powerful spaceship. Her mission is to infiltrate Naju and to activate the large planet's self-destruct mechanism before it reaches the Earth. Guardic Gaiden begins as a traditional shooter where Miria, in her space-fighter mode, flies through narrow corridors, defeats waves of enemy ships and confront vile end-level bosses. Once the corridor's boss is vanquished, Miria transforms into her humanoid mode and the game switches to a traditional action/adventure overhead view. There, she must explore the surface of Naju, find twenty locked corridors, collect power-ups and gather important clues to move forward in the game. Most of the corridors are sealed at first and she must retrieve ten sign-coded keys (obtained by defeating bosses) to gain access to the different sections the game has on offer. Naju is incredibly vast and a map is available at anytime during the game to guide our heroine in her dangerous mission. Miria comes equipped with two weapons - a standard upgradeable laser-blaster and a wide array of secondary weapons (missiles, grenades, light saber, rotating fireballs, blue plasma and so forth). The latter are upgradeable (up to 3 times) and are limited by the amount of power chips Miria carries around. Power chips are at the core of the gameplay and symbolized by colored orbs (blue and red) scattered around the game. The are usually hidden inside small destructible pyramids along with other special items such as energy tanks, gun power cells, shields, gun power-ups and the almighty enemy erasers which annihilate every lifeforms on screen. Shops scattered throughout Naju are also convenient places to purchase upgrades in exchange of power ships. Guardic Gaiden features a password system to save the player's progress - however, collecting passwords is rather unusual here and players have to meet Randā (blue and round creatures often seen in early Compile games and also known as Landers) to retrieve them.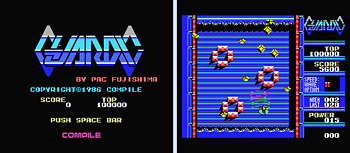 Guardic Gaiden is the sequel of Guardic, a vertical shooter designed by Pac Fujishima and released by Compile for the MSX in 1986 (pictures on the right). The game is built around single-screen shooting phases where the player destroys waves of oncoming enemies in order to proceed to the next screen. Interestingly, the end of the game reveals that the mother ship the player just destroyed wasn't in reality the real fortress and that a new guardic needs to be developped to destroy it - an interesting premise to the Guardic Gaiden sequel it seems, essentially confirmed by the simple "to be continued" catch phrase accompanying the end credits.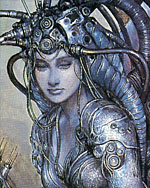 The excellent Japanese cover art was illustrated by Naoyuki Kato, a popular Japanese illustrator who also worked (mechanical design) on Ginga Eiyu Densetsu (aka Legend of the Galactic Heroes), a science fiction anime first aired in 1988. He had previously drawn many science-fiction novel covers and is a member of the Japanese design house Studio Nue (co-designers of Chōjikū Yōsai Macross, Uchū Senkan Yamato and Tenkū no Escaflowne). It is truly unfortunate that a different cover was chosen for the American release, it just doesn't fit the theme of the game very well. The European cover art is somewhat better (it at least features a girl in a sophisticated robot suit) but is admittedly of questionable quality.
Teaser text from the American version:
Long ago, in a distant galaxy, an alien race sent a huge world - called Naju - hurtling towards Earth, loaded with a cargo of mysterious lifeforms. During the long journey, these creatures have multiplied and become increasingly evil - and now Naju teems with evil. However, deep within this complex globe are self-destruct mechanisms that can be activated to destroy it before it reaches the Earth. Now, you must battle your way deep within Naju's labyrinths to destroy it. You are the guardian of Earth and your saga will become The Guardian Legend.
Game Staff (Copied from the American version's end credits) :



Program and Effects
Jemini Hirono

Passwords
Wao Isee

Map Maker
Pochi Nakamori

Graphic
Janus Teramoto
Yoriki

Music
Miyamo
Shant

Effect Idea
Shi-Kun

Test Play
Midnight
Commander-Nui
janus Teramoto
Kunny
Tanida
Shant
Pal
...etc

Director
Moo Niitani

Created by Compile

Produced by
Irem Corporation


G
O
O
D
I
E
S



Japanese Guidebook


Japanese Phonecard

O
M
A
K
E



Click on picture to enlarge
S
E
C
R
E
T
S

Play the game in shooting mode only:

Japanese version:
Enter えいえる じい as a password.

American version:
Enter TGL as a password.

LK



Add your Pov here !



P
O
V
s


Guardic Gaiden is a game that sadly slipped through the cracks of popularity. The gameplay is what makes this game stand out from the crowd - Compile cleverly weaved a game that mixed two genres together and took the player on an epic journey inside a beautifully detailed and interconnected alien world. Enemy wise, the game throws a myriad of unique and curious creatures at you but there is a greater emphasis on larger foes and the various bosses are magnificent. The Guardic Gaiden is also as much of an aesthetic achievement as a technical one - the shooting phases are fast and furious (this is a Compile game after all) and the game is incredibly vast. Even after hours of play, do not be surprised if you feel you have only barely scratched the surface of Naju and the weapon system on offer. The soundtrack is equally great and wonderful. So, if a game does everything so right, how come it is only rewarded four stars ? The password system is a brave, yet flawed idea. Having to hunt down a blue Randā, unequip your secondary weapon and copy the excruciating long passwords is an unnecessary and useless waste of effort. The game also tends to become a bit repetitive (bosses and enemies are heavily recycled throughout the game), but the password system is definitively the only drawback for me. All in all, Compile managed to brilliantly hybridize two genres together in order to achieve a slick and inventive game - an underrated and immersive classic.