| | | | |
| --- | --- | --- | --- |
| | | | |
月風魔伝
©Konami 1987
Release: 1987-07-07 (¥4900)
Cartridge RC819
Action/Adventure


Getsu Fūma Den is an action/adventure game by Konami heavily based on classic Japanese mythology. The game takes place in Feudal Japan and follows the story of Getsu Fūma, a demon-fighting samurai who journeys through hell to save the world. The mythical abode of the dead is in turmoil and a terrible enemy threatens the tenuous balance between the underworld and the world of men - a fierce hell demon called Ryōkotsuki (the 'bone dragon') has been resurrected by his minions and it now leads a war against humans. The two older Fūma brothers, armed with their legendary Wave Swords (the 'Hadōkens'), decide to travel to the underworld in an attempt to stop the undead monster - but their efforts are in vain and they both fall to their doom... Getsu Fūma, the third and youngest brother (and hero of the game), vows to avenge them and to retrieve the missing blades (and combine them into the ultimate Hadōken). From a gameplay perspective, Getsu Fūma Den doesn't follow the usual standards and is divided into three main phases - world-map exploration, straight-forward action and first-person perspective dungeon crawling. The player first guides Getsu Fūma through the underworld, and the exploration of hell is done via an overhead map-like maze that features torii gates (traditional Japanese shrine gates), stores, houses (information and clues) and rare wandering enemies. In a nutshell, the world-map is the connecting cord between all the elements in the game, and torii gates lead to the game's various side-scrolling action stages (they interestingly act as 'bridges' and must be passed again in order to reach other areas on the map). There, the player can collect money, find items (such as lives, healing flames or special weapons and items) or boost his power. Interestingly, the sword becomes more powerful as Getsu Fūma defeats more enemies (the sword's power is symbolized by a 'Ken' meter located right above the player's life). The samurai can also equip all kind of items and weapons (such as projectile weapons or new swords) and although some can be directly purchased in stores scattered around the world map, others are deviously hidden inside the action levels. Getsu Fūma Den is a very vast game and a password system (in Japanese) allows players to save their progress.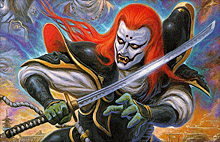 Getsu Fūma Den has a strong resemblance with Genpei Tōma Den (picture on the left), an arcade game created by Namco and originally released in 1986. The premise of both games is very similar and they both feature three different gameplay modes. The two main character designs do really look alike (red hair, samurai theme), and are both based on real life samurais - in Genpei Tōma Den, the demon warrior is apparently based on Tairano Kagekiyo, a real samurai who lived in the 12th century whereas Getsu Fūma is based on Fūma Kotarū who lived in the 16th century. However, Getsu Fūma Den features traditional RPG elements not found in Genpei Tōma Den.

Getsu Fūma is one of Konami's long forgotten game character - well, this is not exactly true. Although Getsu Fūma Den was the first (and last) game starring the fearless samurai, he did several cameo appearances in other Konami games such as Konami Wai Wai World (Famicom, 1988), Wai Wai World 2 (Famicom, 1991) and he is a playable (downloadable-only) character in Castlevania Harmony of Despair (Xbox Live, PS3 Network, 2010). A female parody of Getsu Fūma called Gesshi Hanafūma is also available in Otomedius Excellent (XBox 360, 2011).





Getsu Fūma Den's boxart is a bit puzzling. Read on. Getsu Fūma Den's box features an interesting design - it uses a lenticular printing process that shows two different images when held at different viewing angles (lenticular printing is a technology used to give the illusion of depth or moving/morphing effect to 2D images). This particular effect on Getsu Fūma Den has puzzled me for a while (and this until I finally got a physical copy of the game in my hands), and led me to falsely believe that Konami produced two different box art variations... this is obviously not the case.
Getsu Fūma Den Konami Cards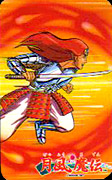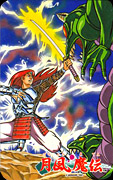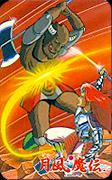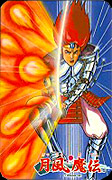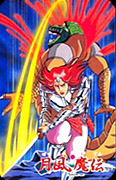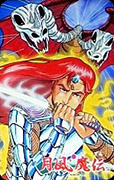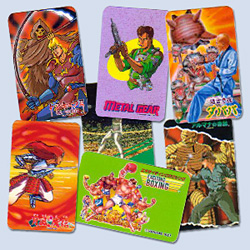 Like several other early Konami games released in the 1980s/1990s, Getsu Fūma Den included a numbered collector card also known in Japan as コナミ キャラカード (aka 'Konami Chara Cards' or 'Konami Character Cards'). Each card featured an illustration or a snapshot from the game (picture on the right), and the back of each card showed a serial number as well as the game's title. They were randomly included with the games and Konami produced several variations of each card. That's it, each game included a card from a series related to the game, it is however not known how many different card variations were made for each game. Apparently six cards (on average) were produced for each game, except for Doremikko (1 card), Exciting Boxing (1 card) and Meikyujin Dababa (which, curiously, only seem to feature five cards). The list of Konami games to include such cards are believed to be : Ai Senshi Nicol (FDS), Dracula II Noroi no Fuin (FDS), Arumana no Kiseki (FDS), Contra (FC), Doremikko (FDS), Dragon Scroll (FC), Exciting Baseball (FDS), Exciting Basketball (FDS), Exciting Billard (FDS), Exciting Boxing (FDS), Exciting Soccer (FDS), Falsion (FDS), Getsu Fūma Den (FC), Majō Densetsu II Daimashikyō Galious(FC), Meikyū Jiin Dababa (FDS), Metal Gear (FC), Salamander (FC), Tetsuwan Atom (FC), Top Gun (FC) and Wai Wai World (FC).

G
O
O
D
I
E
S



Japanese Guidebook


Japanese Guidebook


Japanese Adventure book

O
M
A
K
E



Click on picture to enlarge
LK



Add your Pov here !



P
O
V
s


I must warn you: Getsu Fūma Den is not your traditional side-scrolling action game. Anyone looking for a challenging Castlevania type game, where samurais and demons have replaced vampires and zombies will have to look elsewhere. Getsu Fūma Den features a lot of backtracking and exploration (the 3D dungeons are really tedious and take a fair amount of time to complete), and leveling up and gold raising can be aggravating. That being said, the game is surprisingly vast and fun to play - it features a myriad of extremely varied side-scrolling levels and enemies, three large dungeons to explore and an expansive world map. And I must say, I was really surprised the first time I entered these first-person perspective 3D dungeon - 'how did they fit all of that in that little cartridge ?' I thought. Additionally, although Getsu Fūma Den can be quite hard, I find it not as punishing as other Konami titles of the time, and you don't lose much progress when you die (only the massive and harsh 3D dungeons hurt the flow of the game in my opinion). All in all, while Getsu Fūma Den is not for everyone, it is still an incredibly huge game with amazing depths and a solid action RPG (especially for its time) that I highly recommend!