FC GENJIN - FRIENDTHROPUS COMPUTERURUS
FC GENJIN - FREAKTHOROPUS COMPUTERUS
( Bonk's Adventure )
| | | | |
| --- | --- | --- | --- |
| | | | |
FC原人
©1993 Hudson Soft
©1989,1993 Red
Release: 1993-07-30 (¥5800)
Cartdridge HFC-F3
Shooter/vertical




Released in America as
BONK'S ADVENTURE
( NES-K8-USA )
FC Genjin is an action game by Hudson Soft, and conversion of PC Genjin, first episode from the wacky prehistoric series that brought what was probably the first major caveman action video game protagonist. The moon princess has been kidnapped, yet again, by King Tama III (aka King Drool), and the little caveman, armed with his signature stone head, goes on a long journey through Dinosaur Land to save her. Our hero can walk, jump and head-butt his enemies. He can also trigger mid-air spins and land head first on his foes for devastating results. Other than that, the caveman has a plethora of unique techniques - he can swim up waterfalls, climb trees and bite walls. He can also get super charged - hunks of meat give him significant power boosts, allowing him to send pile-diver earthquake shocks across the screen, or to become invincible for a short amount of time. Sleeping Bani-Bana flowers are scattered all across Dinosaur Land and provide a large array of special items - fruits (more life), small and big hearts or meat. Other items, such as earth containers and extra lives are also located throughout the game. Finally, special and rare small flowers transport the player to special bonus zones, or to secret passages filled with all kind of items. FC Genjin consists of five large areas made up of several sub-stages each.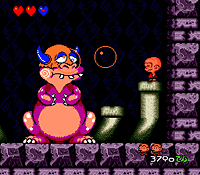 PC Genjin was first released in 1989 for the PC Engine system (picture on the right). The Famicom version tested here followed much later, in 1993, and has some significant differences with the original game. The first one is the design of the caveman himself - the Famicom version features the final character design actually revealed in the second game of the series in 1991, and not the original design from the first PC Engine game. Then the Famicom version includes fewer levels (and some were shuffled around), fewer items (especially fruits) and enemies, smaller sprites and stiffer controls. Some of the bosses have also been simplified - the second level's boss doesn't have a 'double' attack and only shoots one shuriken at the same time, and the final battle on the moon with King Tama III is slightly different.
Teaser text copied from the American version:
Just say Boogalooga!
That cave boy with the head of stone is back! Join Bonk on his all new adventure as he travels through the savage Dinosaur Land in search of the beautiful Moon Princess! His old enemy, the slimy King Drool, has kidnapped her! Now Bonk has to use his head (literally), to save the princess and the kingdom! Use powerful head-butts to blast King Drool's fools off of the map! Spring off the local wild flowers to gain altitude on your enemies. Knock heads with nasty beasts and strange critters to prove who's king of the jungle! Explore an incredible realm filled with monsters, traps and the toughest kid from prehistoric times! BONK!
Game Staff (Copied from the American version end credits) :



STAFF

Planning
Jin Gotanda

Program
Hiroyuki Arai
Junko Aihara

Graphics
???
Gotsuo Shikabanen

Music
T's Music
Kunio Komatsu
Bang Heads

Original Character Design
Kobuta Aoki

Original Game Design
Keisuke Abe

Special Thanks
Kappa Yuzawa
Tomonori Matsunaga
Mitsuhiro Kadowaki
Norihito Miyamoto
Kazutoshi Ueda
Ryoma Kaneko
People of Hudson
& Red
& T's Music

Coordinator
Soichi Yoshikawa
Thank you very much !!

Director
Hitoshi Akabane


O
M
A
K
E



Click on picture to enlarge
S
E
C
R
E
T
S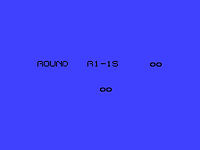 Stage select and sound test menu:
As the title screen scrolls up, hold A, B, Select, Start, Down and Left. A special menu should appear right after the 'Push Start Button' message appears (picture on the right). There, press Left or Right to cycle through several areas from the game (levels, bonus stages, ending and so forth...), and press Up to start. Press Select to access the sound menu - press A or B to pick a different sound, and Start to play it. Press Select again to return to the stage select menu.

LK



Add your Pov here !



P
O
V
s


Hudson Soft's trademark caveman makes a surprise appearance on the Famicom System - think about it, PC Genjin (aka Bonk in the west) served as a mascot for the PC Engine system, which was technically in "competition" against Nintendo's 8-bit system. Well, the release of the Super Famicom in 1990 probably forced Hudson Soft to re-evaluate their mascot strategy, and to smuggle it to other systems. Anyway, how does this port compare to the original game released four years earlier ? Well, it looks surprisingly good and very well put together. The game has obviously taken a hit - graphics are less colorful, sprites are smaller, some levels have been cut and there's less enemies on the screen at once. Controls feel a bit stiff too, and not as fluid and responsive as the original game. Finally, FC Genjin is overall really easy, except for the massive last stage that will repeatedly crush you. All in all, I think this port is more than correct and managed to keep the spirit and fun factor of the PC Engine game.