| | | | |
| --- | --- | --- | --- |
| | | | |
ドラゴンバスター
©1984 1987 Namco Ltd.
Release: 1987-01-07 (¥4900)
Cartdridge (n/a)
Adventure/Action


Dragon Buster is a fantasy action game by Namco based on the arcade game of the same game released in 1984. The courageous prince Clovis, protagonist of the game, is on a perilous journey to rescue his beloved princess Celia held captive by a fearsome dragon. He must travel through twelve regions, visit the darkest places and defeat all the dragon beasts that frighten the country. Various routes lead to their castle-lairs and it is up to the player to wisely choose which path to take. There are five different level types - Cave, Graveyard, Mountain, Tower and Ruins. Each level comes with its own layout and is divided into rooms defended by vicious guardians - wizards throw fireballs or daggers whereas small dragons simply try to burn him alive. Our hero's primary weapon is a sword but special items, such as magic spells, can be collected along the way and greatly help him in his quest. He also has the ability to double-jump and this technique allows him to reach otherwise unreachable places. Once a region is cleaned from its dragon, Clovis carries on his journey onto another part of the kingdom defended by tougher enemies and even deadlier dragons.

This Famicom port is in many ways different than the original arcade game. First of all princess Celia only appears at the end of the 12th region whereas she can be found throughout the arcade game. There are also new items such as the Lightning Rod, the Flame Lantern or the Stone Pendant. The Axe is also an interesting item which allows Clovis to cut through otherwise impenetrable forests, or the key allowing him to open locked gates. Not all enemies are also featured in the Famicom port and new ones are introduced such as the spiders or floating thieves who can steal the super-sword. Finally overworld maps are much larger and can cover several screens.
Dragon Buster was a popular Japanese arcade game by Namco originally released in 1984 (picture on the right). The game was a smash hit in Japan and the Famicom version tested here is only one of the many ports that spawned from its release - FM77AV (1987), Sharp X1, MSX (1987), Famicom (1987), Nec PC9801 & PC88 (1989), Sharp X68000 (1993). The game was also included in Namco Museum Vol.2 (Playstation, 1996) , Namco Museum Battle Collection (Playstation Portable, 2005) and Namco Museum Virtual Arcade (Xbox 360, 2009). Fans of the game may want to also hunt down 'Dragon Buster 100', an obscure Japanese TV Plug-in-Play game from the Namco Nostalgia series. An exclusive Famicom sequel called Dragon Buster II - Yami no Fūin followed in 1989. Namco tried to reboot the series in 1999 with Dragon Valor for the Playstation - the game is however very different than its model and built around a beat'em up theme. Finally, a mini-game based on Dragon Buster is hidden deep within Tales of the Abyss released for the Playstation 2 in 2006.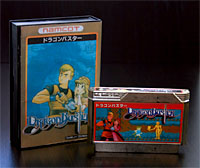 Like many games released by Namco for the Famicom System, Dragon Buster comes in a hard and more durable plastic case (picture on the left). Unlike most of the games made by the company, Dragon Buster was released in a shiny gold cartridge. Finally, the game doesn't seem to have any serial number...

G
O
O
D
I
E
S



Japanese Guidebook


Japanese Guidebook


Japanese Guidebook


Japanese Guidebook

O
M
A
K
E



Click on picture to enlarge
LK



Add your Pov here !



P
O
V
s


Dragon Buster is the perfect example of a legendary Japanese game that never managed to export itself beyond its native country. It is indeed really hard to judge Dragon Buster today and I personally think the game, unlike other games from the 80s, has aged a lot. The arcade game has its load of good ideas and epic moments, however this Famicom version modified the gameplay in places that didn't really need changes, really. There are a couple of welcome changes though - I appreciate the fact that you don't have to press up to jump (like in the arcade) and that snakes and other creatures don't randomly fall from the pits you're trying to climb on. But jumping off a rope is now a lot harder and enemies are a lot tougher - the skeleton for instance just keeps swinging his sword without giving you a chance to hit him. All in all Dragon Buster is a decent Japanese classic to discover but I think its sequel is a lot better.