| | | | |
| --- | --- | --- | --- |
| | | | |
チャレンジャー
©1985 Hudson Soft
©Momo
Release: 1985-10-15 (¥4900)
Cartdridge HFC-CH
Action game


Challenger is an action game by Hudson Soft that combines side-scrolling and overhead action with a pinch of exploration. The player assumes the role of an archaeologist (and adventurer) named Challenger as he attempts to rescue princess Maria kidnapped by an enigmatic villain known as Don Warudorado. The game mixes three different gameplay phases, all divided into four scenes. The first scene takes Challenger on the roof of an express train traveling at full speed. Don Warudorado keeps Maria captive in the front car and Challenger must get to it, fighting all kind of enemies with his throwing knives along the way. But when he finally gets to her, Don Warudorado disconnects the front car from the rest of the train and escapes with the damsel. Challenger is now trapped on Don Warudorado's island, who is now hiding in his highly protected Pyramid lair. But before he can reach his antagonist, Challenger must explore the island and find three key items in order to enter Don Warudorado's hiding place - a crown, a ring and a key. The items are hidden inside caves scattered throughout the island - there, Challenger has to jump from geyser to geyser in order to reach the precious artifacts. But things never come easy, and the island is infested by all kind of enemies and traps - Tama flames, Mōrin rabbit-like creatures, Kara skeletons, Ojīzu mercenaries, Okkusubōn skulls, Pirarobo robots, Kebara carnivorous plants, sand pits and so forth. These enemies also sometimes drop special items when defeated - they come in two flavors; power-knives (super-speed and more powerful knives) and magic orbs (kills all enemies on screen). Although most of the enemies can be terminated by throwing knives at them, some are immune to them (for instance, Tamas and Karas can only be killed by collecting power-up items). Once Challenger collects the three key artifacts, he can then enter the pyramid, fight Don Warudorado and deliver the princess. Interestingly, Challenger features sixteen difficulty levels (adjustable at the beginning of the game) which increase the number and type of enemies the player encounter throughout the game.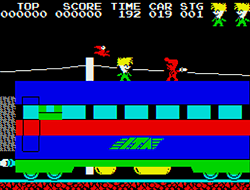 Interestingly, it seems that Challenger is actually based on the hit game Bōsō Tokkyū SOS (also known as 'Stop the Express') originally released by Hudson Soft for the ZX Spectrum 48K in 1983 (picture on the right), and ported to the Commodore 64 and MSX in 1984. Unlike the Famicom port tested here, the original version only includes the train chase. The hero of the game is a special security agent on a mission to stop the Express, which has been hijacked by the Redmen. He has no weapon and is occasionally helped by a snakebird. Challenger was later included in the Hudson Best Collection Vol. 3 for the Game Boy Advance (2005), along with Meikyū Kumikyoku Milon no Daibōken (aka Milton's Secret Castle). Finally, a mobile phone version of the game was released in Japan in 2005 - it includes the original game and an enhanced version.

G
O
O
D
I
E
S



Japanese Guidebook


Japanese Adventure book

O
M
A
K
E



Click on picture to enlarge
LK



Add your Pov here !



P
O
V
s


Challenger is a really early Hudson Soft game, but don't get misled by this statement. The first scene and its high-speed train chase looks incredible for an early game. In truth, I didn't initially expect much more from Challenger at first. I simply assumed the game was just about running across train carriages. Clearly, I didn't know how wrong I was. When Don Warudorado escaped for the first time and when I started to explore his island, my jaw literally dropped on the floor - I finally realized how much more complex and unique the game really was. Challenger is fun, controls are great and responsive, and the graphics are fairly good for a 1985 Famicom game. The first scene feels a bit disconnected from the rest of the game though - actually, I wonder if they initially started as two different projects which later blended into one game... Unfortunately, Challenger ends up feeling repetitive after a while, and I find the 'easy' difficulty level to be rather hard (there's no enemies to kill and, therefore, no power-ups). Overall, Challenger is a game that truly is more than the sum of its parts - the unique atmosphere and fun gameplay keep me coming back every once in a while.