| | | | |
| --- | --- | --- | --- |
| | | | |
エアーウルフ
©Kyugo 1988
Universal City Studio
Release: 1988-12-24 (¥5900)
Cartdridge KYG-AX
Shooter/Horizontal


Airwolf is an horizontal shooter by Kyugo Boueki and based on the popular American television series aired in the 1980s. The player takes control of a super helicopter codenamed Airwolf, a military aircraft capable of supersonic speeds and stealth capabilities, and embarks on perilous undercover missions. Before each stage, the player is prompted to pick one primary air-weapon and a secondary ground-bomb. The primary weapon comes in three types - the Chain Gun fires straight ahead and at an angle, the Falcon fires small missiles and the Cannon. The same principle applies to ground-bombs and they come in three flavors - Red-Eye (bombs), Copperhead (missiles) and Hellfire (bullets). Pow icons are occasionally left behind enemy formations - they increase the equipped weapon's fire power and improve its firing rate. Finally, the Airwolf can fly at supersonic speed for a short amount of time and becomes invulnerable when it does. However, this technique consumes fuel and must be used with caution. Each level is essentially a linear path toward a large boss - interestingly, boss fights use a first-person view as opposed to side scrolling and losing even one means game over. In addition, the player is rewarded with a password after each completed level , however they are not used to save his progress but to unlock the game's ending - so they must be carefully written down and are randomly generated for each play session.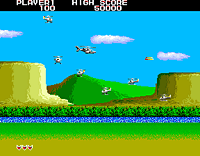 This Famicom version of Airwolf is loosely based on an arcade game by Kyugo Boueki (picture on the right) and originally released in 1987 (also known as Sky Wolf). Levels layout are completely different and boss fights don't feature a first-person view.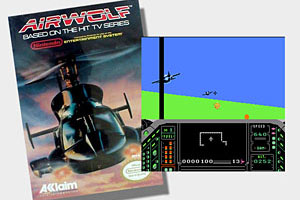 Although Airwolf was also released in the United States (NES-AS-USA) and Europe (NES-AF-XXX) - it was a totally different game developed by Acclaim (picture on the left). This alternate version is not a side-scrolling shooter but a first-person flying simulator similar to Afterburner or Top Gun. The main objective of the game is to rescue prisoners and to outrun endless waves of enemy planes. We are left to wonder why this game was released instead of its Famicom counterpart.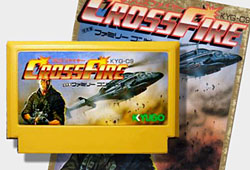 It is interesting to notice that Kuogo Boueki released in 1990 another game for the Famicom called Cross Fire. A close inspection reveals that the company reused the illustration from airwolf to create the cover art and cartridge label. Kuogo also released a game called Cross Fire for the American Genesis in 1991 - but the game was actually called Super Airwolf in Japan!
Game Staff (Copied from the American version end credits) :



STAFF

Program
H. Ohkawa
M. Koyama

Design
J. Shimada
M. Miyazawa

Sound
Kamei

Execute
H. Hiraiwa

Presented by
Kyugo Trd Co.Ltd


O
M
A
K
E



Click on picture to enlarge
LK



Add your Pov here !



P
O
V
s


Let's be honest here. This Famicom version is way better than the terrible and appalling Top Gun clone we had to endure in Europe and in the US, no doubt about it. Nonetheless, Airwolf is just an average shooter and not much else. Graphics are unattractive and extremely crude looking. But the worst offender of all is the weapon system - the rate of fire is severely limited and you often have to wait for your bullets to exit the screen to fire again. This results in countless cheap deaths and you'll shout and swear like a sailor as you watch your helicopter blowing up to pieces for the eighteenth time. Overall, Airwolf is a bland shooter and has nothing really special going for it.