| | | | |
| --- | --- | --- | --- |
| | | | |
アタックアニマル学園
©Pony Canyon Inc.
Release: 1987-12-26 (¥5500)
Cartridge PNF-AA (R55V5913)
Shooter/3D


Attack Animal Gakuen is a 3D shooter published by Pony Canyon. Animals have gone mad and they have carried out series of hate-fueled attacks all over the world. But a ray of hope still shines - a young school girl named Nokko Win was blessed, for unknown reasons, with supernatural powers and the incredible ability to fly. Only dressed with a school uniform and a mini-skirt, she embarks on a perilous mission in an attempt to defeat the hostile invaders and rescue her kidnaped friend. Of course she doesn't go around unarmed and she is not afraid to do battle with a powerful and devastative rifle-blaster that she carries and fires effortlessly. Attack Animal Gakuen is obviously heavily based on Sega's classic Space Harrier where alien enemies were replaced by all sorts of gone-mad animals, from bouncing kangaroos, crawling turtles to flying Jelly Fish, rocket-propelled gators or giant Koalas. Although the game doesn't feature any power-ups per se, groups of small statues appear in each level and can be collected for enhanced abilities. They allow Nokko to fire more bullets at once, move faster or increase the strength of her weapon. However, although these power-ups don't disappear after a certain period of time (and can be accumulated), they do vanish when Nokko loses a life. Attack Animal Gakuen consists of six stages and supports Nintendo's 3D glasses (the 3D mode can be activated at any time during the game by pressing 'Select').

An English patch was released for the game in 2003 by PentarouZero. The patch simply renames the game Attack Animal Academy and changes the title screen.
Game Staff (Copied from the end credits) :



STAFF

Produce
Newtopia Planning

Director
Yasuo Hattori

Game Design
Aya Nishitani

Visual Design
Atsushi Fujimori

Sound Compose
Yasuo Hattori

3D Advise
Life Checker

Original Story
Aya Nishitani

Program
Tsuhkai Squash Yaroh

Sound Program
Otohsan

Sound Arrange
Omaisan


Character Arrange
Mimi Man
Apple Taizou

Costume of Nokko
Sailor Norilin

Mystery Staff
Shang Hai King Haz

Setting
Homerun Ken

3D Display Program
Hirorin Shimaoka

Profesional Watcher
Pendal Knight

Special Thanks
Kohichi Shirato
Minoru Kobayashi

Presented by
Pony Canyon Inc.


O
M
A
K
E



Click on picture to enlarge
S
E
C
R
E
T
S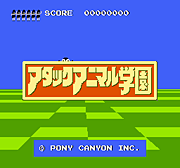 Level Select:
At the title screen, press and hold Left and Down on the second controller. Press B on the same controller to set the level you want to start from. Lives (symbolized by small Nokko icons) should appear in the upper left corner of the screen, next to the score (picture on the right) - they indicate which level the game will start from. To start the game, press A and Start on the first controller.
LK



Add your Pov here !



P
O
V
s


Attack Animal Gakuen is technically remarkable. The feeling of speed and depth is really breathtaking, especially for a game running on the good old Famicom system. Although Attack Animal Gakuen gets labeled as a Space Harrier clone, it is good to remind critics that it surpasses the Famicom port of Sega's classic in every way. In essence, the game borrows plenty from the legendary rail shooter - the way how Nokko can fly or run, the checkerboard-styled ground, the oval-shaped bullets, the familiar landscape elements and so forth. But Attack Animal Gakuen includes enough of its own ideas to distinguish itself from its model. The game's theme unquestionably has a quirky charm, I mean, how many games feature a flying school girl armed with a rifle and fighting an army of gone mad animals ? As a side note, it is rather interesting to see Aya Nishitani's name in the game's credits, who also happens to be the author of the cult-following Megami Tensei (this would have to be verified though, maybe it's a totally different person). Anyway, back to the game. In addition to the improbable story, the game is also incredibly smooth, lightning fast, responsive, includes power-ups (I must admit, the way to activate them could have been better) and each level comes with its own theme (and Nokko even changes outfits accordingly!). Finally, Attack Animal Gakuen is one of the few Famicom titles to support the 3D glasses, and it does a pretty good job at it! However, Attack Animal Gakuen didn't obtain the highest score of five stars for one reason - levels are a little too repetitive, and although each stage comes with its own flavors, they tend to drag on for too long to my taste. All in all, Attack Animal Gakuen is an excellent 3D rail shooter, and probably one of the best the Famicom can offer!