| | | | |
| --- | --- | --- | --- |
| | | | |
1942
©Capcom 1985
Release: 1985-12-11 (¥4900)
Cartdridge CAP-19
Shooter/vertical




Released in America as
1942
( NES-NF-USA )
1942 is a vertical shooter by Capcom, and conversion of the arcade game of the same name originally released in 1984. The game takes place during World War II and depicts the historical battle of the Pacific war between Imperial Japan and the forces of the United States Navy. The player takes control of a P-38 Lightning war plane (called the "Super Ace") and fights his way through thirty two levels, taking down Japanese fighter planes and battle ships in order to reach and destroy Tokyo. Power-up upgrades can be collected along the way by destroying formations of red enemy planes - these upgrades come in different forms and range from machine-guns (green) which double the main weapon's strength (from a twin to a quad barrel gun), support wingmen planes (white) which fly to either side of the P-38, smart bombs (white and red) which destroy everything on screen, extra lives (red) and so forth. The P-38 also comes equipped with a limited amount of spectacular diving escape maneuvers (called "Retreats") - evasive loops can be performed to avoid enemy bullets and escape critical situations. 1942 also features a alternating two-player mode.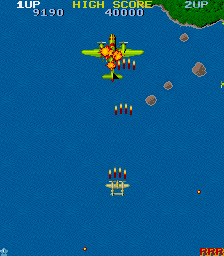 The arcade game 1942 was originally released by Capcom in 1984 (picture on the left). The game became a huge commercial success and was later ported to countless home systems - Famicom (1985), MSX (1986), Commodore 64 (1986), Amstrad CPC (1986), Nec PC-8801 (1987), FM-7 (1987) and Game Boy Color (2000). As an interesting side note, an obscure roulette redemption game called Double Fever 1942 was even available in Japan and manufactured by Capcom (the medal game, released in 1987, was part of a series that also included Son Son, Senjō no Ōkami, and Makaimura). The game was also included in Capcom Generation 1 Dai 1 Shuu Gekitsuiou no Jidai (Playstation/Saturn, 1998) and in Capcom Classics Collection (Playstation 2, Xbox, 2006). Finally, 1942 Joint Strike was released for the Xbox 360 Live Arcade and for the Playstation 3 Network in 2008 - this totally new 3D remake features many elements borrowed from the 194X series, as well as new and exclusive content.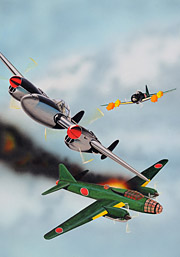 Capcom's popular 194X series started with 1942 in 1984 which became an instant hit. It is rather interesting that Capcom decided to pick such a controversial subject - the Pacific War was a heavy and historical Japanese defeat, and giving the player the opportunity to pilot an American Lockheed P-38 Lightning plane and fly all the way to Tokyo to destroy it is quite a controversial idea for a Japanese company. 1943 Midway Kaisen (aka 1943 The Battle of Midway) followed in 1987 and was also a significant commercial success. As a side note, an alternate version, called 1943 Kai Midway Kaisen was exclusively released in Japan in 1988 and substituted the trademark P-38 fighter with a red Stearman biplane. 1941 Counter Attack was then released in 1990 and was the first game in the series to introduce more diverse and discrete levels, instead of dozens of similar-looking stages. 1941 was ported to the Supergrafx system and later included in various Capcom Compilations for the Xbox, Playstation 2 and Playstation Portable. The forth game in the series followed in 1995 - 19XX The War Against Destiny features a different time line than its predecessors (the goal of the game is to prevent a fictional new World War to happen), and three different planes to choose from (the P-38, the Mosquito and the Sinden). 1944 The Loop Master then followed in 2000 - however, the game was developed by the Japanese company Eighting/Raizing and although it is a vertical shooter, the screen uses a widescreen aspect-ratio. The last game to be released in the series (so far) was 1942 Joint Strike, developed by Backbone Entertainment. The game was made available for the Xbox 360 Live Arcade and for the Playstation 3 Network in 2008. Finally, Capcom released several 194x compilations, such as Capcom Generations vol.1 Dai 1 Shuu Gekitsuiou no Jidai (Playstation/Saturn, 1998) , Capcom Classics Collection (Playstation 2, Xbox, 2006) and Capcom Classics Collection Reloaded (Playstation Portable, 2006) which all include 1942, 1943 and 1943 Kai.
Teaser text copied from the American version:
1942... you and daring fighter pilot "Super Ace", are engaged in realistic, thrilling and challenging high-flying battles with the enemy. Over land, on the sea and in the air, your own skill and dexterity... combined with Super Ace's flying mastery, duel ememy pilots in fighter and bomber aircraft. 1942... it's airplanes taking off and landing on ocean-going aircraft carriers... discuptin enemy formations ready to attack... intercepting enemy air warriors you must defeat by "blasting'em out of the sky." Will it be victory? Or defeat? It's in your skillful hands!!!

G
O
O
D
I
E
S



Japanese Guidebook

O
M
A
K
E



Click on picture to enlarge
LK



Add your Pov here !



P
O
V
s


Well, frankly, I've never been that fond of the arcade game 1942 - there is little to separate one level from another (same ocean background, enemy planes and occasional islands and bosses) which gives the game a barren and repetitive tone. This Famicom port suffers from the same problem and quickly becomes tiresome and monotonous. The soundtracks is also on the dull side and consists of cacophonous morse-code beeps (but to be fair, this was also the case with the original arcade game). I also find this conversion a bit on the slow side (things tend to slow down a lot), completely ruining some of the gameplay in the process. All in all, there is nothing inherently wrong with 1942, and the game is overall correct (yet repetitive). However, my advice would be to first check out the vastly superior 1943.