GINGA FUKEI DENSETSU SAPPHIRE
| | | | |
| --- | --- | --- | --- |
| | | | |
銀河婦警伝説サファイア
©1995 Hudson Soft
Release : 1995-11-24 (¥6800)
ArcadeCDRom² HCD5080
Shooter / Vertical


Ginga Fukei Densetsu Sapphire is an intense vertical shooter by Hudson Soft and is probably the most popular PC Engine CDRom among gamers. The game was released late in the console's lifespan and offers what no other PC Engine game ever dreamed of - visual feast of psychedelic effects and outrageous action. The protagonists of the game are four girls pilots part of a futuristic police unit called the Burning Rabbits. Their duty is to go after bandits, to explore the far corners of the universe and to even venture back in time, whatever the risks, to prosecute the worst criminals. Because humanity is now advanced enough to travel through time, this special police force was created to protect society from these new "time criminals". The player has four girls, and therefore four spaceships, to choose from. Each one balances out the next and usually trades off fire power for maniability and speed. Three weapon types are available throughout the game - Vulcan gun, Multi Ways and Laser beams - and each one of them can be significantly upgraded. Then special satellites soon fly close to the spaceship and provide additional firepower. Interestingly, they can also protect the ship from enemy bullets and be charged up to launch daring attacks. A two-player simultaneous cooperative mode is also available.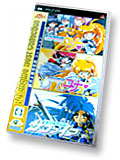 Interestingly, Ginga Fukei Densetsu: Sapphire was ported to the Playstation Portable in 2008 and was part of the Ginga Ojousama Densetsu Collection (aka Galaxy Fraulein Collection in the west). The compilation also included Galaxy Fraulein Yuna and Galaxy Fraulein Yuna 2. I wondered for some time why Sapphire was part of such collection and the answer is rather simple - they both share the same character designer, Mika Akitaka.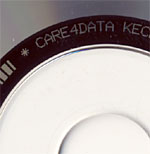 Ginga Fukei Densetsu: Sapphire was released late in the PC Engine system's life which is certainly echoed by its hefty price tag. Is it often ranked as the most expensive commercial PC Engine title and clean copy can today fetch between $300 and $400 in the collectors' market (plus the price of an Arcade or Duo card if you don't already own one). It is not, for that matter, a game that anyone can afford. Until recently. Back around 2003, a counterfeit of the game appeared (and I'm not ashamed to say that this is the version tested here) and was sold for $60. Because the counterfeit copies are so close to the legitimate game - down to the minutest detail including the registration and spine cards - some sellers (honest or not) have been selling them at full price. It is rather easy to figure out if you own a counterfeit if the case has been opened - the word CARE4DATA is clearly visible on the inner ring of the game's CD (see picture on the right). If the game is brand new and still shrink wrapped then it is a different story. I recommend you to visit SuperPCEnginegrafx.net and their excellent guide to distinguish legitimate copies of Ginga Fukei Densetsu: Sapphire.
Game Staff (Copied from the end credits) :



GINGA FUKEI DENSETSU
[ SAPPHIRE ]

Executive Producer
Yuuji Kudou

Directer
Osamu Tsujikawa (CAP)

< STAFF >

Character Design
Mika Akitaka


Program
Taisyo (CAP)
Kenz (CAP)

Graphic
June Bride (CAP)
Kumiko Love (CAP)
Inaka Daioh (CAP)

Animation
JC Staff

Sound & Music
T'S MUSIC LIMITED COMPANY


Tools
Izumi Fukuda (CAP)
Takashi Iwanaga (CAP)

Development
COMPUTER ARTIST PRODUCTION

Special Thanks
Takeo Itou
Tadahiro Nakano
Hidetoshi Endou
Mitsuhiro Kadowaki

©1995 HUDSON SOFT


O
M
A
K
E



Click on picture to enlarge
LK



Add your Pov here !



P
O
V
s


Ginga Fukei Densetsu Sapphire is an amazing game. Keep in mind it was released back in 1995, eight years after the PC Engine system. This is truly remarkable and you can hardly believe it until you actually play the thing. Sapphire is the ultimate game made to celebrate and extend the final days of a brilliant system. Zooms and rotations, smooth pre-rendered 3D sprites, morphing and lighting effects - Visually, Sapphire is a fireworks display. But alas, everything is not bright and shiny. The game is rather short and an experimented player will probably finish it very quickly, starving for more (the "Cute but hard!" slogan found on the spine card is totally overrated). I'm also not a big fan of the heavy-metal soundtrack and the sound effects - but it is all a question of taste. Then comes the final drawback - no-one could truly accuse the game designers for that though - the current insane asking price can fetch upwards of $350 and the game is not worth that much. You could buy a Sega Saturn instead with Batsugun, Donpachi, Radiant Silvergun and probably have some change left. Still, Sapphire is a milestone, a monument, the zenith of the PC Engine library. No doubt about it.