| | | | |
| --- | --- | --- | --- |
| | | | |
PRODUCED BY BRAIN GREY CO.,LTD
©1989 ZOOM, 1992 BRAIN GREY
Release : 1992-6-26 (¥6800)
SuperCDRom² BRCD2003
Shooter / Action game

Genocide is an side action game by Brain Grey, convertion of Zoom's game originally released for the FM Towns and Sharp X68000 Japanese computers. The player takes control of the elite pilot Randy and his Humanoid-Mecha. Their first mission is to infiltrate an enemy fortress on a desert planet as Maria, the chief of operations, quickly briefs them on their objectives. The Mecha's only weapon is a short range plasma-sword, and a flying orb later joins the party and can damage enemies when fully charged. Each sub-stage ends with a large door which only open when the area is cleared and all enemy mechas defeated. The mecha can also do long-jumps by holding the up direction while in the air. This move is priceless, especially in early stages where enemies quickly appear from many directions. Finally, flying pods can drop cells of energy when defeated, but these need to be hit with the plasma-sword to activate their content and refill the mecha's energy bar.


Genocide was originally released in 1989 for the FM-Town and Sharp X68000 (pictured on the left). It was developed by the Japanese company Computer Soft Create Zoom (aka Zoom). The game is really similar to the PC Engine version, and stages' layout and character designs look fairly identical. However, the original game runs at a much higher resolution with a better color palette and smoother animation cycles (picture on the right). The introduction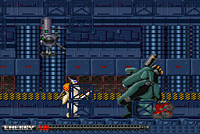 sequence is also different. Interestingly, Brain Grey kept Zoom's mascot (a cute and round little cat) in the PC Engine version, and it can be seen in the Game Over screen. A sequel, called Genocide 2 - Genocide Square, exists and was also released for the FM-Town and Sharp X68000 computers. Curiously, Genocide 2 was also ported to Nintendo's Super Famicom.

O
M
A
K
E



Click on picture to enlarge
LK



Add your Pov here !



P
O
V
s


Genocide definitively features nice graphics and sometimes display some amazingly large sprites on screen (the first boss and the large spaceship in the second stage come to mind). But the game is really fast and most of the time you don't really know what is going on. In many situations, you can tell your energy bar 'bye bye' without being able to do anything about it. Then the sword is really weak and short, and there's not much you can do with it. I tried many times to give this game a chance, but it is way too frustrating. This is a real shame, Genocide overall looks really nice and has some interesting mech designs. Its poor gameplay is its biggest flaw, making it way too cumbersome to play.